The modern home is packed with electronics. The average American uses 10 connected devices every day, including smartphones, smart TVs, laptops, iPads, video game systems, and home-based systems like Amazon Alexa and the Ring doorbell.
Plus, our houses are filled with all the hardworking boxes and cords that help everything run smoothly: modems, routers, cables, power strips, outlets, and chargers. It's all designed for functionality, not beauty!
That's why it's so important to find creative ways to banish electronic clutter. Here are some of the best ideas we've seen for hiding unsightly cords and electronics.
Plan Your Layout With Electronics in Mind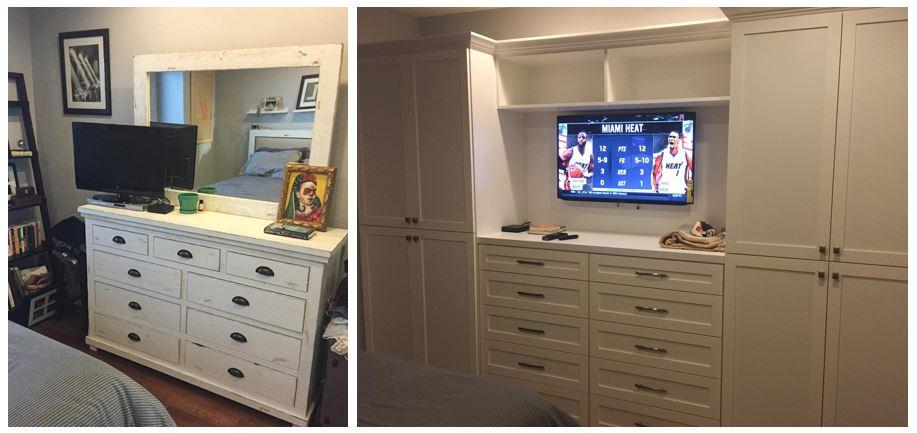 It starts with a smart design plan, whether you're building your home from scratch or redesigning it with clutter control in mind. Think of the locations of the electronics when planning the spaces in your home.
Make it a priority to hide messy cords and outlets in electronics-heavy areas like your living room, den, entertainment room, and kitchen. Use cable bundlers and reels to wrangle everything into several manageable areas, then create built-in wall nooks that hide it all away.
While hanging your flat-screen TV on the wall, set the cords into a space behind the drywall, then run everything into a nearby cabinet or closet. Make sure to add decorative grates as needed for proper airflow.
Build a Custom Entertainment Wall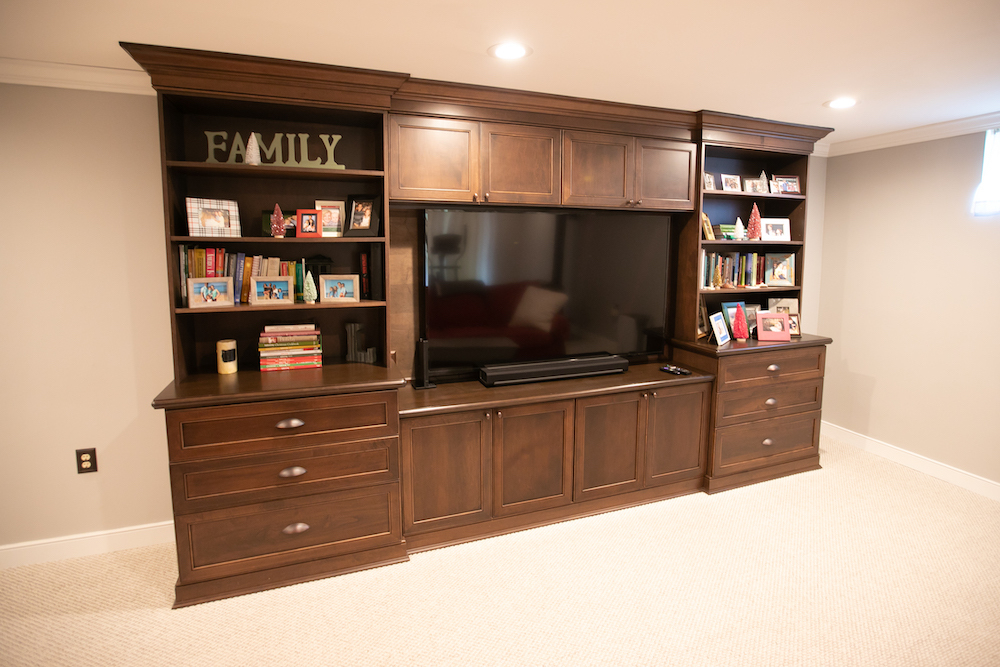 A built-in entertainment wall offers an easy way to corral cords and electronics. Build it around your TV, video game systems, chargers, and everything else, with hidden channels along the lines of the entertainment system for cords. Closed cabinet fronts can hide all the electronics.
This is a great option for homes with teenagers and young children because it gives you a central gathering place for all the screens and devices in the house. Now it's easier than ever to keep track of electronics and prevent them from getting lost. Everything has a home in the entertainment wall.
Tired of all the screens? No problem! You can add beautiful built-in sliding doors that pull across the entire entertainment system and keep it out of view when desired.
Set Up a Secret Charging Station
Most modern electronics are wireless and eventually need to plug in to charge. On top of phones and laptops, you may even have lamps, kitchen gadgets, toys, and personal care items that frequently need a place to rest and charge up.
This is why you'll love having a secret charging/docking station hidden somewhere in the house. It can go in the mudroom, laundry room, kids' room, family room, or even right in your kitchen! It doesn't matter where it goes because it's completely hidden from view.
The key is to carefully design your secret charging station according to the exact devices it will hold. Each item should have a space to rest as it charges, and each charging cord should remain plugged in without daily hassle.
A custom builder can create cubbies, cabinets, and drawers where your items can charge – and don't forget about lighting! You'll need a small, motion-activated light that pops on and allows you to see all those tiny device ports to plug in your chargers.
Create Customized Furniture Pieces
Have you considered adding a fake bookshelf or a piece of art that hides your modem, router, and other bulky boxes? Use a piece of carefully chosen decor to look stylish with unsightly electronics inside. A woven basket might be just the right size for your wifi router.
Could a rolling footstool hold all the video game systems and controllers? This is a great way to encourage your kids to clean up their electronics – just toss it all into the footstool, ideally padded inside to prevent things from breaking.
Also, a custom piece of furniture like a dining room sideboard or kitchen island can work double duty as a place to stow away electronics. Nobody would ever guess what's hidden inside, but your gadgets are always nearby whenever you need them.
Let's Corral the Electronic Clutter!
For more savvy solutions that keep your electronic clutter under control, connect with Diplomat Closet Design. As closet design experts, we have the creativity it takes to keep unsightly items out of view so you can enjoy a clean, organized home.
If you live in the Chester County area in towns such as Kennett Square, Lionville, Paoli, or Pottstown areas, contact us today for a consultation.