Imagine hiding all the clutter in your kitchen behind closed doors. Each time you walk into the kitchen, all you see is a neat and clean space that's ready for cooking, dining, and entertaining.
This isn't just a dream! It's possible with hidden kitchen storage that keeps everything out of sight. Hide appliances, dishware, cookware, holiday serving ware, wine glasses, spices, pantry items, and much more.
A professional kitchen designer knows how to tuck things away skillfully throughout your kitchen. Here are the innovative hidden storage solutions you'll need to keep everything out of sight.
Hiding Your Mixer, Blender, Toaster, and Coffee Pot
Start your kitchen storage makeover by hiding your small kitchen appliances. Almost every kitchen has at least a toaster and coffee pot sitting on the countertop, but if you can hide these items, your kitchen will instantly look cleaner and less cluttered.
Your coffee pot can hide behind a counter-level cabinet, where it rolls out on a sliding shelf when needed. Same for your toaster. Include a built-in electrical outlet inside the storage cabinet so you can make your morning coffee or toast instantly.
Mixers and blenders can also be hidden in drawers or cabinets, or even in a secret nook in the pantry. In fact, if you make the storage sturdy enough, you can do your mixing or blend right inside the hidden storage area, then clean up and leave everything out of sight.
How to Handle Large, Oversize Items
What about large and bulky items like a microwave, food dehydrator, deep fat fryer, turkey pan, or mini-fridge? Good news: Any item of any size is eligible for hidden storage.
For rarely-used appliances and bulky pantry items, install a low cabinet or drawer with roll-away storage. A hidden cabinet like this can be built into your pantry, under-counter storage, kitchen island, or almost anywhere else in your kitchen.
For large but frequently-used items like a microwave or wine fridge, use a built-in false-front cabinet that gives a finished look to your kitchen. Remember, appliances like microwaves and fridges need proper airflow and venting, so that should be built into the plan too.
Toe-Kick Drawers and Storage
A toe-kick is an indentation in the cabinets at floor level that gives space for your toes. It's also a special type of drawer or cabinet that pops open with a nudge of the foot – an old-fashioned idea that's getting new life in modern kitchens.
Toe-kick spaces were traditionally used for sweeping up dust and debris. When you're busy in the kitchen, you can just sweep up the mess, kick open your hidden spot, and hide it all away.
Today's toe kicks are capable of so much more. Create a hidden compartment for baking sheets and broiler pans. Hide a low roll-out drawer of toys right at little kid level to keep them busy while you're cooking. You can even create a secret hideaway for your robot vacuum cleaner!
Islands Add Extra Hidden Storage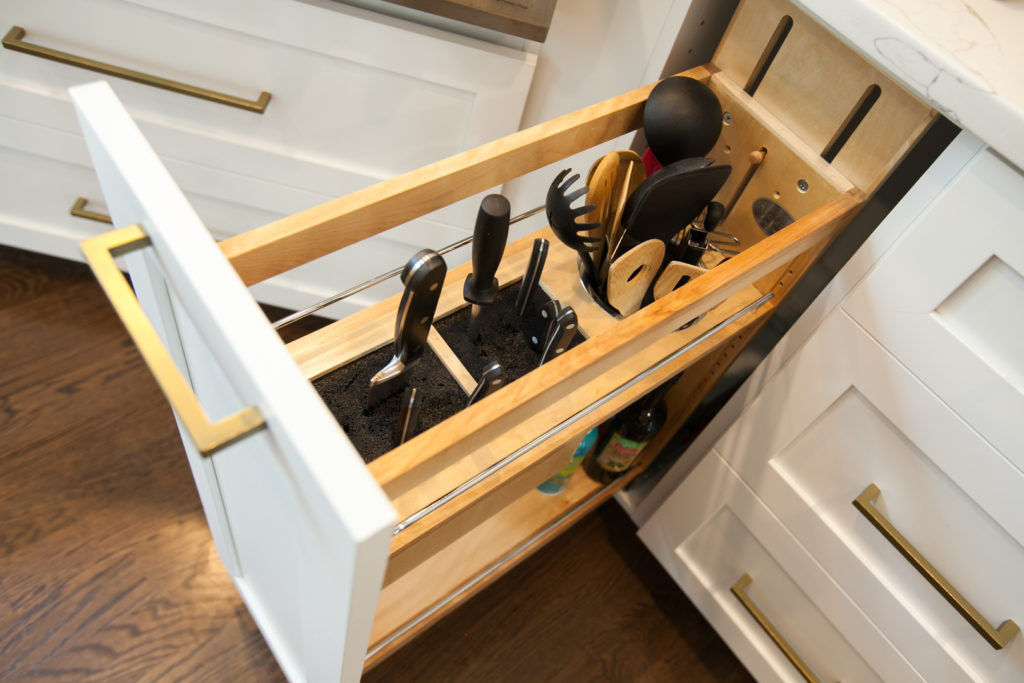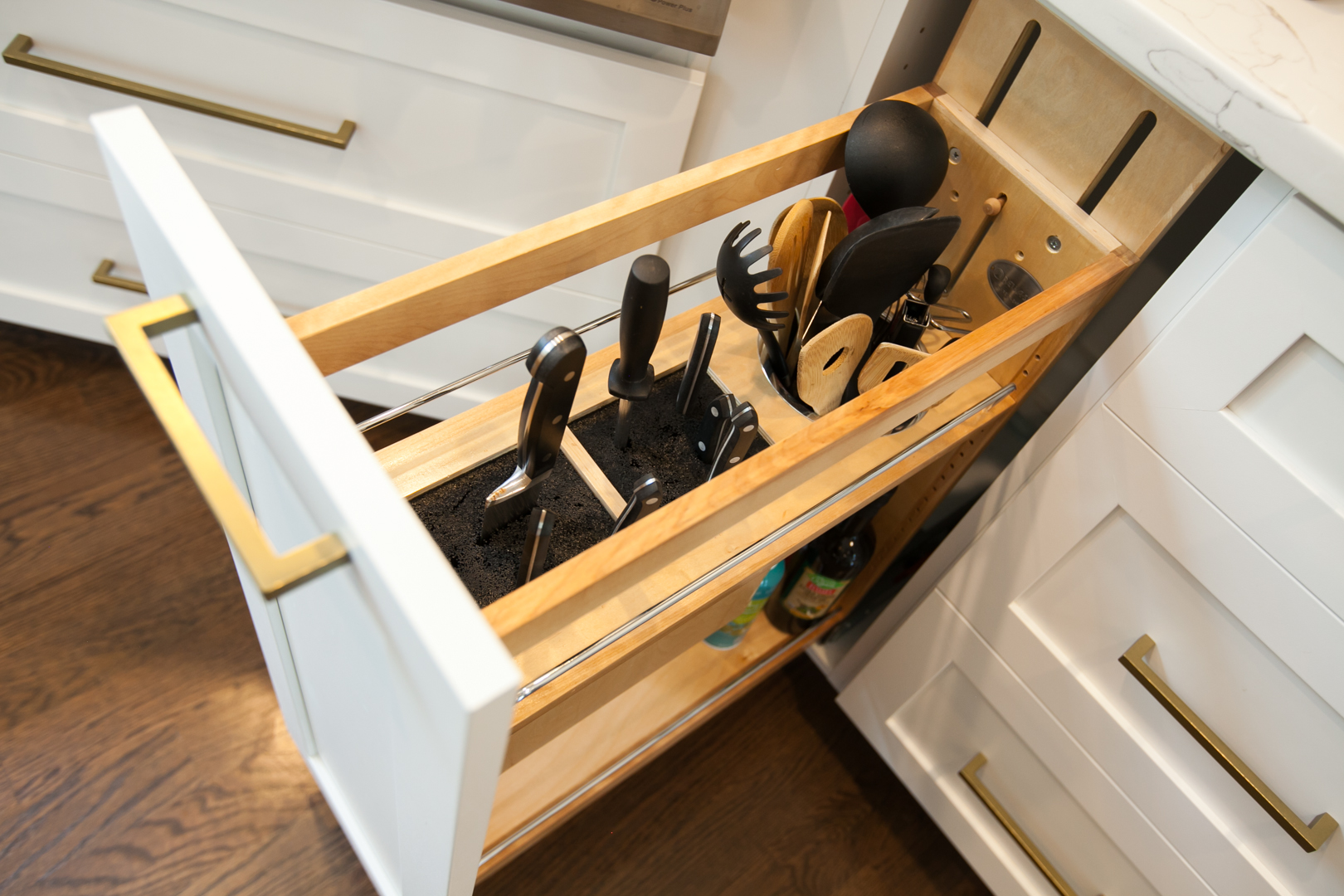 Although a kitchen island is a visible feature in the kitchen, it can hold an amazing amount of hidden storage. Plus, it's a great gathering spot for family and friends.
Your inventive kitchen island can hold all of the cookie sheets, mixing bowls, pots, and pans you use for day-to-day cooking. You can even hide knives in a safe spot within the island. Now everything is right at your fingertips, but hidden until you need it.
An island can also hold a hidden cutting board that folds away when not in use. Plus, it's the perfect spot to create hidden storage for barware, food storage containers, a compost bucket, cookbooks, or even a pet food station with room for bowls and treats.
Need to Add Hidden Storage to Your Kitchen? We Can Help.
Hidden storage is one of our specialties at Diplomat Closet Design! View our kitchen design gallery and contact us now to schedule an appointment about installing hidden storage solutions.
If you live in Delaware County in towns such as Edgemont, Glen Mills, Villanova, or Wayne areas, contact us today for a consultation.