"Wow!" Isn't that what every homeowner wants a potential buyer to say when they see their kitchen? Every home needs a certain "wow" factor that draws high-dollar offers and ultimately seals the deal on the sale.
That's why 50% of all U.S. homeowners include the kitchen in a home renovation. It's one of the most valuable and noticeable parts of any home, so an upgraded kitchen gives a big bang for your buck.
1- Custom Cabinets Instead of Basic Builder-Grade
Does your current kitchen have old-fashioned oak cabinet doors? Basic laminate countertops? Outdated fixtures? You're not alone.
When the average home is built, it gets a very simple and traditional builder-grade kitchen that includes inexpensive cabinetry and hardware. Although this type of kitchen is functional, it's also a bit blah. Most homebuyers prefer a more up-to-date kitchen bursting with luxury and style.
Custom built-in cabinets are one of the best upgrades you can add. No need to change the floor plan! With the help of a professional kitchen designer, you can wrap your existing kitchen in custom cabinets that add high style while boosting the kitchen's functionality and available storage space.
2- Open Plan With Open Shelves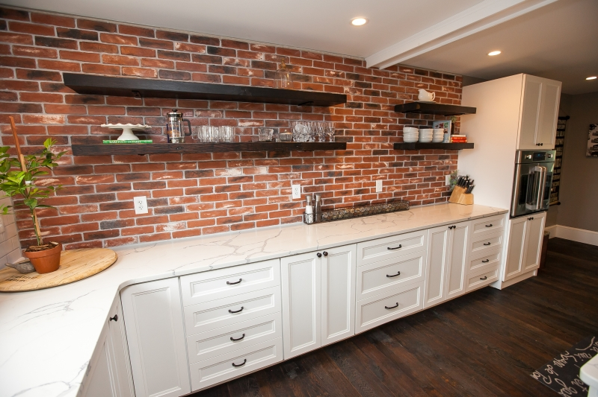 If your kitchen feels small, dark, and closed-in, consider an upgrade that rethinks the layout and opens things up. There are many ways to breathe fresh air into your kitchen by adding extra open space. Here are some options to consider.
Move all cabinets to one wall and put long open shelves along the other wall.
Shift the cabinets to a corner of the kitchen and on the other corner, add a long countertop or island that invites people in to sit.
Choose all-white cabinetry, countertops, and light-colored walls.
Install bright overhead lights and task spotlighting.
Create a pantry that keeps clutter behind closed doors.
Open shelves and glass-front cabinets add visual depth to kitchen walls. They make your kitchen feel more like an art gallery, which dovetails perfectly with an open-concept floor plan.
3- An Inventive Island That Doubles as Storage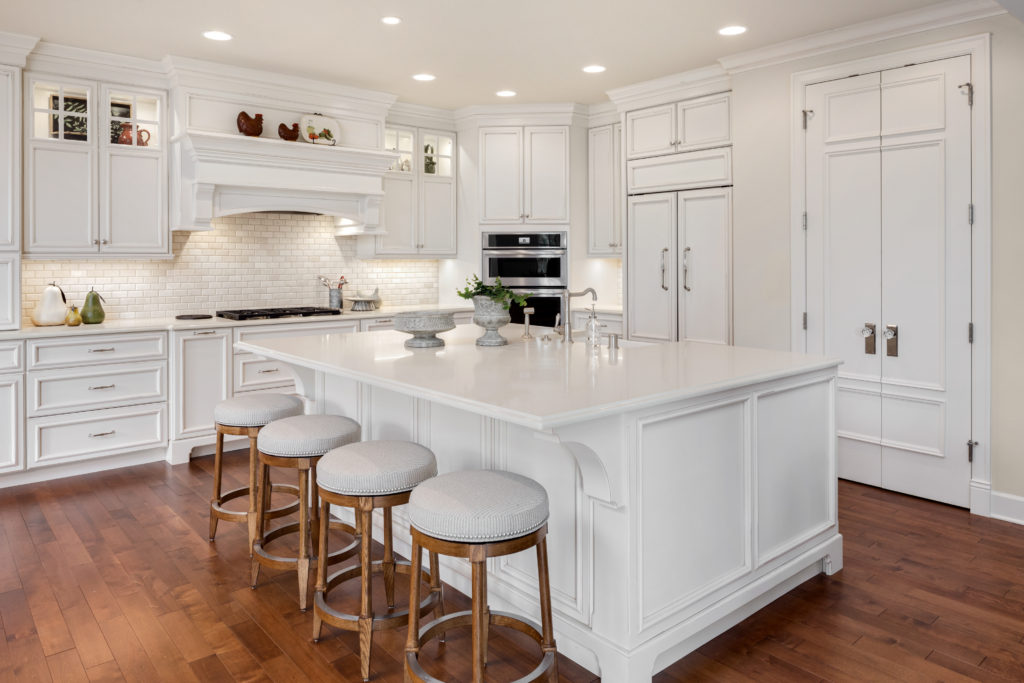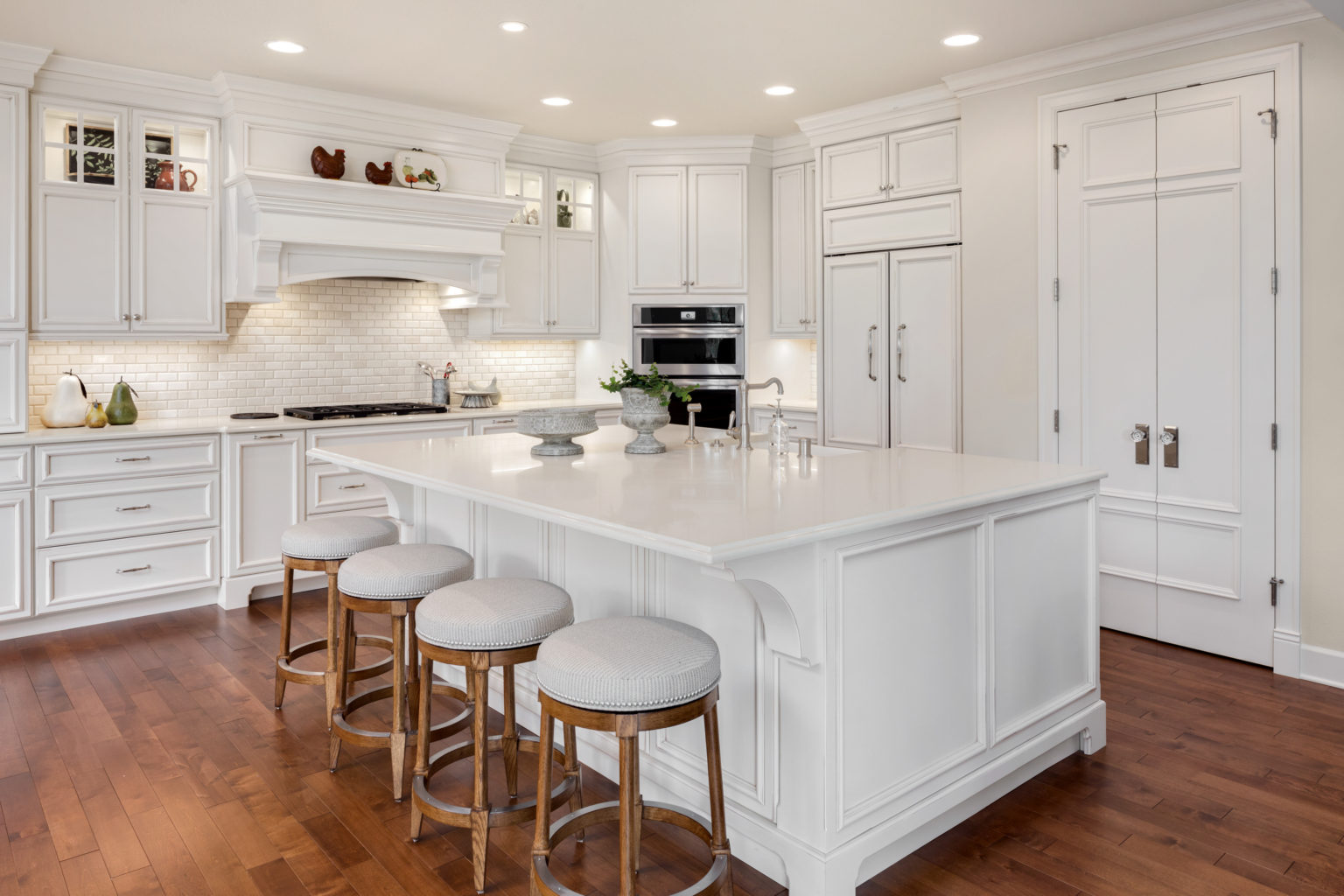 Have you considered adding a kitchen island? Islands are a hot feature among homebuyers because they add seating and storage.
There are many creative ways to add an island even if your kitchen is on the small side.
Extend an island from your existing countertops.
Remove a wall and build an island where it used to be.
Claim extra space from a rarely-used row of low cabinets.
Have a builder create a rolling island on wheels.
Ask a professional kitchen designer to rework your space for an island.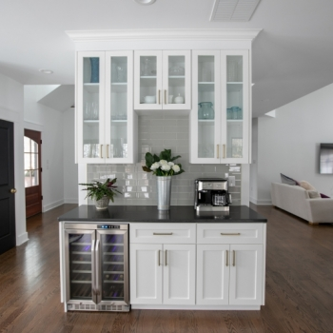 Get the most out of your island by including smart storage and kitchen features that maximize the space. Your custom builder can design features like:
A wine bottle rack
A minibar and drink refrigerator
A small sink with a colander and sprayer for fruits and vegetables
A built-in cutting board and/or knife holder
Custom-sized storage for pots and pans
Hidden outlets and storage space for small appliances
A bookshelf for cookbooks
A fold-away stand or charging station for your phone or tablet
4- Custom-Crafted Hidden Storage
Banish clutter and give your kitchen an instant high-end look by creating hidden storage spaces for appliances and cookware. Talk to Diplomat Closet Design about innovative hidden storage options.
Could your kitchen benefit from any of the hidden storage options below?
A cabinet door to hide your mixer or blender
A roll-away low drawer for heavy equipment like a dehydrator or fryer
A pop-open toe-kick drawer that hides swept debris
A charging drawer to hide cords and devices
Custom-built pantry and cabinet doors that hold extra storage
A custom spice cabinet of your dreams
Selling Your Home? Let's Get Your Kitchen Tour-Ready
Before buyers start touring your home, now's the time to add kitchen upgrades that leave a lasting impression. View our kitchen design gallery and contact us now to schedule an appointment.
If you live on the Eastern Main Line in towns such as Phoenixville, Pottstown, King of Prussia, or Exton areas, contact us today for a consultation.