The latest buzzword in the working world is "hybrid" — a blend of at-home and in-the-office work. Hybrid work has quickly become the new normal, with about 55% of U.S. employees preferring to work from home at least three days a week.
Can your existing home office handle this kind of pressure? Probably not!
Let's face it: Many so-called home offices are just dining room tables covered in devices and paperwork. But you deserve a functional and inspirational space.
It's time for a fresh look at the modern home office. Here are some innovative ways to rethink and redesign your at-home workspace.
De-Clutter and De-Stress Your Home Office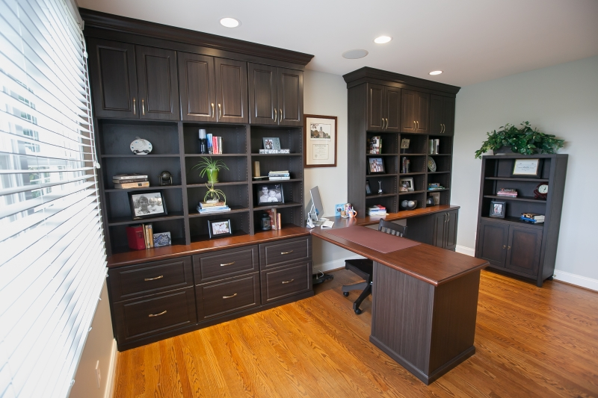 Clutter is the #1 problem with most home offices. When you're trying to wedge a workspace into an already busy home, clutter just seems to creep in around the edges.
To banish clutter, choose a spot in your house that can be 100% devoted to your home office. Remove anything that clogs up the space and saps your productive energy, like boxes, bills, and laundry.
Now add a few key pieces of workspace furniture: a desk, some shelves, a comfortable chair, and task lighting. Pledge to keep all clutter out of this sacred space, your new home office.
Think Like a Professional Home Organizer
Professional home organizers are excellent at getting the most out of every square inch of usable storage space. So think like one of these experts by stepping back and taking a new look at all the nooks and crannies in your home office.
Could you add a row of shelves to corral your awards or product samples?
Is there space for a large, deep drawer that can hide all of your devices and cords?
Would a custom-designed desk or countertop give you more space?
If you're stuck, take a look at our related blog post about home office storage hacks. It has tons of ideas for reimagining your home office storage.
Invest in Your Interconnectivity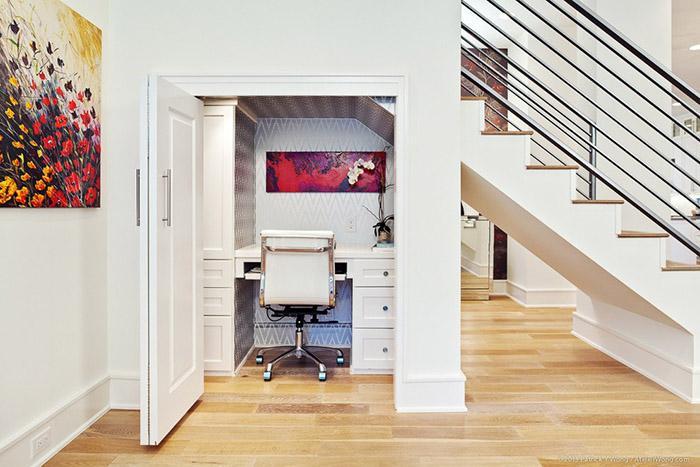 Today's hybrid workspaces are fully tech-enabled and capable of handling everything from charging your devices to launching a Zoom call at a moment's notice. So remember to give your home office the power it needs.
One of our favorite ideas is to build a hidden charging station right into your home office layout. For example, a fold-down charging platform can hide on the wall of your storage closet. Or a desk drawer can slide open to reveal a hidden docking station for your phone and tablet.
If you do lots of Zoom meetings or YouTube videos, consider adding features like:
A fold-out ring light that gives your face soft, flattering illumination
A custom-designed rear wall that displays your logo or portfolio
Sound-dampening features to prevent ambient noise from family and neighbors
A height-adjustable desk that allows you to sit or stand
Make It Welcoming for Guests — Including Your Pets
Whether you handle meetings in person or just visit by video, welcome people into your home office with thoughtful, personalized decor. Even a single piece of art or a beautiful lamp makes the whole space feel cozier and inviting.
For in-person visits, add one or two comfortable roll-away chairs that can glide up to your desk whenever needed. For video calls, include at least one bold statement piece that makes your office look professional yet personal.
And don't forget about your pets! Everybody loves getting a glimpse of a cute pooch during a boring conference call. A custom office designer can create a built-in spot for your beloved pet to curl up next to you while you work from home.
Time to Hybridize Your Home Office!
To remodel your home office for hybrid work, contact Diplomat Closet Design. We have a team of talented designers and builders who can create just about anything you can dream up. Plus, we have a new DIY design tool that brings your dream office to life right before your eyes!
If you live in the Buckingham, Chalfont or Newtown areas, contact us today for a consultation.