During COVID-19, about 56% of the U.S. workforce began or continued working from home, although only about 3.6% were doing so consistently before the crisis. Experts now predict that about 25% to 30% of us might keep working from home on a permanent basis.
So now what? Is your at-home setup really ready for long-term use?
Chances are, your home office could use a big boost of beauty and function. Let's look at some stunning home offices that will help you rethink your space.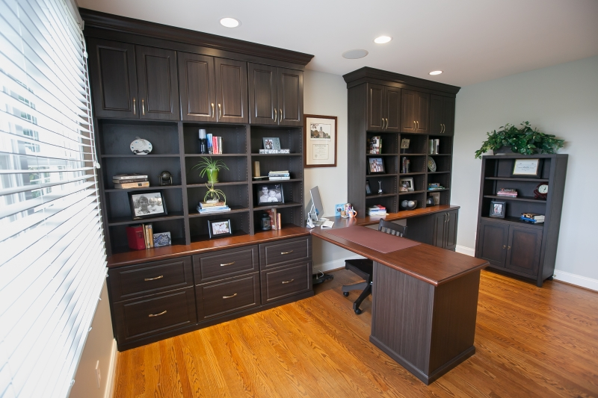 First, take a look at the photo above. This room could be created in your home – or almost anybody's home – because it's just a simple rectangular footprint of space.
What makes it magical is its home office organization system. A plain wall becomes six built-in columns of storage, including cabinets, open shelves, and drawers. The middle of the room is the command center with a desk and chair. Plus, there's a huge amount of handy countertop space and room to pull up a chair or two for a meeting.
Every nook and cranny in this home office system can be customized to fit your exact needs. If you have a printer you only use occasionally, hide it behind a closed cabinet door. If you have tons of product samples, tuck them into a deep sliding drawer.
The colors and finishes on a system like this can be customized to your home, too. This homeowner chose handsome dark wood tones with contemporary metal pulls, but you could select another combination that suits your taste and decor.
A Corner Transformed
Is your home office a corner in another room? No problem. With some careful planning, you can design a cozy office space that's a true workhorse for your work life.
As you can see in the photo above, a small inset nook becomes a good-size desk including drawer storage. The perpendicular wall of cabinets and drawers can hold a huge amount of office supplies, files, and equipment.
Don't let a small or awkwardly-sized space throw you off. After all, mail-order maven Lillian Vernon started a multi-million dollar catalogue empire from her kitchen table! With the help of a talented designer, you can turn any space into an efficient and enjoyable home office.
The Light-Duty Docking Station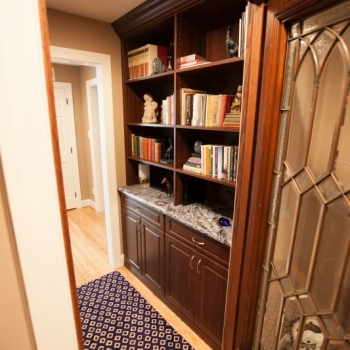 Some people don't need a full-on office, but just want a place to toss an iPad and charge a phone. If this sounds like you, create a small but stylish workstation in your living room, hallway, guest room, or study.
Although it looks like a piece of timeless built-in furniture, it can be equipped with modern features including a multi-pronged charging station for various types of devices. Add anything you need to keep your work life organized.
And here's one last secret about this type of mini-home office: It fits in your bedroom, too. Maybe you prefer to stay snuggled in bed and work from your laptop. A built-in workstation is a perfect spot for your devices, paperwork, and even a coffee station with snacks.
Enjoy Working From Home!
If you're ready to add function and style to your home office updates, let's chat. Diplomat Closet Design is doing virtual appointments and estimates during COVID-19, so please don't hesitate to contact us today.