The average American home holds a whopping 300,000 individual items. So if you're building a custom home, now's your chance to carefully design your storage space to accommodate each and every item your family owns.
It's an exciting opportunity to get creative with your custom home storage. Here are some innovative storage ideas for custom-built homes from the design experts at Diplomat Closet Design.
Nourish the Heart of Your Home – the Kitchen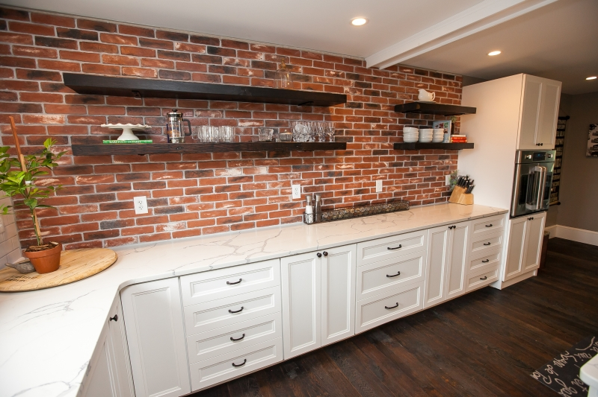 As you design the floor plan and layout of your kitchen, include storage options that double as design details. Open shelves look sleek and stylish, especially when they're made from handsome hardwood that matches the other woodwork in your home.
The kitchen is also a great place to add hidden storage solutions that keep clutter out of view. Build a sliding spice rack right into your kitchen cabinets. Add a pull-out trash can. Create special nooks custom-designed for individual pieces of cooking equipment, like your mixer, blender, toaster, and coffee pot.
Make Your Master Closet a Dressing Room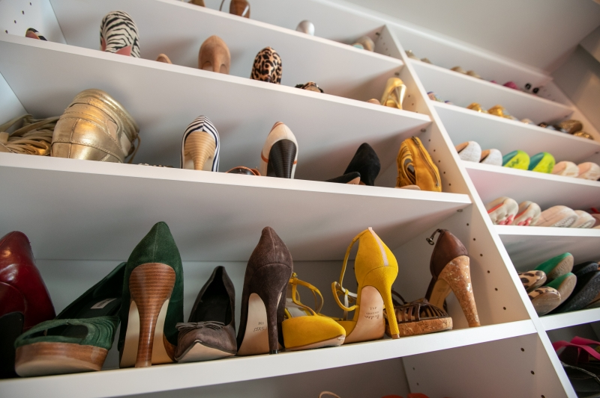 Instead of building a basic master bedroom closet, seize this opportunity to finally have the dressing room of your dreams. Include a central island armoire, custom-height clothing racks, open shelves for cashmere sweaters, or even a custom display case for your designer shoes and purses.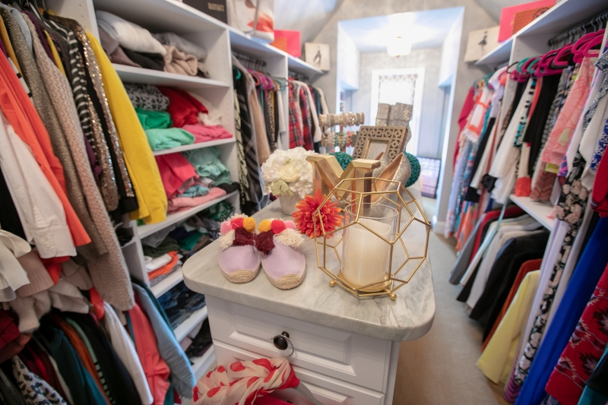 Dressing rooms definitely aren't just for women. A men's dressing room is the perfect spot for a custom dress shoe rack, open shelving for hats, velvet drawers for watches, or a handsome wood tie display rack.

Home Offices Need Home Storage
Your home office is the perfect spot to add some custom storage that keeps your work/home life in balance. How about a wall of sophisticated open shelves in a beautiful dark wood? It's the kind of modern storage solution that looks terrific as a backdrop in your conference calls from home.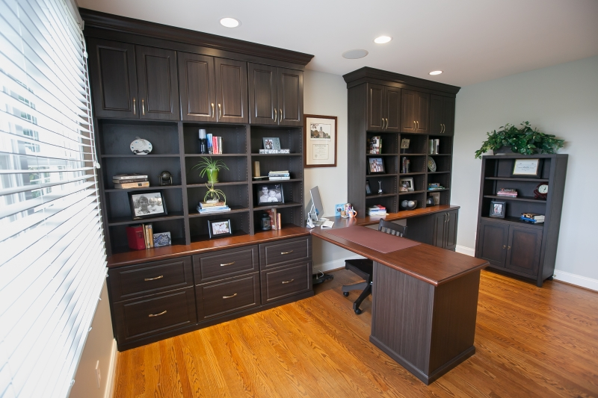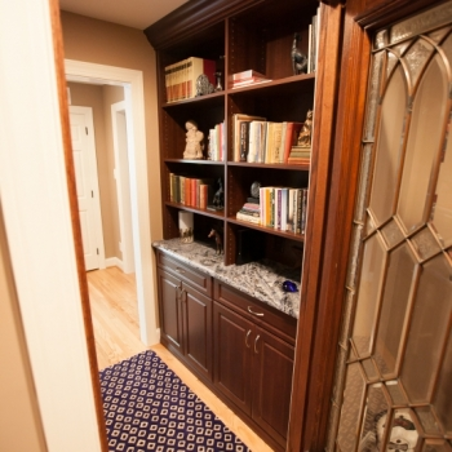 Even if your new home won't have a home office, consider adding some custom hallway shelving near the front door or garage. You'll always appreciate having an extra countertop where you can drop your keys and laptop at the end of a long day.
Give Yourself the Gift of Garage Storage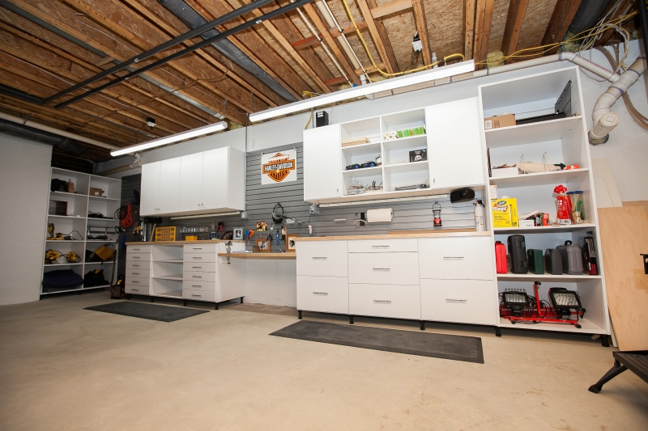 If there's one storage zone you shouldn't neglect in your new home plan, it's the garage. This large, open area is bursting with potential storage space and you'll enjoy using it more every day if it includes some clever storage design.
With a bit of planning, your garage can become a true room in your home that expands your usable square footage significantly. This is especially important if you live with a car lover or motorcycle enthusiast who needs extra space for vehicles and an array of cleaning supplies and gear.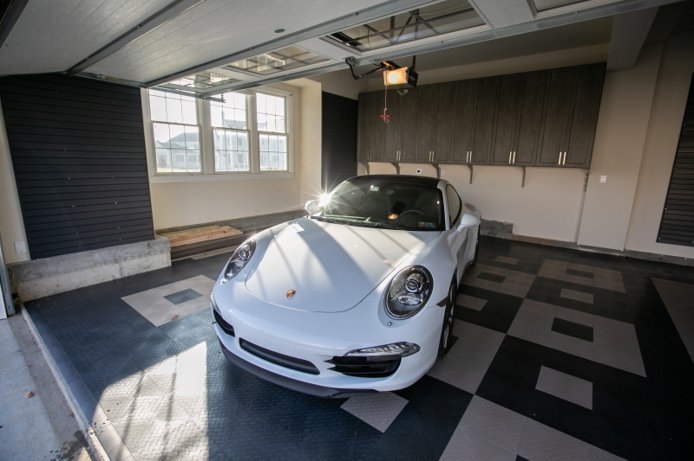 A Laundry Room That's Anything But Ordinary
Your custom-built home offers the opportunity to make mundane chores, like doing laundry, much easier and more enjoyable. Design a laundry room that cheers you up every time you step inside.
Add cabinets, shelves, a countertop, and a utility sink to make it functional, and top it all off with a chic paint color that matches your home decor. You can also add a fun and durable patterned floor that can withstand heavy use from daily traffic.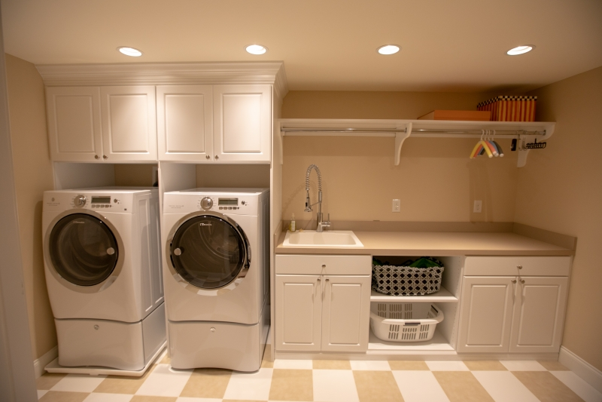 Even in a smaller laundry room, you can add custom touches that make doing laundry so much easier. In the photo below, there are custom hanging rods above the countertop and open shelves that allow this homeowner to organize their laundry as it comes out of the space-saving stacked washer/dryer.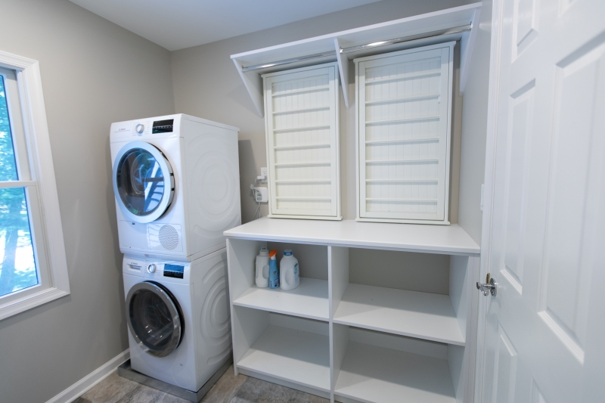 Minimize Mess With a Mudroom
Mudrooms are also a popular choice for new custom-built homes. A mudroom is a pass-through area where you and your kids can pause after entering the home and shake off messy boots, coats, and sports gear. It's also an easy spot to stash purses and other accessories.
Don't Forget the Details
One last thing: As you plan the layout of your custom-built home, keep in mind that it's important to plan for plenty of small-scale storage-friendly solutions like hooks, bins, clips, rods, and in-wall alcoves.

If you need help brainstorming how to handle all the details, connect with the experts at Diplomat Closet Design. We have long-standing relationships with Pennsylvania home builders and we offer wisdom from decades of experience with installing custom storage solutions in custom-built homes.