Do you have a home office in Malvern? Maybe you work remotely for a Philadelphia-based company or you're a busy entrepreneur running your own start-up business.
If this sounds like you, remember that the setup of your home office is an essential part of keeping things running smoothly. We'd like to share 5 helpful tips that will help you stay organized and productive while working from home.
1- Invest in Your Professional Style
It's worth the investment to add beautiful, stylish furniture to your home office. This is an opportunity to set the tone for your business and look professional on video conference calls.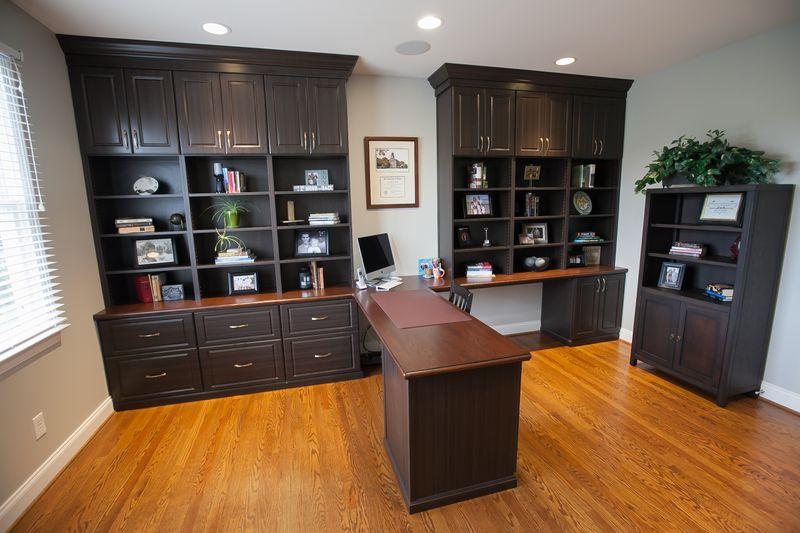 A handsome wood desk and matching office shelving system is a classic option that looks great on camera and in person. This kind of home office organization offers plenty of storage to keep things neat and tidy, plus enough space to move around and get things done.
2- Add Built-in Connectivity
Any modern home office must be fully wired and wireless, as needed for your business. Work with a custom office designer who can help build connectivity right into your home office so it's always easy to keep your laptop running, your phone charged, and your devices organized.
If you have a printer or other bulky equipment you'll be using in your office, let your designer know. With a bit of planning, it's easy to add a custom drawer or cabinet where any type of equipment can rest until the moment you need it.
3- Conceal Cables and Clutter
Visual clutter is distracting in a home office, so keep it out of sight and out of mind. Plan to conceal cables, wires, computer accessories, boxes, paperwork, and other clutter that can easily build up.
For cables and wires, your office designer can find ways to tuck them away within the body of your desk, in the walls, and/or behind cable covers that blend into the design. Home office organization also takes care of other clutter, like paperwork, boxes, and packing materials. These items can go into a custom closet or cabinet.
4- Include Multiple Storage Options
If you approach your home office as an all-in-one storage solution, you can find clever ways to include multiple types of storage right into the overall design. Here are a few examples:
Use open shelves behind your desk to hold baskets that hide your daily mail.
A custom wood desktop organizer to corral pens, scissors, headphones, and other odds and ends.
Deep, pull-out drawers can hold items that are specific to your business, like product samples or gadgets.
A closet with custom-sized cubby holes is perfect for a business with lots of physical items to store, like packages and customer inventory.
In most spaces, it's best to have a mix of storage solutions so you always have options for stashing things away without losing track of them.
5- Stay Organized and Comfortable
Staying organized is extremely important in a home office, but so is your personal comfort. Don't forget to include a few things that make it a pleasure to be in your office: a comfortable chair, warm lighting, and a spot to rest your cup of coffee.
If you're prone to getting a chill, establish a drawer where you can stow away a blanket and keep it close at hand. If you listen to music while you work, build speakers into your home office setup. You can even incorporate a small refrigerator into your desk or closet, so you always have a snack or a smoothie waiting nearby.
For more ideas to keep your home office comfortable and organized, connect with the design experts at Diplomat Closet Design or browse our office gallery.