Is your pantry a slacker? Could it be doing more to live up to its full potential?
Most pantries have significant wasted space that could be used to store food, drinks, appliances, serving ware, and much more. So let's look at some smart solutions for organizing your pantry and getting the most out of it.
1- Add a Big Dose of Custom Shelving and Cabinetry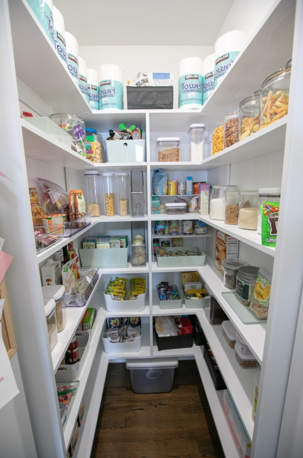 Extra shelves and cabinets can double or triple the usable space inside your pantry – especially if they're perfectly sized. Most standard pantry shelves are too tall and too deep, leaving excess wasted space.
For example, if you have lots of canned and jarred food to store, you'll love having a whole pantry wall of short 8-to-12-inch tall shelves. Or if you have numerous odd-shaped, bulky kitchen gadgets to store, add custom-sized pull-out shelves that hide discreetly behind cabinet doors.
Plus, almost any shelf or cabinet can be built to include handy storage features that amp up your organization. How about a spinning lazy susan for your spices? A basket for your kids' favorite snacks? Bins for beers and sodas?
2- Don't Build Out. Build Up!
If it seems like your pantry is way too small, don't give up on it quite yet. Look up, look down, and evaluate whether there's extra space hiding along the edges of the ceiling and floor.
Way up high, a long shelf or cabinet could hold rarely used items like holiday dishware or collectible china. Near the ceiling is the perfect spot for a custom wine glass rack that holds a row of treasured wine glasses you only use on special occasions.
Down by the floor, wooden bins on rolling casters could hold gallons of bottled water, your family's picnic gear, the kids' lunch boxes, and coolers for game day. If you buy foods and drinks in bulk, pull-out floor-level storage shelves are an easy way to store heavy items without straining your back.
3- Open Your Mind and Open your Pantry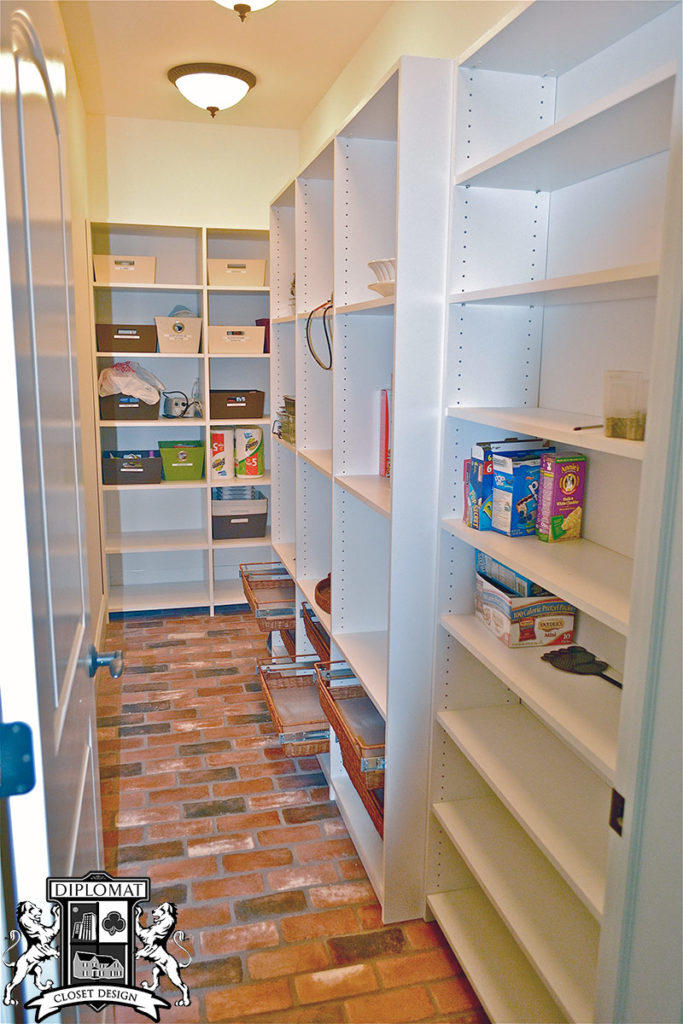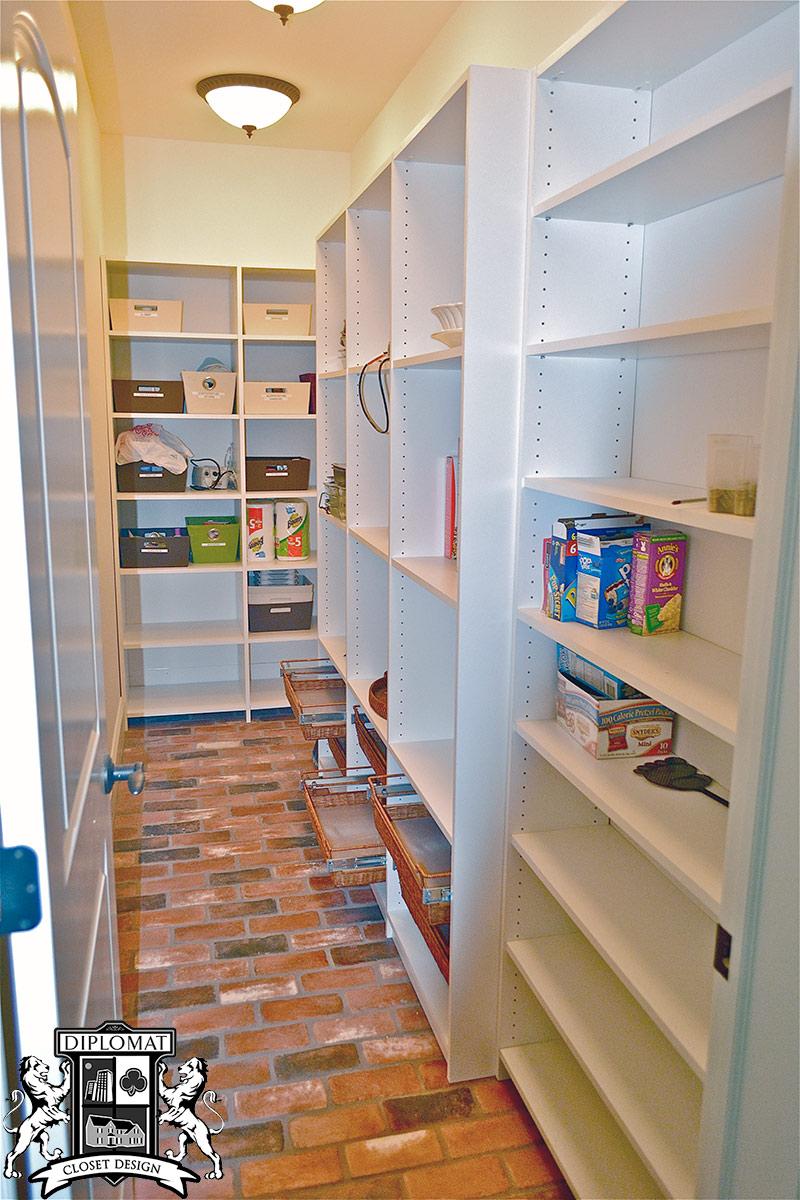 Have you heard of the new trend toward open-floor-plan pantries? Not every pantry is tucked away behind closed doors. Some sit right out in the open, providing ample storage right at your fingertips.
The key to having an open pantry is to design it thoughtfully and stylishly, right from the start. It should mesh with your overall kitchen and home decor, so don't skimp on the details like hardware and woodwork.
The best open pantries have ample shelves, attractive countertops, and immaculate storage that keeps everything neatly in place. It's a good idea to incorporate some cabinet doors that help hide most of the clutter.
You can also extend the footprint of your existing pantry with open kitchen shelving. Imagine storing your beautiful white dishware on live-edge wood shelves with built-in hidden uplights. Now your kitchen pantry is a built-in art gallery!
We Can Take Your Pantry to the Next Level
The possibilities are endless when you work with Diplomat Closet Design. See our gallery of pantry ideas for more inspiration and contact us today to start getting the most out of your pantry storage.
If you live on the Western Main Line including towns such as West Chester, Malvern, and Exton, contact us today for a consultation.