The kitchen is the #1 most-desired room to remodel, with 50% of U.S. homeowners hoping to do a partial or full kitchen update in the near future. Among the top concerns? A lack of storage space.
Our kitchens are bursting with appliances, dinnerware, gadgets, spices, and food. We simply don't have enough space for it all.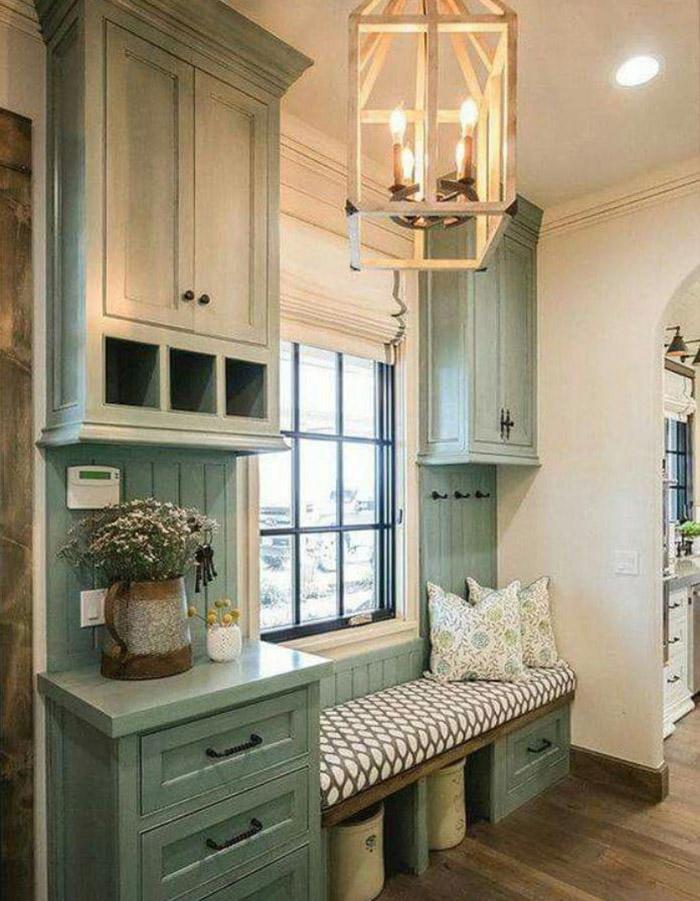 Currently, the top 10 kitchen storage requests in the U.S. are:
Pull-out trash/recycling containers
Cookie sheet/tray organizers
Revolving corner trays
Swing-out trays/shelves
Deep sliding drawers
Spice racks
Cutlery/utensil organizers
Pot and pan organizers
Appliance drawers
Pull-out corner drawers
Your kitchen is typically a heavily-used room, so it's important to keep it clean and clutter-free. With this in mind, we'd like to share some kitchen closets and pantries that offer ample storage space.
1- Design a Large Walk-in Pantry
A large two- or three-sided walk-in pantry makes an excellent addition to your kitchen. Not only does it provide a huge amount of storage, but it keeps everything hidden away behind the pantry door until you need it.
Long shelves are a must in a kitchen pantry, and we advise adding some drawers and cabinets too, for maximum storage options. You can even add a locking cabinet or safe if you need to securely store medication, liquor, or money.
Make sure you use all available space from floor to ceiling and include stylish baskets and lighting. These details help you get the most enjoyment and function out of your kitchen pantry.

2- Add a Reach-in Pantry Closet
If you don't have the square footage for a full walk-in pantry, consider a reach-in closet pantry that still offers lots of kitchen storage. Reach-in pantries can include long and tall shelves, drawers, cabinets, cutlery organizers, tray dividers, and many other organizational features.
In fact, it's even more important to work with a professional closet designer if you're dealing with a tight space. You'll need custom-designed sliders, hangers, and recessed/hidden storage solutions that help you get the most out of every square inch.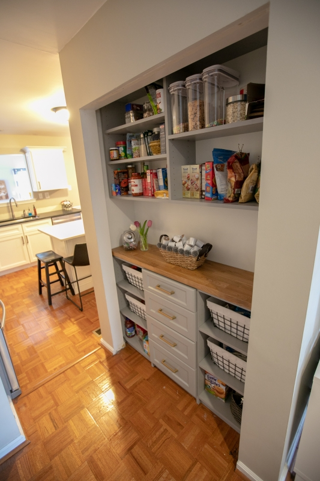 Think you don't have space for a pantry? Think again. Here's an innovative option from Diplomat Closet Design that seemingly creates a pantry from nowhere.

In the photo to the left, the kitchen storage shelves are recessed into the wall. It's like a doorless closet pantry, plus a handy kitchen countertop that can hold your phone, keys, mail, or a cheerful vase of flowers.
4- Build a Stylish Kitchen Storage Wall Unit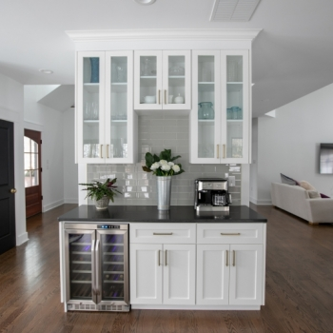 Another option is to turn the concept of a closet inside out and build more storage right into your existing kitchen. This is a great option for homeowners who don't necessarily have the right spot for a closed-in pantry but could devote some floor space to open storage.

Simply take a blank kitchen wall/partition and turn it into something that resembles built-in furniture. In the photo to the rigth, the homeowner has plenty of kitchen storage with standard lower cabinets and drawers, glassed-in upper storage shelves, a beautiful countertop, and even a built-in beverage refrigerator. Visually, it all comes together as a cohesive unit.

Creativity is key when it comes to kitchen storage. We encourage you to browse our gallery of kitchen pantries for more ideas or connect with the kitchen design experts at Diplomat Closet Design for endless kitchen closet solutions.