Millwork is an unsung hero of home design. Flashier home features, like glamorous light fixtures and oversized windows, usually get much more attention than the millwork surrounding them.
In this article, we'll explain what millwork is and how custom millwork adds style and function to your home. We'll also describe Shaker-style cabinets, which are having a surge of popularity in modern millwork.
What Is Custom Millwork?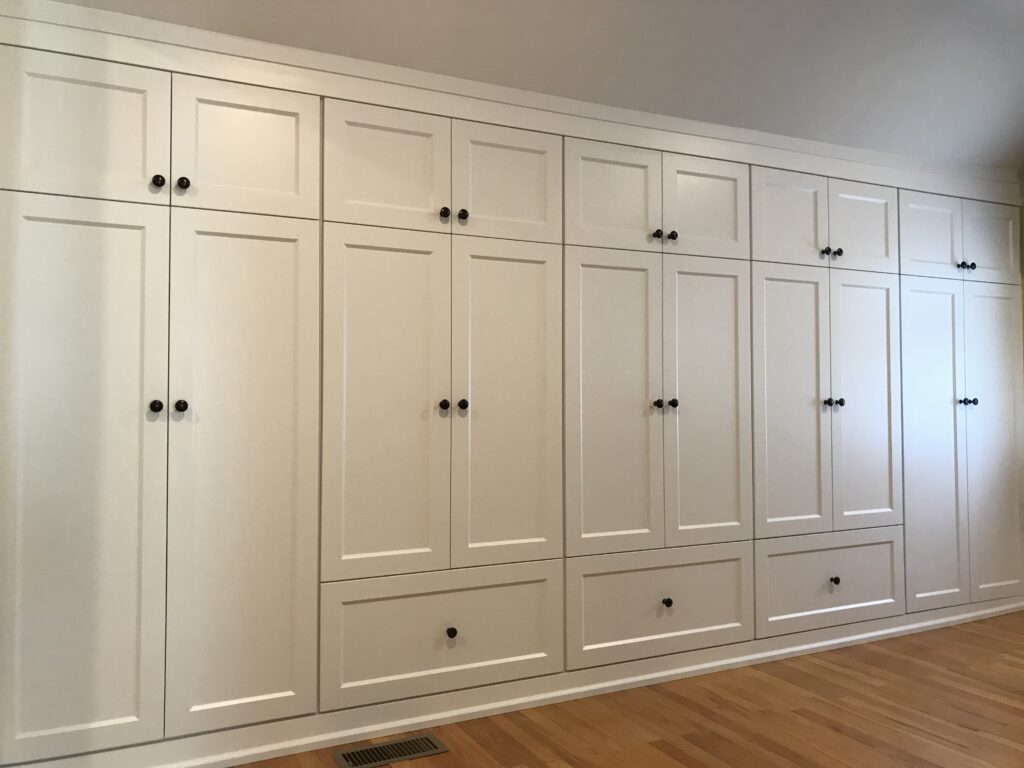 Millwork includes a home's structural elements like cabinets, shelves, seating, and storage features. The term "millwork" traditionally refers to wood fabricated in a mill, but today's millwork comes from a variety of sources and may include wood alternatives like pressed wood, composite cellulose fiber, melamine, and many other similar materials.
Architectural Digest calls millwork one of the top trends of the year that the "pros are obsessed with right now." Finely crafted millwork makes any room look more stylish and elegant, taking a home's interior design to a higher level of sophistication.
Customized millwork is individually designed to suit a specific space while meeting the homeowner's needs for structure and organization. Choosing customized millwork involves selecting details like cabinet doors and frame styles, which will impact the overall look and feel of the home.
Millwork ranges from simple to elaborate. Minimalistic styles of millwork use long, sleek lines without ornamentation and tend to be white, neutral, or monochromatic in color. Modern millwork minimalism appears simple and restrained, allowing other objects in the room to shine.
More elaborate forms of millwork are works of art unto themselves, commanding attention. Examples of ornate and decorative millwork can be found in historic mid-1800s and early 1900s homes, often patterned after Greek, Roman, Renaissance, and Victorian designs.
What Are Shaker-Style Cabinets?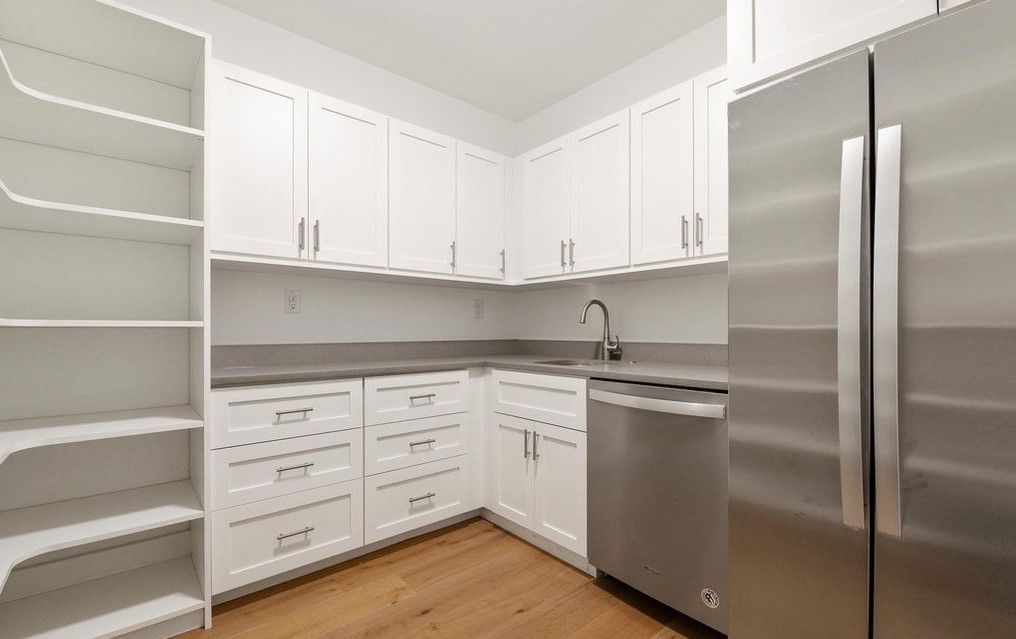 Shaker cabinets are known for having boxy, square-edged millwork with a "box inside a box" appearance. In the Shaker style, every cabinet and door has an inset panel framed out in simple, flat trim.
All Shaker designs originate with the Shakers, a religious sect who arrived in America from England in 1774. Along with their unique spiritual beliefs, they brought the guiding principles of honesty, simplicity, and unity with Shaker home and furniture designs.
Today, Shaker-style cabinets are especially popular in kitchens, where simple lines give a welcome feeling of cleanliness and order. Shaker details also look sleek in home offices, entertainment rooms, mudrooms, and laundry rooms.
How to Add Custom Millwork With Shaker Style
Glass-Front Shaker Cabinets
Traditional Shaker-style cabinets include solid insets bordered by Shaker trim. Instead, consider using glass insets in your upper kitchen cabinets. These glassed fronts provide visual interest while giving your kitchen some extra sparkle.
False Fronts for Appliances
Streamline the look of your kitchen by hiding appliances and clutter behind Shaker-style false fronts. Hide your dishwasher, microwave, plumbing, pet food station, or almost anything else you'd prefer to keep out of sight.
A Fast Shaker Makeover
If you want to update the look of a room without investing in a full renovation, just change all of the cabinet, door, and drawer fronts to Shaker-style fronts. Make a dramatic change in your laundry room or home office, where a small-scale makeover has a big effect.
Shaker-Style Walk-in Closet
A walk-in closet is the perfect place to celebrate simple Shaker details. Give your closet a finished look and amp up your organization with a custom-built Shaker-style closet system.
Stay Ahead of the Trends With Diplomat Closet Design
Whether you prefer to keep up with the latest trends or choose timeless designs, Diplomat Closet Design is here to help. Our team of professionals will work in a harmonious partnership with you to add function and beauty to your home.
If you live in Delaware County in towns such as Media, Wayne or Wallingford, contact us today.