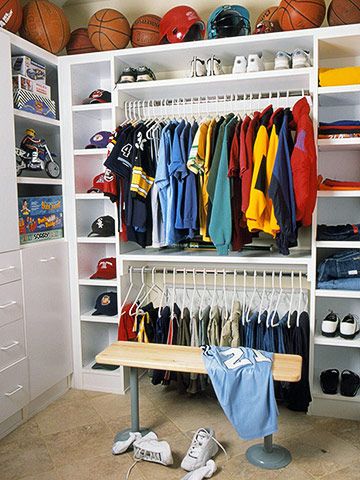 Does your child's closet fit them as well as their favorite t-shirt? It should. To help a child or teen stay organized, their closet should be custom-designed to suit their individual clothing, accessories, shoes, sportswear, and everything else.

We'd like to help you design a closet thoughtfully with your child's unique needs in mind. At Diplomat Closet Design, we create custom closets for babies, children, and teens. Here's a look at our top tips for kids' closets.
Keep Everyday Things Within Easy Reach in a Teen Closet
The #1 priority for a kid's closet is making it easy to use. If it's not tailored to their needs, they simply won't like their closet and won't want to use it. Everything should be within their reach and accessible without climbing or digging through the closet.

Install clothing rods at their shoulder height and drawers near their knee height. Design their closet in a way that puts almost everything in view, so they can see exactly what they own. Put their most-loved clothing front-and-center so it's easy to get dressed every day.
Create Custom Solutions for Special Belongings
Every child has their own hobbies, sports, and activities and each of these comes with an array of special gear. Install custom-sized nooks and shelves that can accommodate this stuff.
For example, if your child has lots of bulky sports gear, create deep pull-out drawers to hold it all. Add hooks or clips to hang things like helmets or ballet slippers. When everything has a place, it's easy for your child to put each thing away at the end of every day.
Provide Some Tech Support
Your child probably has an iPad, phone, gaming device, or other electronics. Help them keep their devices organized and fully charged by installing a charging station in their custom closet.

Create a nook where they can place each device and charge it on a docking station. Keep the outlet itself hidden, enclosed and safely out of reach for little fingers – something you can accomplish with the expert help of a custom closet designer/installer.

Ask for Your Child's Input
Before you settle on a final design for your child or teen's closet, invite their input. What would help them enjoy and get the most out of their closet?

The more involved your child is in the design process, the more they'll value their custom closet. This is particularly true for teens who like to express their individuality. But even a young child can pick out their own drawer knobs and feel involved in the project.

Tweak it Over Time
A custom closet can be updated over time to meet your child's evolving needs. After all, a closet for a four-year-old has to be set up quite differently from a closet for a fourteen-year-old.

Consult your custom closet designer at Diplomat Closet Design to discuss your closet design needs. Take a look at our kids' closet ideas and closet gallery and share your thoughts. We'll help you design and install a closet that's the perfect fit for your child.