Have you ever opened your pantry door and sighed in frustration? You're not alone. Pantries are some of the messiest and most neglected areas of American homes.
If you live in an older home, you probably have a small and dark pantry that doesn't suit your modern family's needs. And if you have a newer house, it likely has just a basic, builder-grade pantry without innovative storage.
No wonder you're frustrated! Let's look at how to make your life easier with a fresh and functional pantry.
Custom Cabinets and Shelves = Instant Organization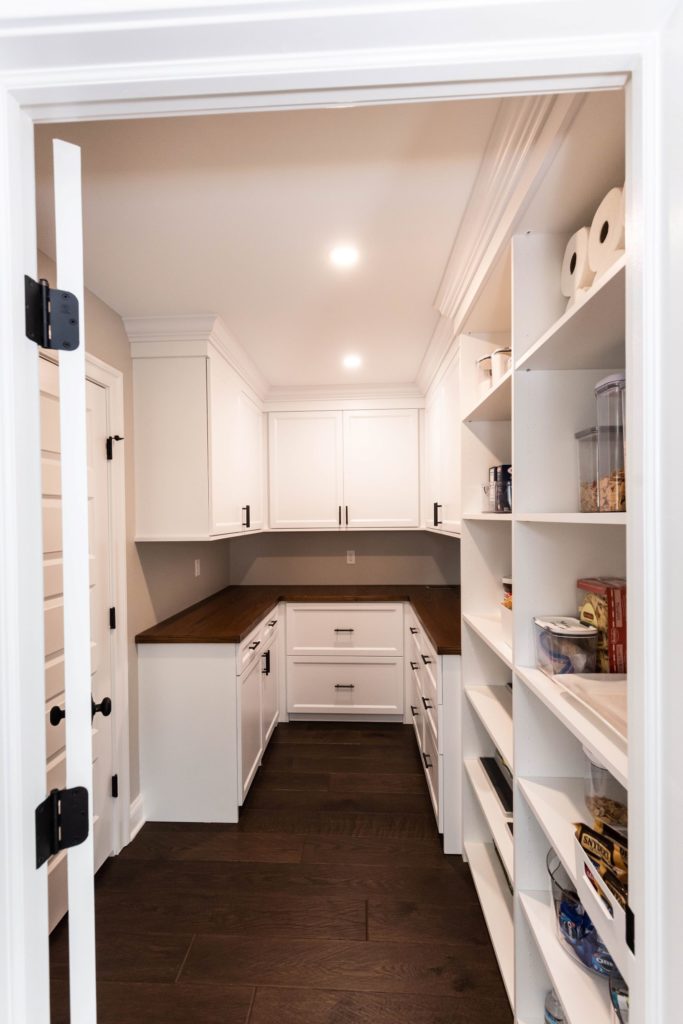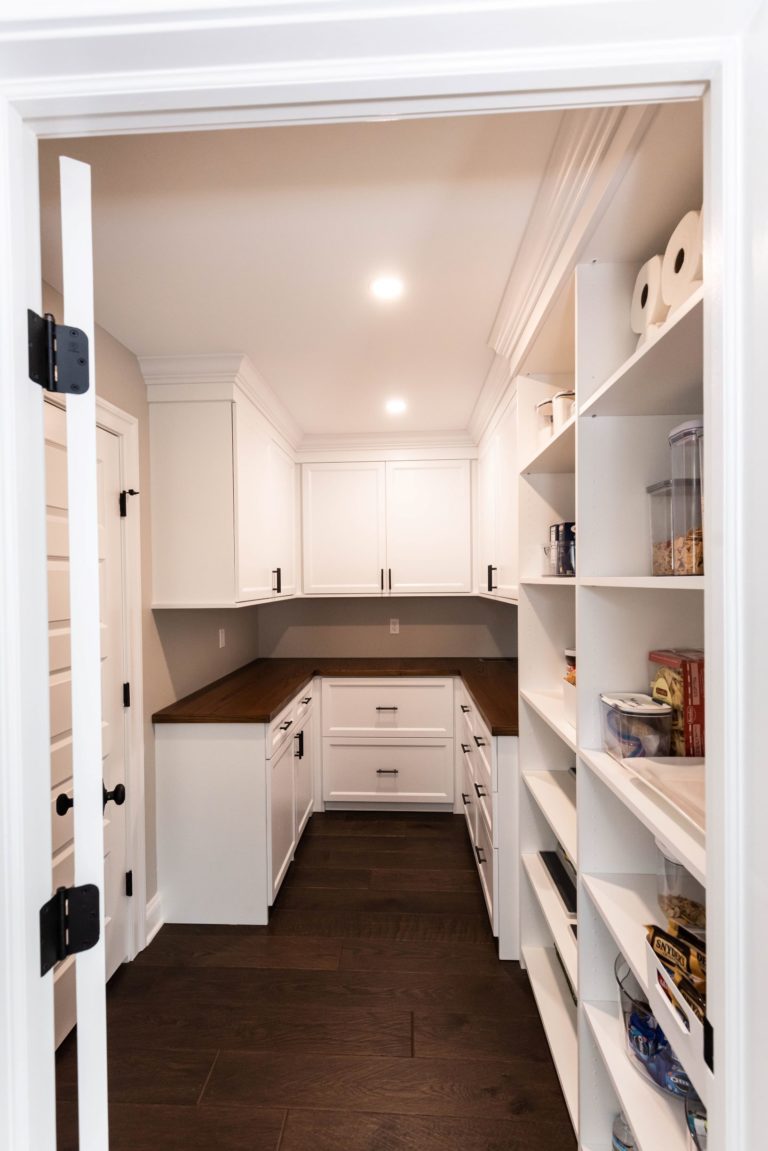 Standard pantry shelves are usually far too tall and too deep to access things easily in your daily life. Your shelves are always jam-packed with boxes, cans, and jars of all shapes and sizes. Every time you open your pantry, you're just wasting time and amping up your frustration.
That's why the first and most important pantry organization tip is to install an array of custom-fitted cabinets, shelves, and drawers. This can instantly double or triple the usable space in your pantry because the space is matched to your family's needs.
Consider adding shelves that use every square inch of space as they pull out, pull down, rotate, and fold away as needed. For example, if you have numerous bulky and odd-shaped kitchen appliances, ask your closet designer to create a custom slide-away drawer for each one, making it easier to access them when you need them.
A spinning lazy susan is a handy storage feature that makes your spices easier to see. Floor-level rolling bins take care of your bottled water, soda, and beer storage. You can even have a labeled bin for each of your children's favorite snacks.
Looking for Pantry Space? Look Up!
Homeowners sometimes say, "My pantry is too small for a makeover." That's a myth! Even a tiny pantry can benefit from a big dose of custom closet design.
Start by looking up at the pantry ceiling. Your pantry might have plenty of wasted space around the top. This could be the perfect place to add shelves and store things you use less often, like wine glasses, holiday serving ware, kitchen gadgets, or grandma's china.
What if you want to buy in bulk, but you're worried your pantry is too small? A custom pantry designer can help you find extra space along the ceiling and floor for drawers that pull down or slide out. You might even be able to build into the walls – between the studs – to find extra nooks and crannies for jars, kitchen knives, and bulky items.
Are You Open to an Open Pantry?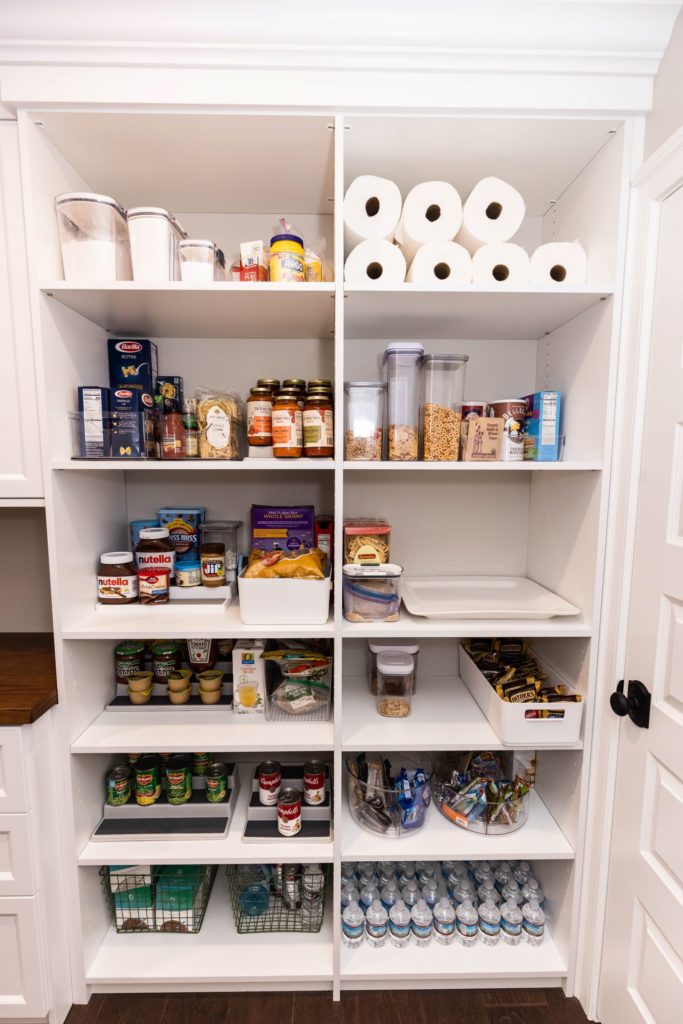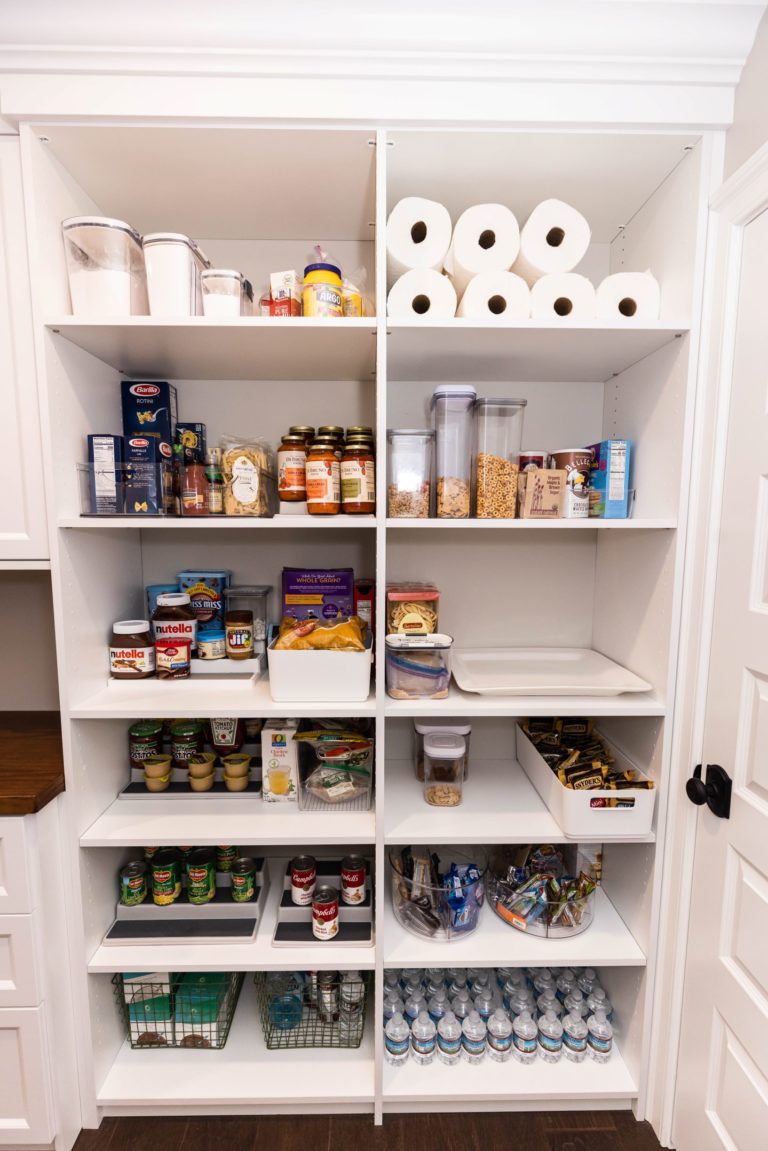 Not all pantries are hidden away behind closed doors. Open pantries are trending post-pandemic because they encourage good cooking flow. This keeps your pantry items right at your fingertips so you can interact with your family without constantly leaving the room.
An open kitchen pantry solution only works if you design it with maximum style and organization in mind. Open pantries must always stay neat and clean, or they'll look too cluttered.
As you design your open pantry, don't skimp on the key details that help it fit in with the overall style of your kitchen. Select high-quality materials, hardware, trim, and decor that help it meld with the look of your home.
An open pantry look usually includes long, luxurious open kitchen shelving. You can also create an open look with glass-front cabinets and/or a mix of storage baskets and bins. If you're worried about it looking too open, design your new pantry with a mix of open areas and closed cabinets to hide the clutter.
The Final Touch: Luxe Lighting
Your new pantry deserves to be seen. Proper lighting keeps your pantry functional and beautiful, which puts a smile on your face every time you pop in to grab something.
For a closed-door pantry or a pantry that's in a dark spot, you'll need extra lights to provide enough glow to see everything on your pantry shelves. Consider installing an overhead fixture that automatically flicks on when you open the pantry door.
If you have an open-style pantry, add extra drama with hidden backlighting/uplighting along the shelves. Now you have a stunning open-air art gallery that lives right within your kitchen!
Connect With Pennsylvania's Pantry Pros
Eager to give your pantry a top-to-bottom makeover? Take a look at our gallery of pantry ideas for inspiration, then get ready to start your pantry makeover journey with the pros at Diplomat Closet Design.
If you live in Montgomery County in towns such as Ardmore, Blue Bell, Valley Forge or King of Prussia, contact us today.