Imagine kicking off your muddy boots in an organized and cheerful mudroom that always leaves you smiling. Today's best-designed mudrooms are much more beautiful and functional than the dark, dingy mudrooms of the past.
A mudroom amps up your storage options and provides the perfect space to store all of your outdoorsy gear with zero mess. Here's how to turn any mudroom from "blah" to "wow"!
A Stylish Mix of Shelving Options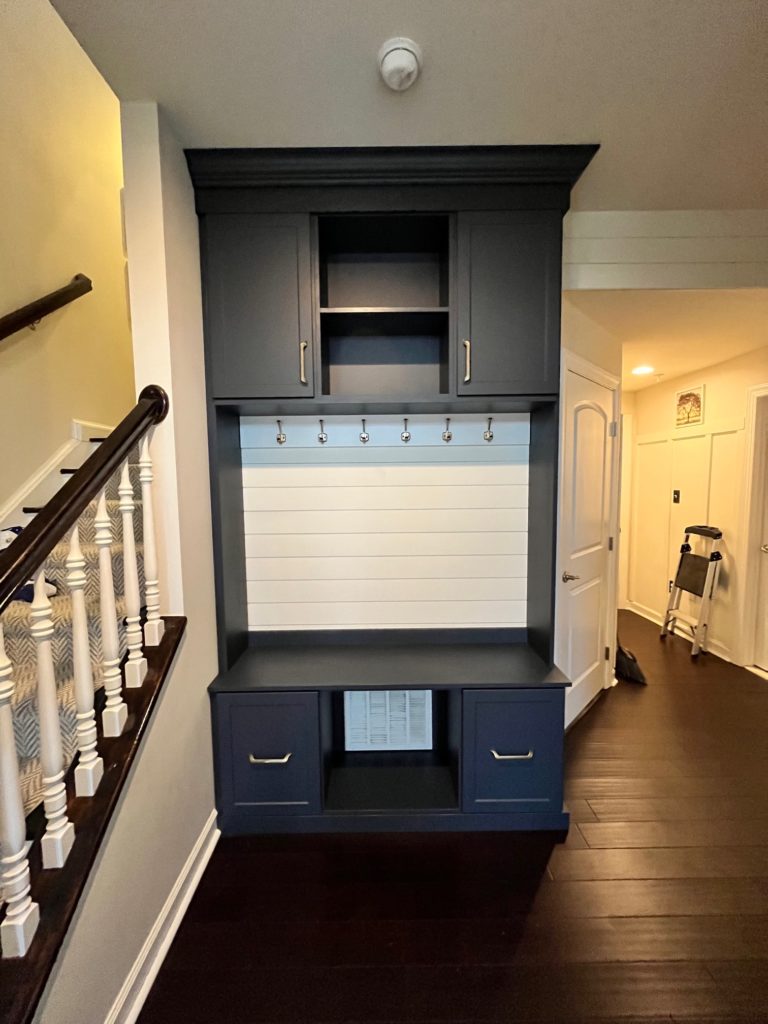 One thing your mudroom can't live without is shelving. A mudroom needs plenty of long, sturdy shelves where you can keep all of those boots, shoes, hats, gloves, and out-of-season clothing items.
Of course, you don't have to settle for standard-issue shelves. You can choose handsome wood-grain-look shelves, crisp white melamine, or almost any other color or pattern. Arrange them simply and symmetrically or create a dramatic shelf design that suits your tastes.
It's a good idea to mix up your types of shelves for maximum storage options. Choose open shelves where you prefer keeping things in easy reach, out in the open. Fill your open shelves with baskets or bins to keep the look tidy.
Don't forget to add shelving options that are custom-designed for your home and family. Have lots of purses and sunglasses? Install custom-designed shelves and drawers to hold everything just as you need it.
Is someone in the family a horse-rider with extra-tall boots? Does someone have lots of ball game uniforms and equipment? Store it in the mudroom inside oversize shelves or cabinets.
Plus, you can add a bench seat with hidden storage underneath. Now there's extra space for sports gear, pool toys, craft supplies, holiday decor, or anything else that needs to pile into a secret spot.
Hook Up This Hardware Look!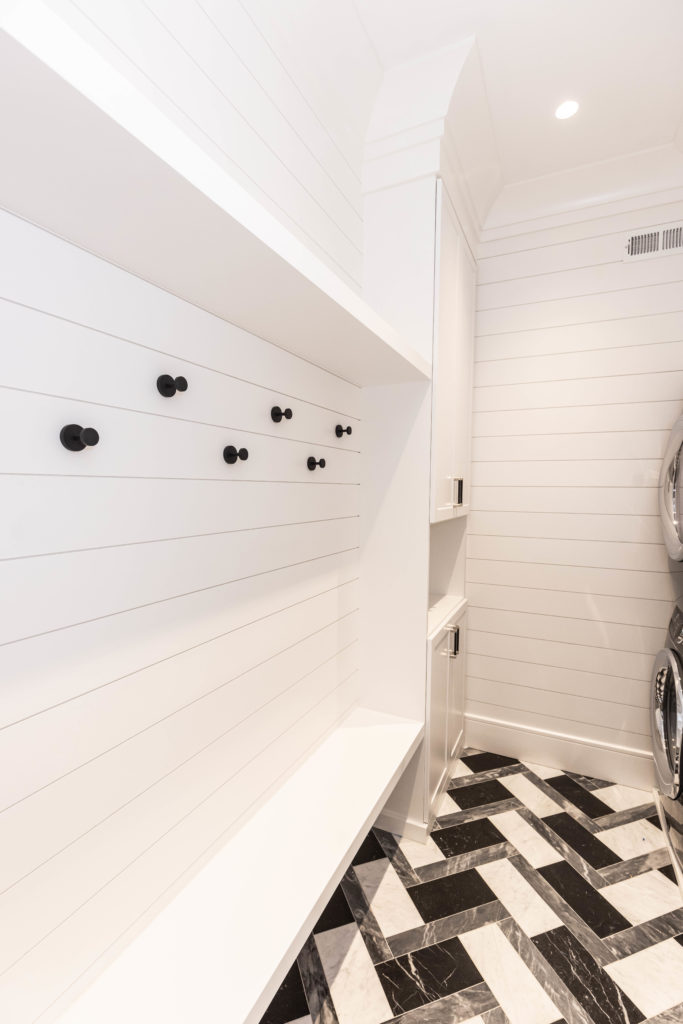 The best modern mudrooms are outfitted with carefully-selected hardware that adds to the overall functionality of the room. We're talking about knobs, hooks, clips, clamps, and lots of other little bits of hardware that provide tons of additional storage options.
We've seen hooks used particularly effectively in mudrooms. Everyone has scarves, hats, gloves, and bags they need to store somewhere, so mudroom hooks are an easy solution.
More mudroom hardware ideas:
Expand a small space by adding hooks and holders to the insides of doors and drawers.
Install a row of double hooks along an entire wall for jackets, hats, scarves, and more.
Have kids? Add low, child-safe hooks for backpacks and coats.
For heavy/wet shoes, install heavy-duty shoe holders a few inches off the ground.
Include fold-away hooks and clamps to pull out when you need them.
Organize your mail in the mudroom with a wall-mounted letter holder.
Don't forget about the pets! A wall-mounted pet cleaning station and a slide-away pet food drawer keeps all the pet mess in your mudroom and out of the rest of the house.
Super-Styled Luxury Mudroom Design and Decor
Here's one of the most exciting trends we've seen in mudrooms lately: creating ultra-sophisticated mudrooms that meet or exceed the luxuriousness of the rest of your home. Design your mudroom with custom design touches that make it a special place to start and end every day's journey.
If you want to match your home's current luxury style, make sure you integrate your mudroom with the rest of your home's overall look from floor to ceiling. For example, if your home has hardwood floors and fancy beadboard walls, continue both of these materials right into the mudroom.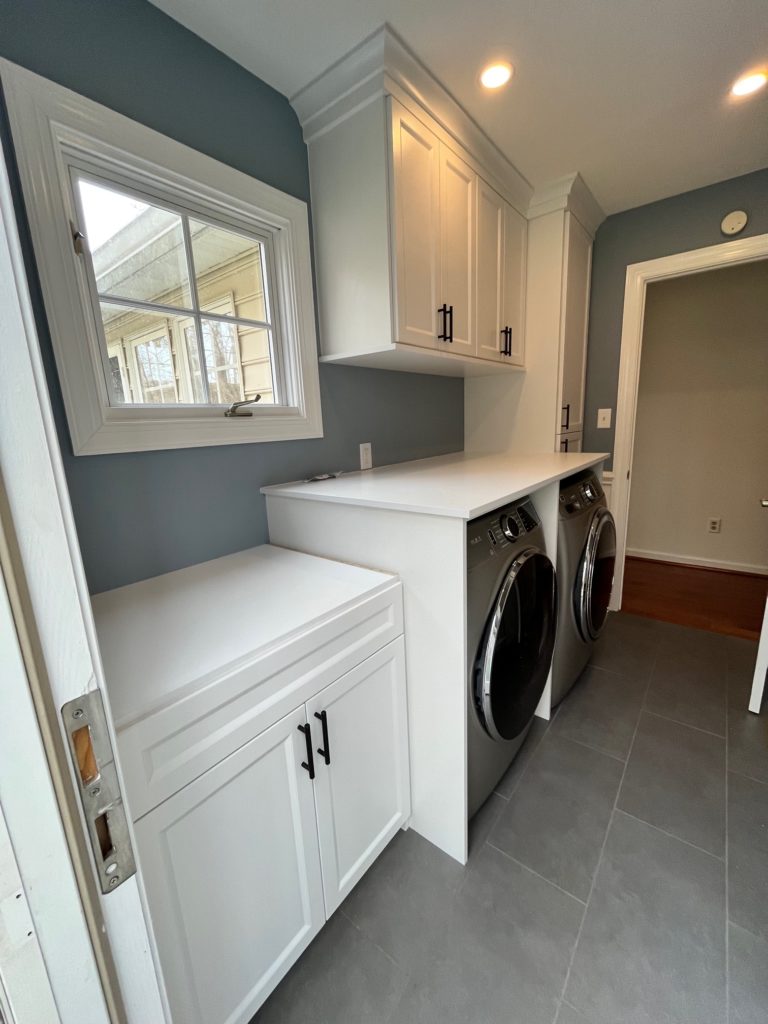 Or you can take your design choices a huge, bold step further. Why not do something daring with the walls? Paint the entire mudroom with a bright, fresh, on-trend color that brings extra joy to your life. You could even decorate a focal wall with that delightful wallpaper you've had your eye on.
This is the perfect spot to add a statement chandelier that dresses up the room and prevents it from being "just a mudroom." After your redesign, you might just find that your mudroom becomes your favorite room in the house!
Request a Mudroom Design Appointment
Ready to amp up the style and functionality of your mudroom? Diplomat Closet Design is here to help. Request an appointment to learn how to start your mudroom design project now.
If you live in Delaware County in towns such as Glen Mills, Havertown, Media or Wayne, contact us today.