Are you someone who's always focused on fashion? Your closets deserve the same fashionable thinking as your gathering spaces, clothing choices, and everything else in your life.
Yes! It's possible to have fashionable closets. Here are our best tips for turning your closets into fashion-forward spaces.
Details Matter in High Fashion
First, let's start with the details. Just as in fashion, exquisite style is found in the smallest touches. The knobs on your closet drawers matter just as much as the buttons on your most treasured coats and sweaters.
Upgrade the look and feel of your closets with an array of fashionable features. Here are some ideas to consider.
Install trendy closet hardware on every door and drawer in your closet.
Incorporate a small vanity stool or high-style chair where you can sit to put on your shoes and accessories.
Keep your shoes ultra-organized in vertical acrylic dividers.
Organize watches, scarves, and ties in individual horizontal dividers inside deep drawers.
Create a colored or patterned accent wall to set a stylish focal point for the closet.
Add closet crown molding and millwork trim, which are on-trend for 2023.
Today's Trending Closet Colors
Your style-forward space deserves the moment's most fashionable closet colors. For a soft and neutral base to set off the colors in your clothing and accessories, consider a creamy light beige like Behr's Blank Canvas.
Looking for more glamour in your closet color? Any fashionista is familiar with one of the most iconic colors in fashion history, Tiffany Blue. It's so famous, it's trademarked. This gentle robin's egg hue turns any closet into an instant showroom. Your closet will be wrapped up like one of Tiffany & Co.'s signature blue gift boxes.
If you prefer a bold, on-trend color that makes you feel upbeat and cheerful, consider Viva Magenta, which is Pantone's Color of the Year. It's inspired by a precious rosy dye found only in nature. Pantone's Executive Director Leatrice Eiseman explains, "In this age of technology, we look to draw inspiration from nature and what is real."
Sleek, Stylish Minimalism
Do you yearn to become a fashion minimalist? Minimalism is possible, even in your closets – but you might need to start by paring down your belongings with a thoughtful closet cleanout.
In fashion and home design, the minimalist style usually comes from a combination of clean lines, neutral colors, and limited ornamentation. To preserve the sleek look, your closet might need flat doors and drawers with few or no knobs and handles.
Contrary to popular belief, minimalism is not about owning as little as possible. Architectural Digest explains that in today's home designs, minimalism primarily involves ongoing intentionality in your choices, which ultimately results in more simple and streamlined spaces.
Modular, Movable, and Seasonal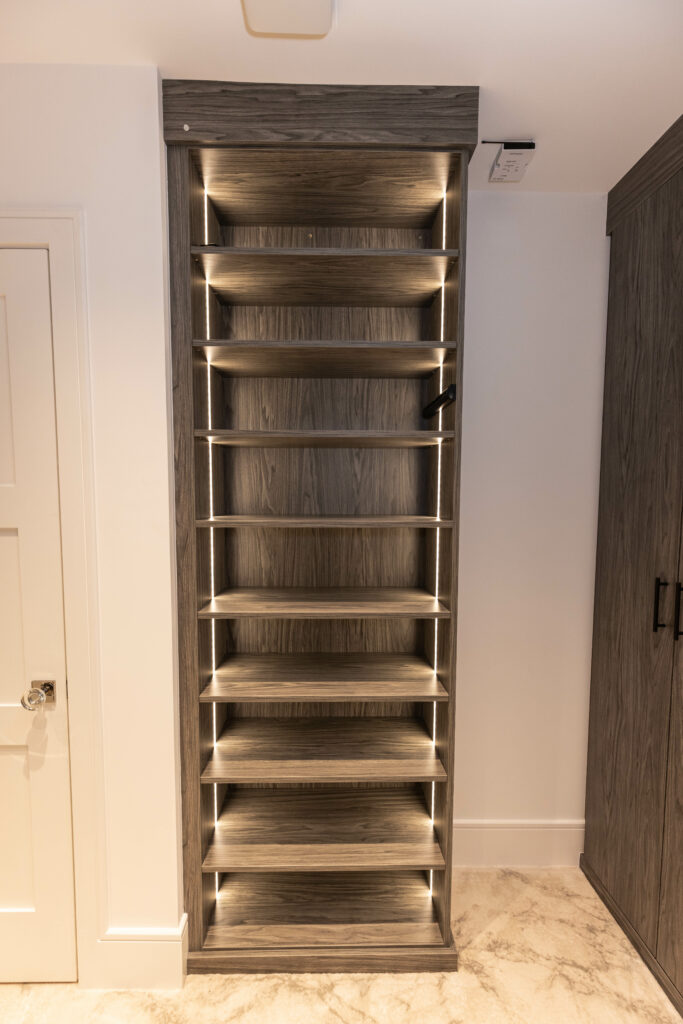 Here's a fashion-forward idea for someone with a lot of clothing to store. Turn your entire closet into a movable, modular space that can be switched out season by season.
Store most of your clothing on hangers in tall rolling units. As the seasons change, simply roll out the current units and put them in storage, replacing them with your new rolling units for the new season. The same concept can be applied to rolling drawers and bins.
To see an example of modular-style closets, take a look at our gallery of walk-in closet systems. Any of these closets could be designed to include rolling units and other organizational features to store a huge amount of fashionable clothing, shoes, and accessories.
Does Your Closet Need a Fashionable Makeover?
When you're ready for a fashion-forward closet makeover, Diplomat Closet Design is here to support your closet design journey. Connect with us today to discuss your desire for a high-fashion closet.
If you live in Bucks County in towns such as Newtown, New Hope or Phoenixville, contact us today.