Do you live within the Western Main Line? It's one of Pennsylvania's most beautiful areas, known for its streets lined with unique and historic homes full of interesting architectural details.

When it comes to closets in these homes, they really have to be custom-designed. Adding a custom closet is the best way to meet a family's need for storage while still preserving the period details that make your home special.

Looking for custom closet design ideas? Here are 9 options that could increase the storage built into your Main Line home.

1- Closet Design From Floor to Ceiling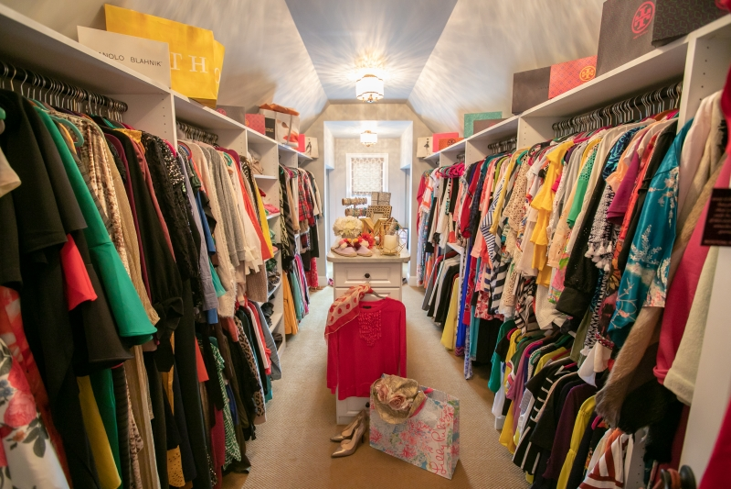 First, identify the areas in your home that are perfect for custom closets and then take a big step back to look around. What is the volume of the space from top to bottom? Do you have high ceilings? Are there any unusual angles or nooks?

Custom closets can be designed to maximize storage space from floor to ceiling. This is particularly helpful in old Main Line homes, which weren't usually built with much closet space in their original 19th and 20th-century designs.

2- Include Plenty of Surface Space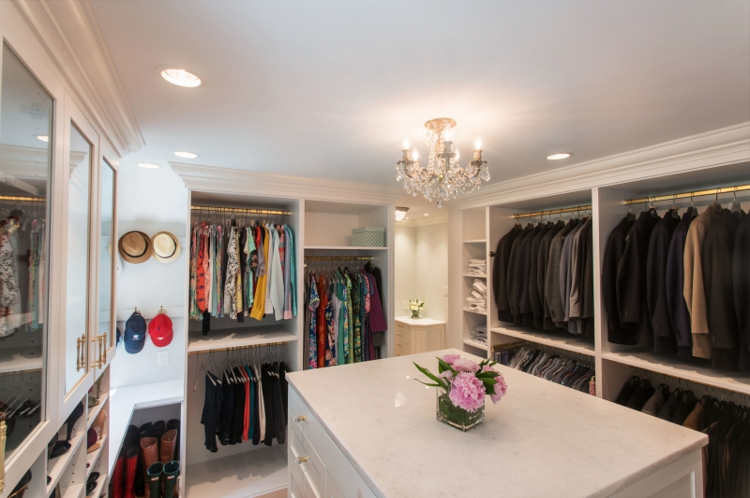 Countertops aren't just for kitchens. They're also very helpful to have in master bedroom closets for a spot to lay out your clothing, arrange your accessories, and sort through your purse or wallet as needed.

Near an entryway, a small countertop can give you a spot to toss your mail and store your keys. Even if you're remodeling a closet that's on the small side, a narrow countertop provides a convenient home base where you can charge your phone and other devices.

3- Install Drawers and Sliders
Deep sliding drawers, sometimes called glide-out shelves, are the secret of many home organization experts. They allow you to store plenty of items – even large and bulky items – in a way that's convenient and easy to reach.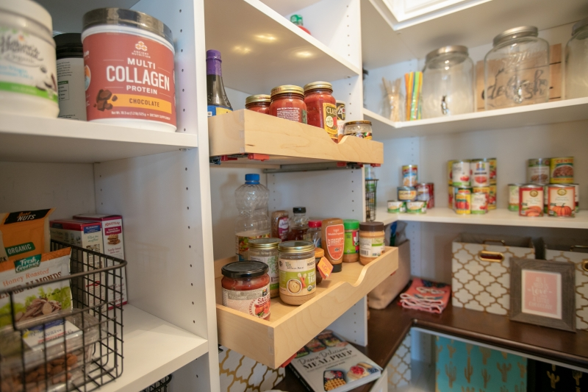 Add sliding drawers to:
A kitchen pantry, for appliances and serving ware
A master bedroom closet, for out-of-season clothing
A mudroom closet, for boots and sports gear
Your laundry room closet, to store cleaners and supplies
Garage closets and shelves, for a variety of storage options
4- Add a Built-in Chest or Armoire
The character of your Western Main Line home might be just right for a built-in piece of furniture in or near your closet. A custom woodworker can create something beautiful and functional that fits right in with your decor.

In a bedroom, a chest or armoire adds ample storage. In a kitchen, you can add a built-in pantry nook that looks just like a piece of antique furniture. If you can imagine it, you can add it with the help of a talented closet designer.
5- Protect and Display Your Jewelry
A custom closet can keep your valuables safe and/or put them on display for you to enjoy. If you have heirloom jewelry, cufflinks, watches, and other accessories, consider keeping them behind glass or in custom-designed drawers or cabinets.
6- Light it Like Any Other Room
Bright, warm lighting will make your closet feel as welcoming as any other area of your house. Work with your custom closet designer to build lighting right into the design of the space.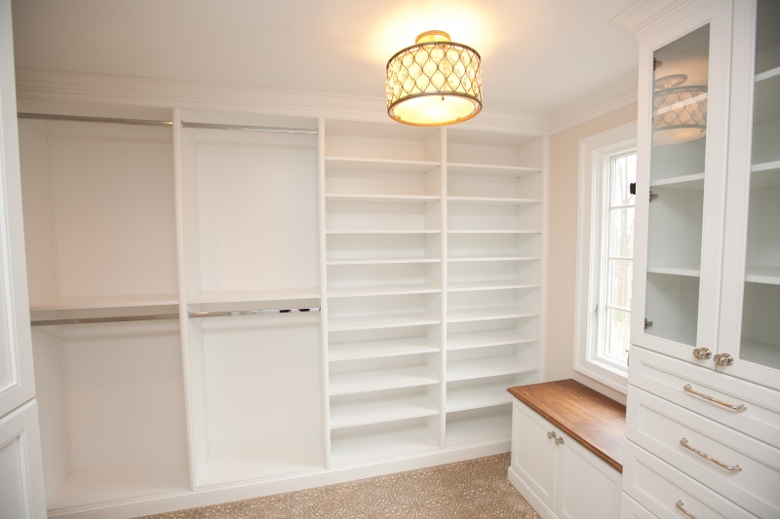 In addition to having a dazzling statement light on the ceiling, add some smaller task lighting in dark corners and near long racks of clothing in a bedroom closet. Whether it's day or night, you need to be able to see the color and fabric of your clothing.

7- Keep the Decor Details Cohesive
Another important tip for adding a custom closet is to include all the same types of hardware, materials, paint colors, and other details that you have throughout the rest of your home. Don't skimp on the details just because it's a closet – in fact, the more stylish it is, the more you'll enjoy using it day after day.
8- Make a Laundry Plan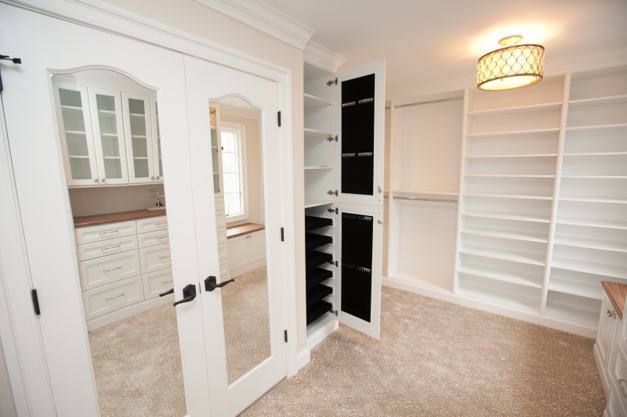 Nothing clutters up your house faster than heaps of dirty laundry. Preserve the beauty of your Main Line home by using custom closets to help manage your laundry. In the bedroom, build space for hampers right into your closets. You might even have the right layout for a laundry chute that sends everything tumbling toward your laundry room.

Speaking of your laundry room, it's the perfect spot for a well-designed custom closet. Add storage for everything from folded laundry to a fold-out ironing board that tucks away when it's not in use.
9- Don't Forget the Doors
As you ponder adding custom closets to your home, keep in mind that the doors are a vital part of the design. Whether you're updating a kitchen pantry or a child's bedroom closet, the doors are often the most-seen feature that keeps everything else out of view.

Mirrored doors are great for bedrooms and dressing rooms. Handsome wood doors add sleek style to a home office. Decorative doors, including those with glass windows, look quite elegant in a Western Main Line kitchen.
For more inspiring closet design ideas like these, connect with the design experts at Diplomat Closet Design. We have decades of experience with custom closets for homes on the Main Line and other upscale Pennsylvania communities, so contact us now to start planning your project.