Do you have a detached garage? For many homeowners, it's a dream to have a spacious, organized detached garage for storing vehicles, motorcycles, bikes, tools, toys, outdoor gear, and everything else.
But without proper organization, clutter creeps in. A dream garage quickly becomes a nightmare. Fully 50% of all U.S. homeowners say their garage is the most disorganized area in their house!
If that sounds like your home, read on. We've rounded up a helpful set of clutter-busting detached garage storage ideas.
Give Your Garage a Decluttering
Start by taking some time to assess what's in your garage. Does it just need some light organization or is your garage totally overloaded with extra stuff?
A nationwide study found that the COVID-19 crisis impacted how people view garage storage and home organization in general. While stuck at home during the pandemic, many people felt a strong urge to purge excess belongings and get more organized.
Set aside a few hours to sort through what's in your garage and see what you could live without. Chances are, you have some excess clutter that could be donated, sold, or given away. Now you've opened up much more storage space to work with.
Take a Systematic Approach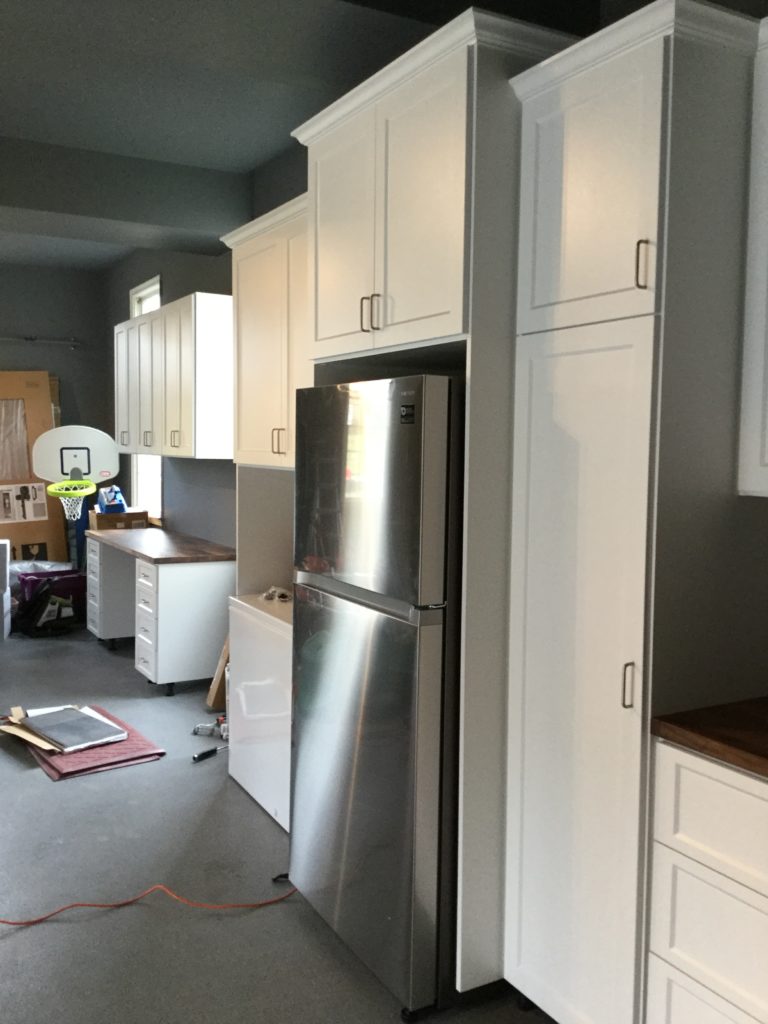 A built-in garage storage system could completely refresh your garage and give you almost endless storage options. These systems can handle an enormous variety of organizational features, including:
Tool racks
Slide-out drawers
Open shelves
Corner shelves
Cabinets
Closets
Bins
Pegboards
Hanging wire baskets
Ceiling storage
Sliding and rolling floor storage
Hooks and clips
Spring-action clips and clamps
Trash and recycling bin storage
Built-in and rolling seating
Locking storage for valuables
Your new garage storage system can even match the overall look and feel of your house, from bright white to a rich wood-like look. This makes your garage truly feel like a stylish room in your home rather than just a messy storage area.
Add Features and Amenities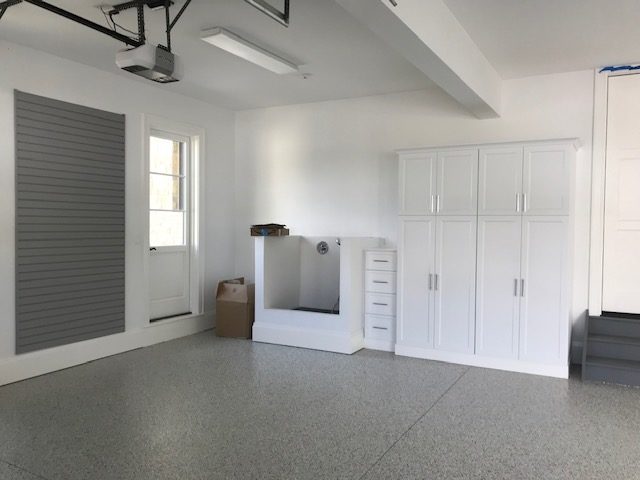 Garages aren't just for storage! You can also add all kinds of amenities that allow you to get things accomplished.
Does someone in your home do car repairs? Participate in sports? Enjoy woodworking or handicrafts? Create a space to do each of these activities and store related gear.
Ideas for garage amenities:
Utility sink or kitchen-style farm sink
Paper towel holder or towel bar
Enclosed painting station with ventilation
Pet washing area
Drawers for nuts, bolts, and other hardware
Mounted/folding task lights
Doored cabinets for sports equipment, lawn equipment, and more
Rolling storage for a heavy air compressor or table saw
Pulleys and hoists for auto work or safe ceiling storage
Mini-fridge and snack shelf
Heavy-grip flooring or a stylish custom floor design
The best part about adding amenities like these is that your garage suddenly feels like a functional and welcoming place. You might even be inspired to try a new hobby because now you have the perfect spot to enjoy it in your garage without worrying about clutter.
Get More Detached Garage Storage Ideas
When you're ready to amp up the storage in your detached garage, we're here to help. Reach out to Diplomat Closet Design for a consultation about improving your detached garage storage.
If you live in Chester County in towns such as Pocopson, Pottstown, Downingtown or Kennett Square, contact us today.