Let's clear up a myth about pantries: No pantry is too small for a makeover! Even the tiniest kitchen pantry deserves maximum style and functionality.
Plus, having a small pantry is more common than you might think. The average size of a standard reach-in kitchen pantry is just 5 feet by 2 feet, and even a typical walk-in pantry is usually only about 5 feet by 5 feet.
At Diplomat Closet Design, we design kitchens and pantries of all sizes. Here are three of our best tips for small pantry makeovers that make a big impact on kitchen organization.
First, Create Your Custom Small Pantry Design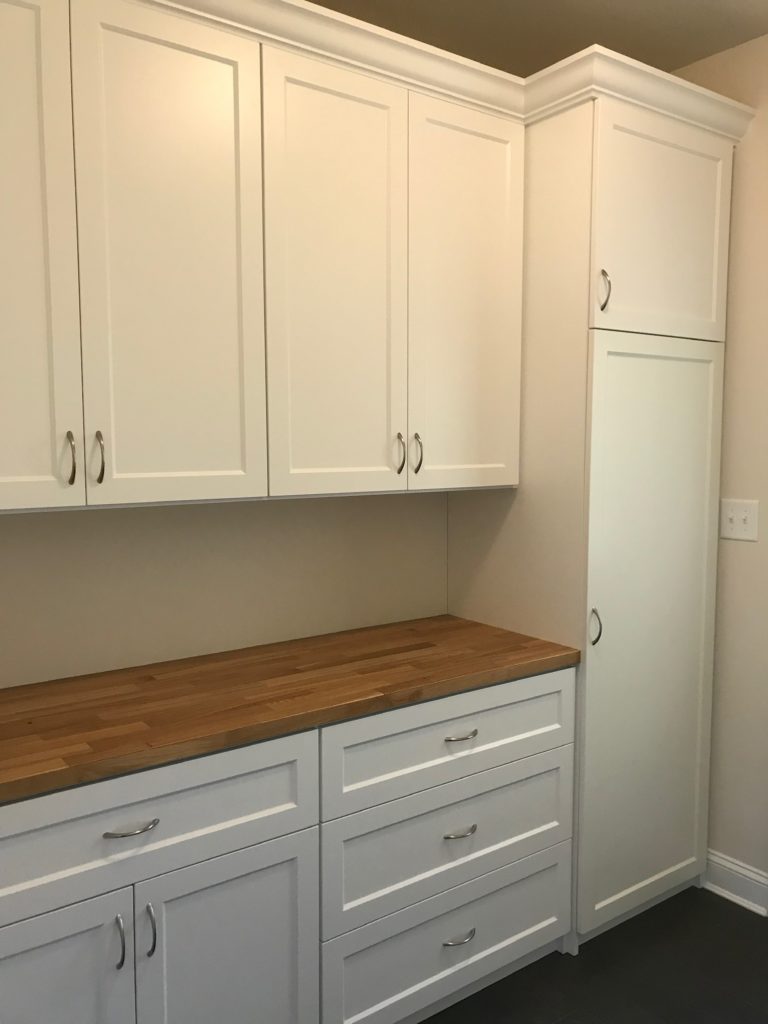 Start by removing everything from your pantry and reassessing its layout. What's wrong with its current storage capacity? Why is it frustrating for you to use?
The most common problem with a small pantry is poor design. Your pantry might have the wrong shelf heights/depths, a lack of organizational features, or lots of wasted space at the ceiling and floor levels.
If it feels that your pantry is jam-packed with way too much stuff, try reorganizing everything by height/size then see how your pantry could be remodeled to fit each group of same-size items. Some people prefer to organize their pantry by meal (breakfast, lunch, dinner, snacks) and others feel more comfortable organizing by the type of food/cooking (vegetables, fruits, meats, baking, international cuisine).
Maybe you have lots of small jars and spices, so you need numerous short and closely-spaced shelves. Or perhaps it's just the opposite – you have lots of tall boxes and bulky kitchen goods that call for taller, deeper rolling shelves.
Everyone uses their pantry differently depending on what they purchase and store. Your pantry should suit how you live your daily life. That's why our #1 beginners' pantry organization tip is to choose an array of storage options according to the items you already own.
Next, Maximize Space With Creative Thinking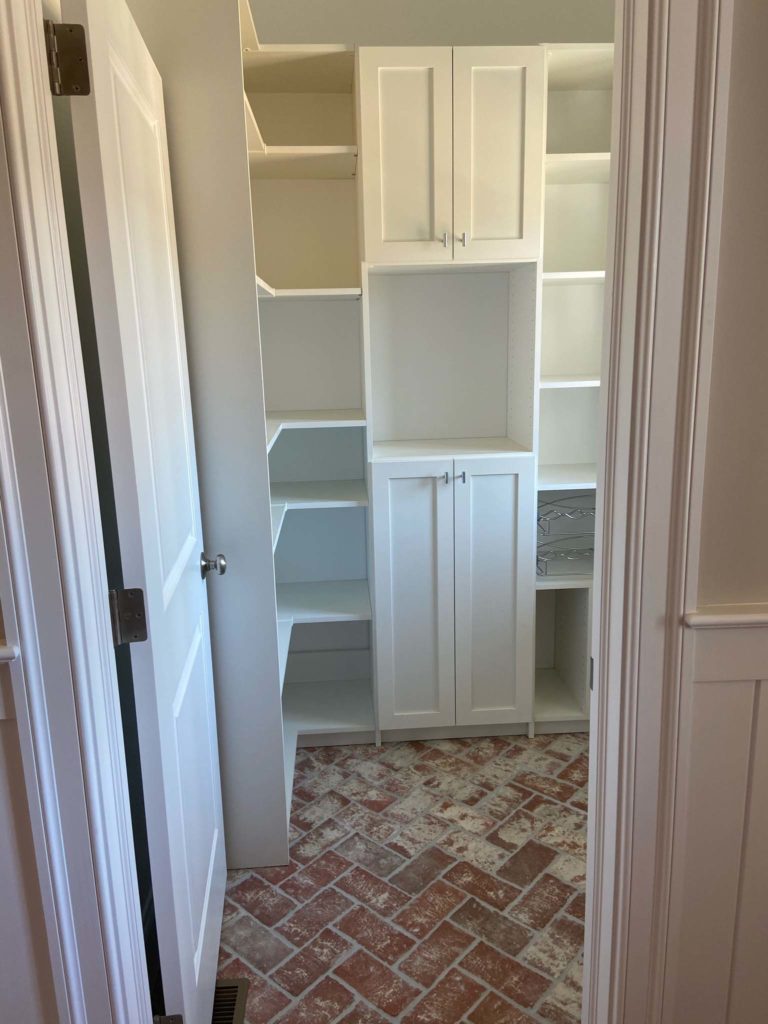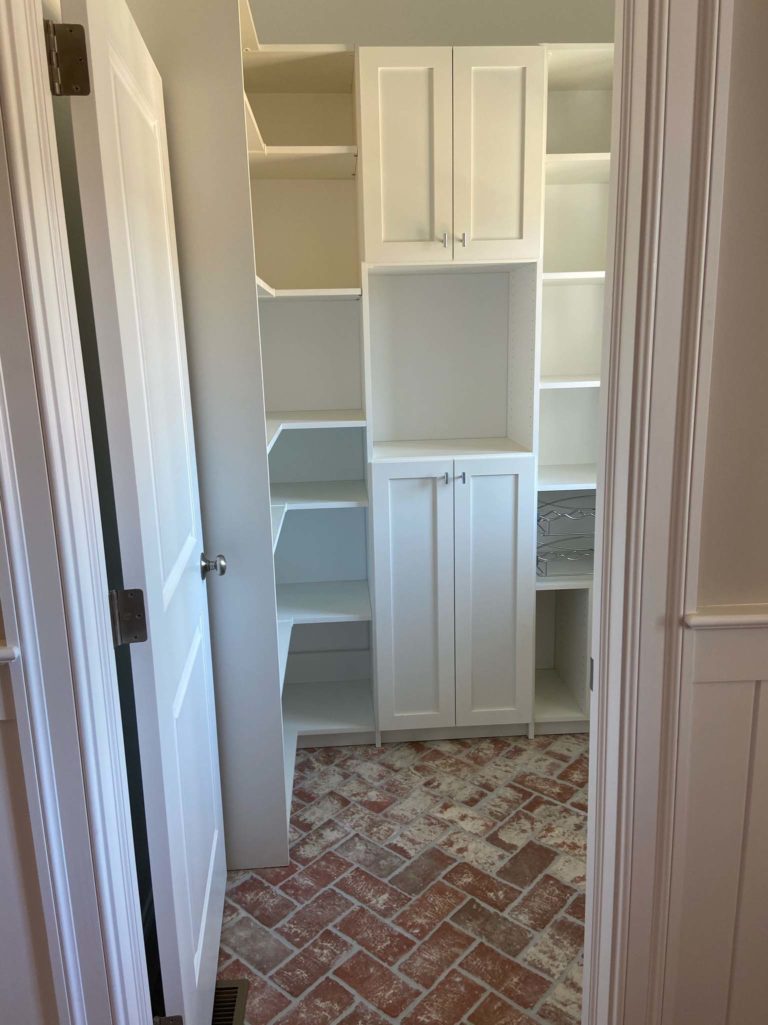 Now it's time to do some creative brainstorming to see how you can maximize your small pantry space. Your pantry needs much more than just empty shelves!
The perfect pantry includes all kinds of custom-designed touches that help you live comfortably. Design a perfect spot for every appliance, gadget, tool, jar, box, can, serving dish, and everything else that needs to go in your pantry.
Here are some creative storage ideas to spark inspiration:
Use a built-in spinning lazy susan for herbs, spices, or drink mixes
Add sliders for heavy and odd-shaped kitchen appliances
Include floor-level rolling bins for bottled water, beer, soda, and more
Store breakable wine glasses and holiday dishware up at ceiling level
Add wire baskets or bins for vegetables, fruits, and other produce
Wire in a hidden outlet with chargers for appliances, devices, and phones
If you have lots of wine bottles, cloth napkins, or plastic containers, consider adding a set of cubbyhole-style storage shelves. Cubbies can also hold breakable glasses or sets of knives you want to keep out of reach of small children.
Small pantries deserve big-time creativity! If you get stuck while trying to brainstorm creative pantry ideas, talk to a professional closet designer who has experience with kitchen pantries.
Finally, Don't Skimp on the Finishing Details
Hardware and lighting are more than just the finishing touches on your pantry. They're essential choices that impact the beauty and functionality of the space.
In terms of hardware and fixtures, choose durable pieces that can stand up to daily wear and tear. Your pantry will feel more integrated into your home if you make thoughtful hardware selections that match the rest of your home's decor.
For lighting, you can keep it simple with a single overhead light or you can include shelf/task lights for added visibility. When in doubt, err on the side of extra lighting to avoid the frustration of a dark pantry.
You can even go over the top with luxurious lighting. This is a fun spot for an unexpectedly gorgeous chandelier or vintage light fixture that adds an extra dash of style to your kitchen pantry.
Small Pantry? Let's Maximize It!
Every pantry is bigger when it has custom organization. Work with a pantry design professional to carefully plan and install your new pantry, getting the most out of every inch of space with a custom design.
Take a look at Diplomat Closet Design's gallery of pantry ideas for design inspiration. We're here to help you take advantage of the huge potential that's waiting inside your small pantry!
If you live in Delaware County in towns such as Bryn Mawr, Chester Heights, Swarthmore or Wayne, contact us today.