Is your Chester County child learning remotely? That means you need a home classroom space that's functional, inspirational, and comfortable enough to allow them to focus on their education.
Here are 14 organizational and design ideas for creating a one-of-a-kind remote learning space. Your kiddo will look forward to learning!
1- Repurpose the Rumpus Room
Turn any rarely-used room into a learning room: an old nursery, a dining room, a den, a basement room, or a little kids' play space your teens have long-since abandoned. Rework the layout to add a desk, task lighting, storage shelves, and a device charging station.
2- Change Up the Closet
Your child's classroom could be hiding in the closet! A walk-in bedroom closet becomes a quiet study nook, or a reach-in closet can be outfitted with a fold-down desktop that folds up and away when it's not in use.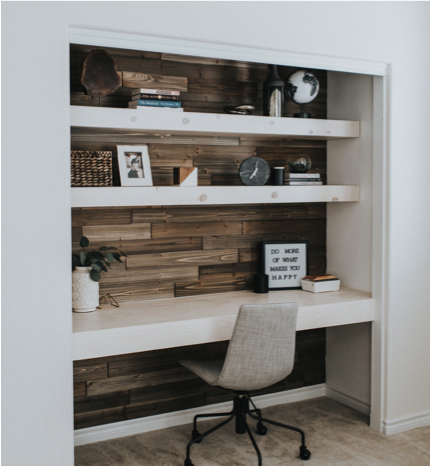 3- Build Shelf Confidence
In a living room, den, or even a kitchen, a built-in shelving unit creates an instant spot for your child to read, use their laptop, and join video calls. As long as it has a flat, waist-level shelf with some knee space underneath, it's an instant desk.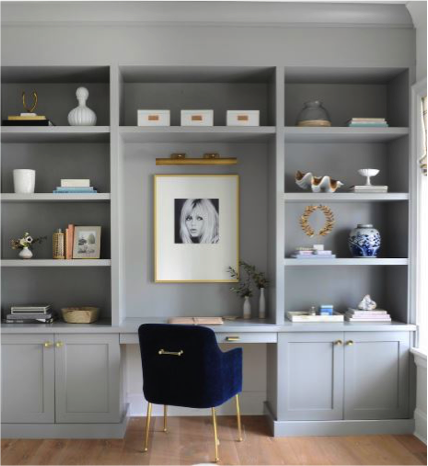 4- Make it Fun to Sit in the Corner
Add a corner workspace into any unused corner in your home. A triangle-shaped desk looks fun and inviting when it's painted your child's favorite color.
5- Bring in the Bean Bags!
Some kids just hate sitting at a desk. Instead, purchase several large, fluffy bean bag chairs and establish a special bean bag zone. Buy or build your child a sturdy laptop desk where they can use their device and do schoolwork.
6- Why Not a Window Seat?
A window seat is a bright and cheerful place for your child to work. A custom carpenter can build one for you, or you can make an existing window seat more child-friendly with pillows, cushions, blankets, and a shelf for all their school stuff.
7- Shine Some New Light
Any study space works better with task lighting. Consider adding a gooseneck lamp, touch lights, or even fun a string of colored LED lights to make the area feel more kid-friendly.
8- Put Things in Plain View
A bulletin board, pegboard, chalkboard, or dry erase board encourages your child to think creatively and surround themselves with things they love. An area for a large "to-do" list keeps them on track with their studies. You can even add a clothesline with clothespins to hold notes and other fun things.
9- Honor Their Artwork
Turn one of your child's paintings or drawings into a large piece of modern art that hangs in their study space. Sites like Shutterfly and Snapfish allow you to turn almost anything into wall art.
10- Build a Basket Wall
Attach a row of wire baskets to the wall as a way to help your child stay organized. With labels and folders, they'll have everything they need for each subject right at their fingertips.
11- Float an Idea
Floating bookshelves add essential storage space while still looking chic enough to fit right into your family's living space. They're the perfect storage solution for pens, pencils, charging cords, and all the other little stuff kids need for learning. You can even add an entire floating desk.
12- Take Inspiration From the Bathroom and Kitchen
Bathrooms and kitchens have great storage solutions for little stuff. So grab a shower caddy and repurpose it as a desktop organizer. Try a silverware tray for organizing pencils and markers. A jewelry box or spice rack can become a way for your kid to store their erasers, earbuds, and a million other things.
13- Add a 'Win Wall'
Every kid needs a way to celebrate their accomplishments and feel proud of their work. You can amplify their success with a "win wall" that shows off their good grades, great artwork, and biggest wins of the week. Pick a wall and add clips, magnets, and/or frames.
14- The More Customized, the Better The more personalized your child's space is, the more they'll love using it. So don't forget to add customized hardware and accessories to finish off the space with sparkle and style! Connect with a custom designer who can use their expertise to craft your child's perfect remote learning space.
Get a Custom-Built Desk from Diplomat Closet Design
To get your own workspace or your child's remote learning space set up exactly as you need it,  connect with Diplomat Closet Design. We custom-build desks, built-ins, and more!
Although our facility is based in West Chester, PA, we are pleased to travel to homes for a complimentary design consultation. We frequently travel to Chadds Ford, Kennett Square, Malvern, Exton, Downingtown, Wayne, Devon, King of Prussia, the entire Main Line and more.  Contact us today for your home office or home learning solution!