As you flip through baby magazines and Pinterest, you'll see all kinds of eye-catching baby closets. Don't they just fill your mind with dreams of perfect baby organization?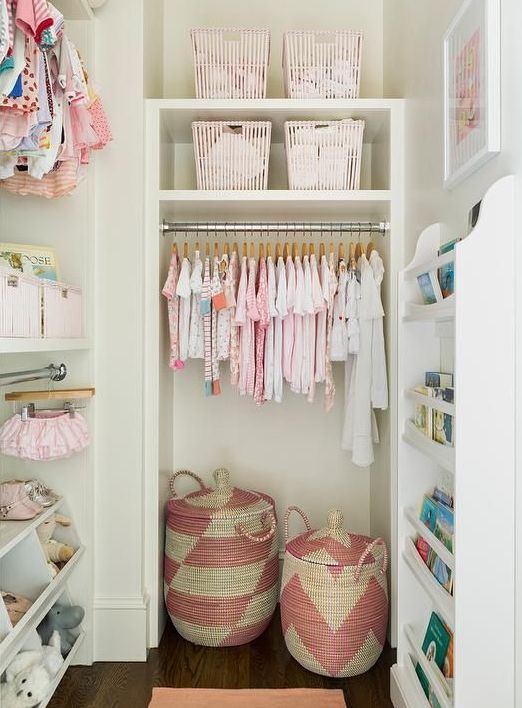 We'll let you in on a little secret: Anyone can create a magazine-quality baby closet. All it takes is some attention to detail and a few helpful closet tips. Here's a roundup of custom hacks.
Stick to a 2-Color Scheme
All beautiful baby closets have one thing in common: They have a designer color scheme. To keep things easy during a busy time in your life, select two cheerful complementary colors and stick to them in the closet and throughout the room.
Build In a Changing Table
Don't buy a changing table! It can be built right into your nursery closet. Tuck the table away when not in use, and pull it down only when you need it. A built-in table is a sleek space-saving solution, especially for a small bedroom. As your baby grows older, the changing pad can be removed and this table may be used to store stuffed animals, books, sports trophies and more.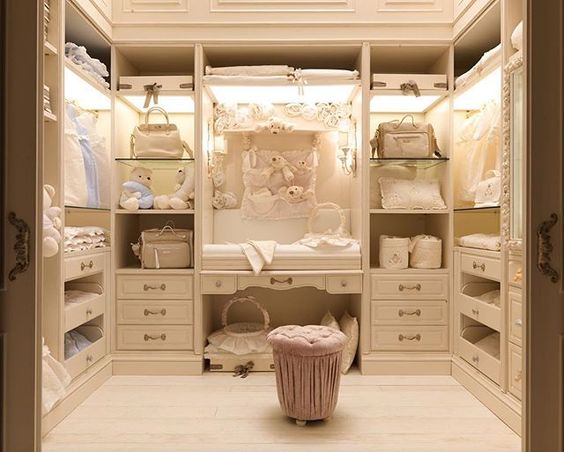 Select Bins and Baskets
Next time you look at a professionally-designed closet, notice what's sitting on the floor: virtually nothing. With a few carefully-placed built-in shelves, you can keep everything in pull-out bins and baskets, up off the floor.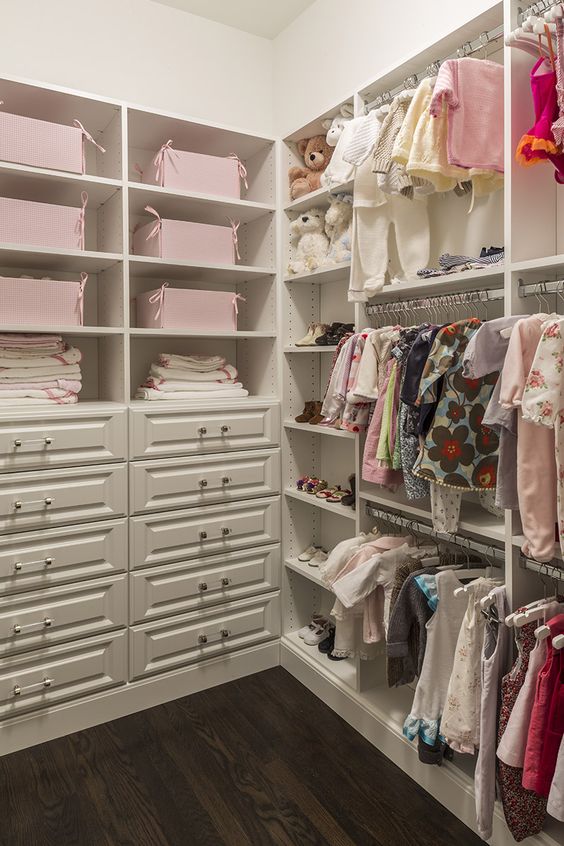 Use Oddball Storage Nooks
Babies and parents need all kinds of special gear. Install specially-shaped storage nooks that keep these items within adult reach, but away from babies' hands. Nooks can be outfitted with shelves, hooks, drawers, lazy susans, and other custom solutions just for you and your baby.
Add a Locking Cabinet
Here's a nursery hack that could save your child's life: Install a locking cabinet that holds ointments, medicines, lotions, and everything else that should never go into a child's mouth. You don't even need a key; use a digital lock with a code only the parent knows.
Build in Slide-Out Drawers
Under the crib or bed, or along the bottom of the closet, add a large slide-out drawer for blankets, pillows, toys, and shoes. It's virtually invisible when tucked away but close at hand when you need it.
Add a Very Low Rod
Prepare your baby for toddlerhood by adding a low horizontal clothing rod along the bottom of the closet. You'll still have plenty of room, because baby clothes are so small, and you'll free up the top of the closet for other things.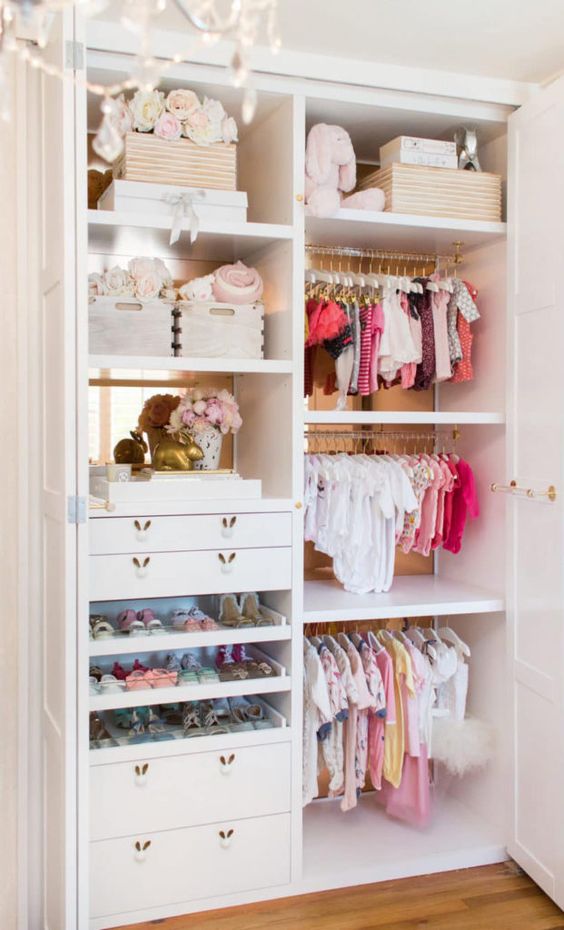 Install a Wall of Cubbies
There's a reason preschools always have a wall of cubbies: They're perfect for kids! Square cubbies are great for stacking diapers, gathering tiny socks into tiny baskets, and organizing all of your baby's odds and ends. As your child grows, they'll love using their special cubbies.
Turn Windows into Storage
Windows are terrific opportunities for extra storage. Add closed shelving above the windows, plus a window seat and open storage along the bottom. Now you've added organization, plus you've created a place for your child to sit, change their shoes, read a book, and play for years to come.

Let the Design Team at Diplomat Closet Design Turn Your Nursery Closet From Blah to Ahhhhhhh
Our professional design team uses cutting edge technology to help design or redesign any space, including walk-in closets, children's closets, nursery closets, and teen closets, too.

Although our facility is based in West Chester, PA, we are pleased to travel to your home for a complimentary design consultation. We frequently travel to homes in Chadds Ford, Kennett Square, Malvern, Exton, Downingtown, Wayne, Devon, King of Prussia, the entire Main Line and more.  Contact us today for your custom closet organization solution!

For baby closet organization, turn to the pros at Diplomat Closet Design.