Before PCs, very few homeowners had home offices. Most got up in the morning and 'went to work'. At the end of the day, people 'went home'.
The introduction of affordable PCs, Fax machines, and cordless phones offered some workers the option to 'telecommute.' The concept was new and exciting!
Work-from-home options ranged anywhere from setting up shop on the dining room table, to taking over a spare bedroom or a spot in the basement (if you were lucky enough to have the space).
Early PCs had monitors with a pretty sizable footprint and were fairly heavy. You needed room for your tower, monitor and keyboard, printer, fax machine and scanner…and remember all of the cords! You needed outlets for everything including the internet line.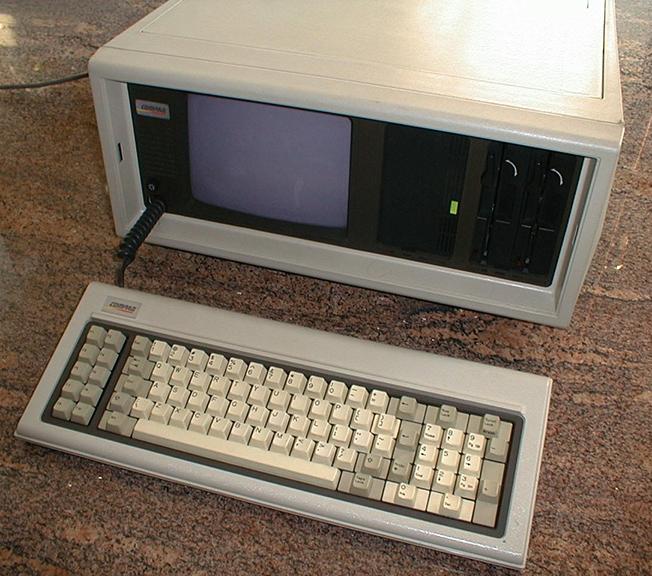 Who can forget the sound of your computer (via your home phone line!) dialing up the internet , the tense moments as you waited and watched hopefully for a successful connection, and then the screeching and grinding as your PC did its thing and allowed you to access the magical world wide web.
Remote workers were in uncharted waters when it came to configuring their home work space for efficient flow and productivity.
As technology exploded, work-from-home became less the exception.
Homeowners began to want a room that was designated as a home office. These home offices were usually a separate room on the main floor of new construction, or built into existing homes by cordoning off a section of the home's basement or other space. French doors were (and still are!) a popular option to close off the home office from the rest of the house where the family actually lived, kids played, and dogs barked.
Stately desks with executive looking desk chairs, gorgeous built in bookcases, horizontal spaces for desktop printers and fax machine/scanners, and filing cabinets made from wood tones that matched and complemented the style of the room introduced 'Home Office Furniture' as a category all its own.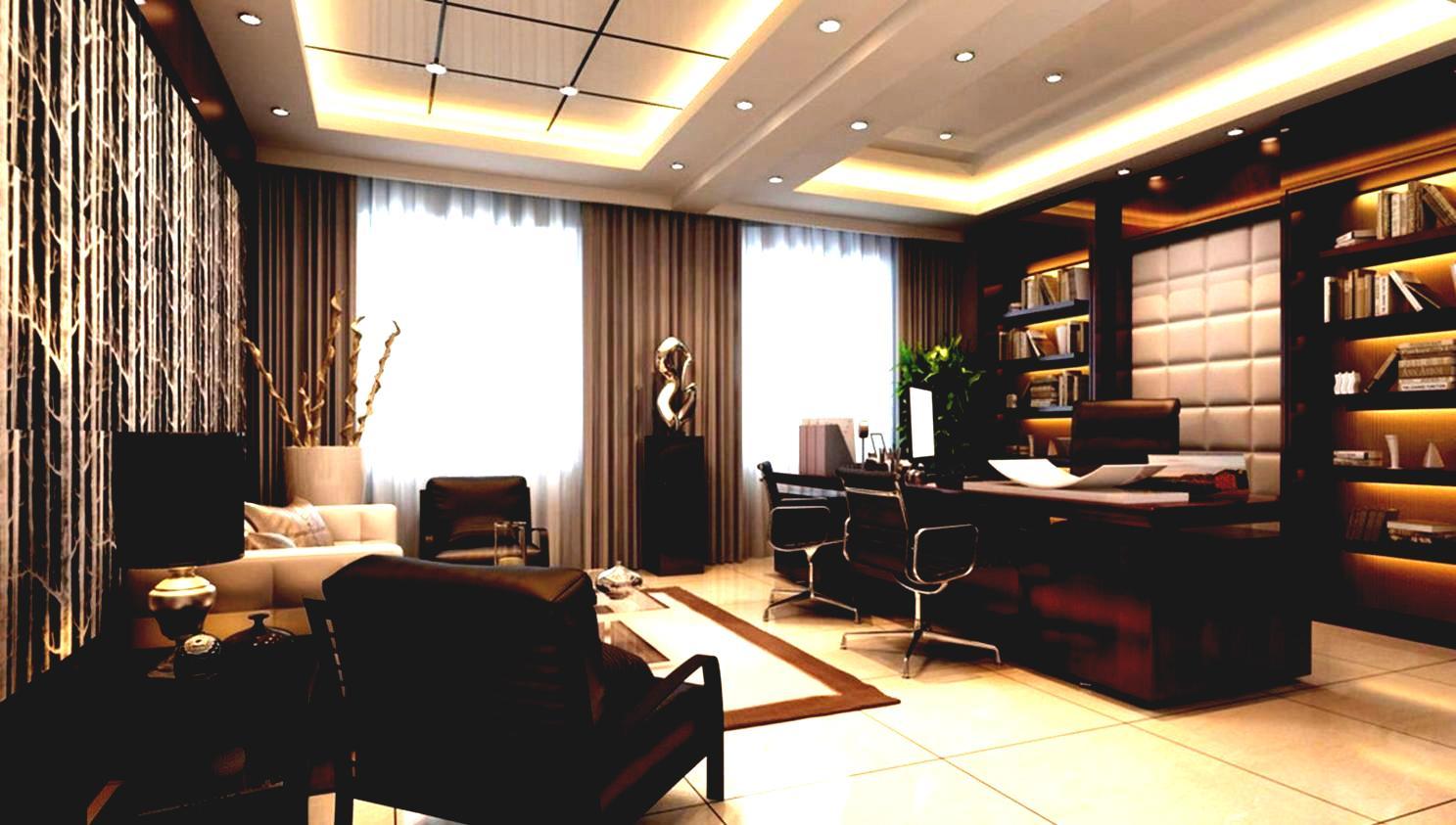 According to GALLUP.com, their annual Work and Education poll for 2015 found that 37% of U.S. workers say they have telecommuted.
CNN.com sites statistics from Dell that currently 25% of their employees work from home, and they aim to double that number by 2020.
Millennials who are picking up side jobs to supplement their income, consultants, self-employed workers and telecommuters, along with home schooling, Cyber School and distance learning post-high school programs have made some form of a home office indispensable.
In lieu of other costly 'perks', flexible work schedules and work place mobility will become more sought after by today's job seekers striving to reach more of home/ work life balance.
So what are the current popular home office must-haves?
First and foremost, ensure that you have an internet provider that is fast and reliable enough to keep you on top of things.
Make sure the computer you choose suits the unique way that you work. Do you have multiple projects going at once? If so, perhaps a desktop with multiple monitors is for you. Do you work from different areas of your office or even your home? Then maybe a laptop is the way to go.
The correct lighting can ease inevitable eye strain and fatigue. Try to position your computer so that no light is behind you shining on your monitor which will create glare bouncing directly into your eyes.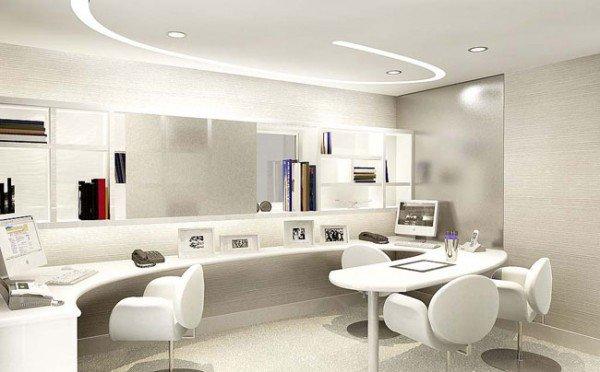 Cool white bulbs which mimic daylight and can possibly increase serotonin are a good choice for a desk or task light. Overhead lighting that doesn't cast a shadow on your work space is a great idea in general. If you find glare to be a problem no matter what, explore some of the anti-glare screens that Amazon or most office supply stores carry.
Surge protectors are a given. They're a really simple solution to protect your devices from damaging electrical surges. Don't ignore the need for these little gems.
We've come a long way in the area of cable management! Diplomat Closets has experience in this area and will work with you to make sure your space gives off a clean organized vibe devoid of cables and cords running everywhere.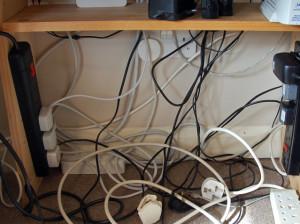 Not everyone has the space for a dedicated home office room. At www.bellacor.com, they suggest creating an office nook. Claim a corner in the bedroom, a closet, or the unused space under a staircase.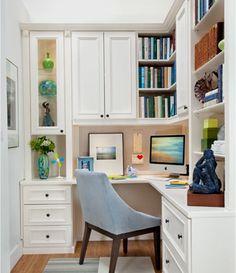 Once you've decided on a spot, set the wheels in motion by giving us a call.
Well-placed and custom designed drawers, horizontal open shelving and pull-out keyboard trays will keep you organized and provide storage you need for the components essential to your productivity. Really short on storage? How about a desk chair with a lift up seat that provides more room to stow away items?
Diplomat Closet's experienced designers will listen to you describe your vision. We can turn any space into an organized and attractive environment that is designed to meet your specific working needs and budget.
The most exciting and biggest trend across the board is demand for 'command centers' and 'homework bars' where children and parents can work in unison. Many families now have two or more residents that require work space at home.
People want to be 'un-tethered'…free to move about the house with multiple devices. We have become electronic dependent and we want the ease of electronic mobility. The March 2016 edition of Workplaces magazine says that home office trends are following the example set by some commercial office trends by offering undedicated work spaces.
Larger kitchen islands have become the landing space and hub of the home for those who want integration of 'work' and 'life'
They serve as a place for the kids to do their homework on their laptops or tablets, while mom and dad finish up work emails, discuss their day and get dinner started.
Amazing kitchen island hubs incorporate built-in stow-away docking and charging stations.
Some families are downsizing, right-sizing, or choosing not to move up into a larger home as their family grows. These families need every square foot to do double duty.
Their home office must-haves could include integrated storage and multiple docking stations that can be tucked up or closed behind built-in cabinet or bookshelf doors to allow the dining room to convert to a home office during the day as well as clean up quite nicely to offer a gathering space in the evenings and on weekends, allowing adults some space from the kids.
If one thing is for sure, it's that there aren't really any 'rules' when it comes to home offices.
Some families still very much want and need dedicated office space.
The difference now is that we are seeing many of these dedicated office spaces become multi-user offices. Some families want proximity with boundaries, comfort, and organization.
In many cases, the home office is no longer a place for just a single computer. Multi-user home offices can be configured any number of ways and it is our pleasure to listen as you describe how you need your multi-user office to perform. We love to see our collaborative efforts come to life.
We can't discuss home office must-haves without at least mentioning the exciting emerging trend of adjustable height desks.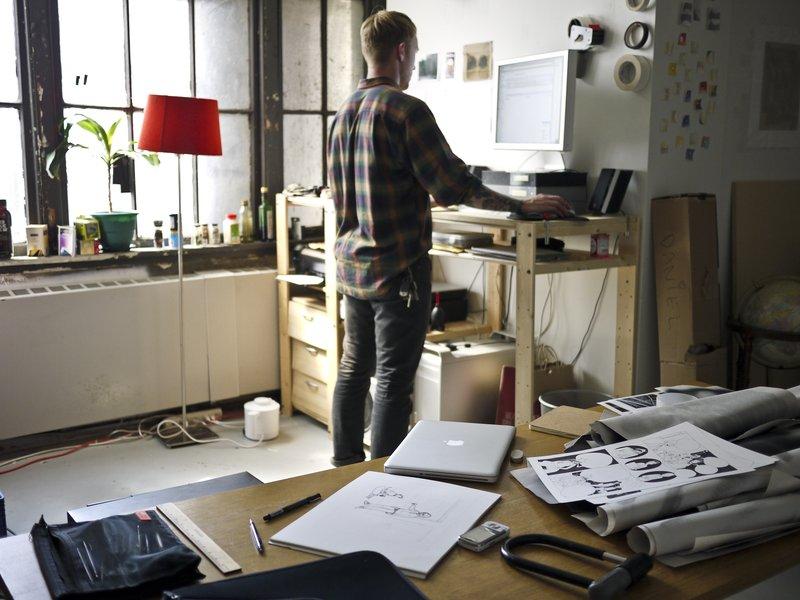 Having the ability to sit at your desk, stand at your desk, or literally walk on a treadmill at your desk isn't an idea we think will disappear.
The mobility inherent in the amazing and always changing wireless technology available to us today allows people to decide exactly what their personal home office must-haves are.
We at Diplomat Closet Design will listen as you talk, and we will communicate openly with you. We will work with intention and purpose to provide you with an innovative product that reflects our experience and quality of workmanship.
What are your home office must-haves?
Contact Diplomat Closet Design today at 610-431-3500, email us at sales@diplomatclosetdesign, or fill out the simple contact form on our website.