Diplomat Closet believes that your laundry room should be just as beautiful as every other room in your home.
Is your laundry room housed in a closet, a corner in the basement, or is it an entire room of its own?
Does it serve double duty as a mud room or storage area, too?
It's high time your hard working laundry room gets the attention it craves.
The National Association of Home Builders found that the buyers they surveyed felt the laundry room was the most indispensable of all specialty rooms. Of more than 120 features considered "essential" and "must have" two "most wanted" themes emerged: energy efficiency and organization/storage.
92% of the respondents to the above mentioned National Association of Home Builders survey answered that a laundry room was more important to them than other features like an outdoor patio or even an eat-in-kitchen.
Our design process is always collaborative. It begins with a free consultation in your home where we will be able to see the space. We will actively listen as you talk to one of our seasoned design professionals about what you envision.
We'll take your ideas back to our local factory and begin to customize a budget-friendly plan that fits your family's unique needs.
The list below should be of great help as you begin to plan the laundry room you may just want to sneak away to: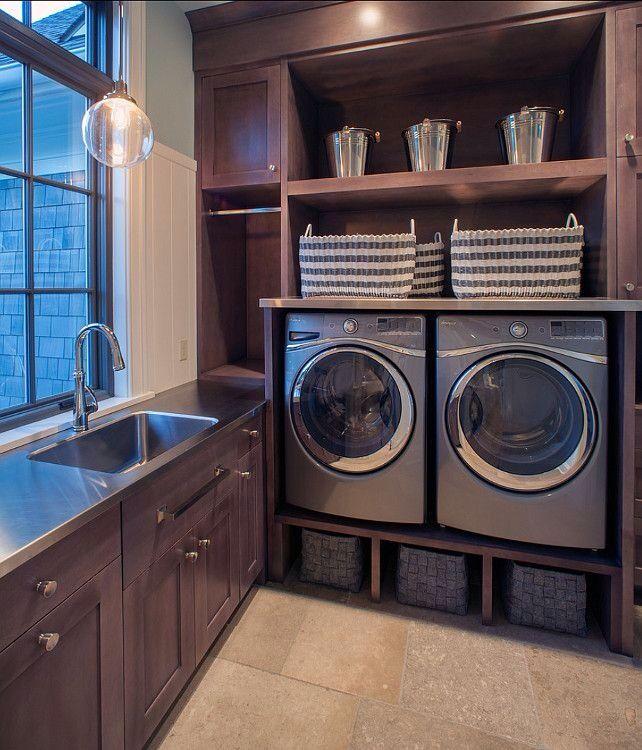 ---
1. A well thought out laundry room should have flexible and adequate storage. We can customize built-ins to keep your laundry supplies easily within arms reach. A functional design creates room to store pet food and keep household items like flashlights and screwdrivers handy. How about a special spot for stinky sports gear so it doesn't end up mixed in with everything else in the dirty laundry basket?
2. If you have a large space to work with, take a cue from smart kitchen designs and fabulous walk-in closets and add a center island. This glorious addition to your laundry work space will prove abundantly useful…it may just change the way you feel about folding clothes when you can fold and hang them straight from the dryer.
In some cases, if you have sufficient room for lower cabinets (yes, your island can have lower cabinets), eliminating upper ones makes the room feel spacious and bright.
3. Good lighting can never be over emphasized. Natural light from windows or a back door brightens the room. Both options offer ventilation, too. Just as with your kitchen, good task lighting over work areas is important. You want to be able to match socks and pre-treat stains and spots. Efficient overhead lighting makes ironing more convenient and lets you search inside the washer and dryer for missing socks.
4. Choose durable surfaces. Most of the countertop and flooring choices appropriate for the bathroom or kitchen make complete sense for the laundry room. For countertops, you want smooth surfaces that won't snag sweaters, tights, or delicate lingerie. Solid-surfacing makes wiping up spilled detergents or fabric softeners easy. Tile floors are simple to sweep and mop and won't be damaged by bleach.
5. Utility Sink. If you have the room, consider having one incorporated into your design. You'll find it useful for pre-soaking stains and hand washing anything you don't want to risk to the washer, among many other uses.
6. Fold-out ironing board. Genius! While hardly anyone irons as often as generations before us, sometimes the steam setting on the dryer just won't smooth out all of the wrinkles. Let us design a simple cabinet to house a fold-out ironing board, a can of spray starch, and your iron.
7. We like fold-out anything. For example, a fold-out drying rack or fold away hanging rods on which to hang freshly ironed shirts are so convenient … and you have the satisfaction of folding them back away when you don't need them.
8. Choose your appliances wisely. Does the space you have to work with lend itself ideally to a stackable washer and dryer to give you more floor space, or is the room better suited to front or top loading appliances? Think about the way doors will be swung or lifted open to load and unload clothes.
9. Don't waste an inch. We are experts at scouting out wasted space… like opening up the wall between studs to create a cleaver storage nook.
10. Remember to consider the need for landing spaces such as an open shelf , the top of the island, or open floor space under the utility sink for dirty clothes baskets or maybe a rolling sorter.
11. If space is at a premium in the case of a narrow second floor hallway laundry room, consider sliding, pocket, or bi-fold doors. A gorgeous new farmhouse sliding door would keep anyone from being able to guess what lies behind it
12. Be sure to include a trash can or hidden trash bin to get rid of dryer vent lint, tags off of new clothes, and spent dryer sheets, and of course – you should have a proper container in which to stash the cash you discover going through pockets (finders keepers!).
Decoist.com noted that families are starting to take their laundry rooms to a new level with stacked stone walls and flat screen TVs. If you enjoy your surroundings and you feel a sense of peace and order when you are in your laundry room, you might find yourself keeping up on the once dreaded chore.
Marthastewart.com has a great basic stain removal chart that you could laminate and hang on the wall or the inside of your fold- out ironing board door.
Your laundry room doesn't have to be utilitarian – let us help you come up with creative organization and storage ideas.
Let's get started! If you're interested in building a laundry room that works for you, please visit our Contact page or call us at 610-431-3500.