In the most traditional sense, people enter houses through a well-appointed front door. It's painted a welcoming color and has beautiful upscale hardware. Often the door is adorned by a wreath or perhaps a monogrammed door-knocker. Once inside the house, guests usually notice- consciously or unconsciously-that the most visible areas are decorated and seem to draw them inside. Even the most lived-in house has a fairly clean and orderly foyer.
How do you feel when you walk into your garage? Do you feel good – like everything has its place? Or do you feel like you are taking your life in your hands as you make your way through the items that are strewn across the garage floor? Do you feel comfortable bringing guests -neighbors, family, and friends- into your house through the garage??
www.styleathome.com talks about what we here at Diplomat Closet Design have noticed over recent years: homeowners are starting to realize new possibilities for their garages. Gone are the days of garages being a catch-all with no sense of organization and lots of wasted space.
It's time to give your garage some love.
Your best chance at actual success incorporates two key features: Breaking the goal down into small, actionable sections which is also referred to 'chunking' a project. And next – enlisting support from EXPERTS.
We've put together a list of ideas and hacks to start you down the path toward your garage functioning as clean organized storage space and as a delightful second entrance to your home. We have helped many homeowners change their garage from a place they despise walking into, to one of the most versatile and favorite rooms in their house.
We have experience in projects like this. We love projects like this. We know it may feel overwhelming to the homeowner as they stand in the middle of their garage and survey the chaos. We know you may need help deciding on where to begin as well as how you want the space to function and look at the end. Our process starts simply by listening. Our initial consultation is free. Here are 5 ideas to get you thinking about the possibilities:
1.How do you want your garage to function? Will it simply be a space for your cars?
Have you considered that with an organizational system designed for your unique family, much more is possible for your garage area? It could become a training facility, a hobby spot, a display area for fancy cars and motorcycles, a workshop, a small putting green… talk to us! Tell us what you want once you finally have the space.
Do you entertain often? Is your house the spot where the kids seem to always decide to take a break from bike riding or kicking around a soccer ball to grab something to drink? A refrigerator for water bottles, sports drinks, sliced fruit and vegetables, etc. – full size or smaller – along with clean dry cabinets or bins to neatly store snacks, will keep the hoards out of your house when they can easily get what they need from the garage.
How about a hand wash area in the garage so that most of the grime doesn't make it into the house?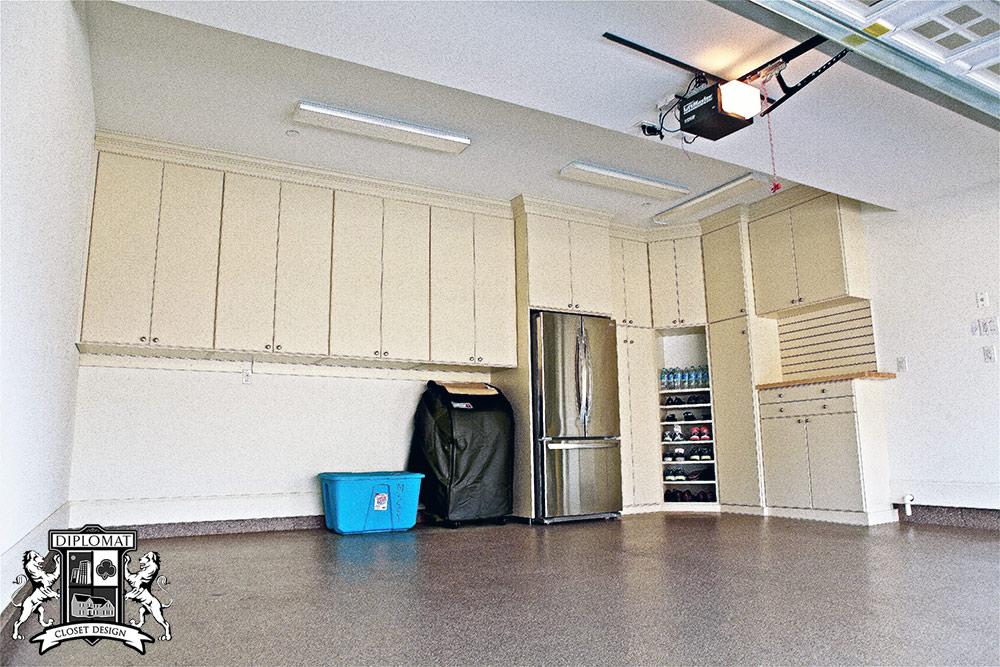 ---
2. Safety
Do you keep any hazardous chemicals, paints, solvents, sharp tools (table saws, or jigsaws) power tools, pesticides, etc. in your garage? These need a secure place of their own that is clearly labeled and perhaps even locked.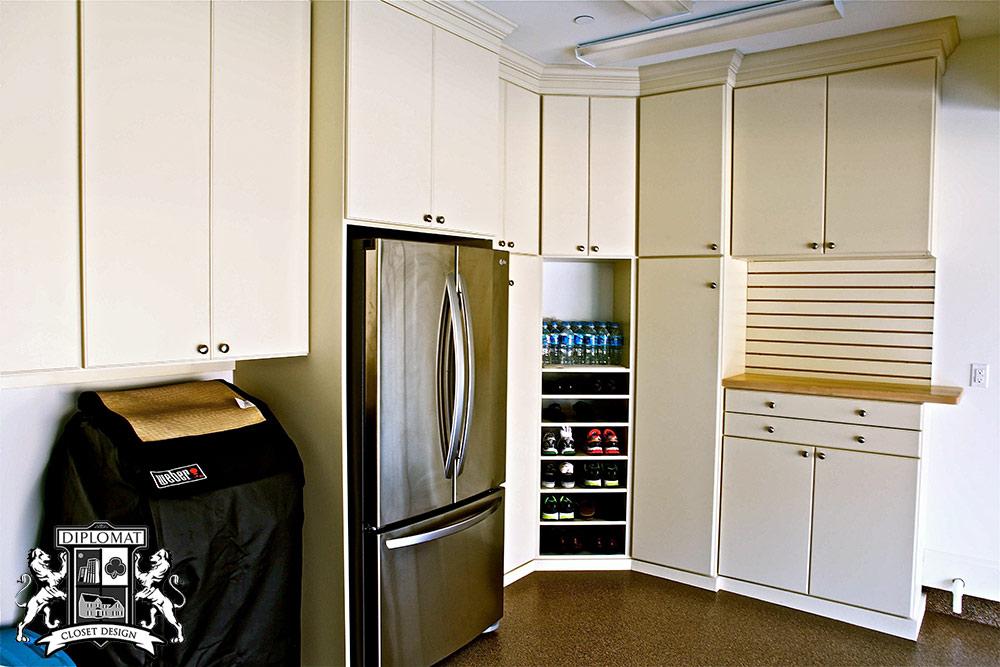 ---
3. Reclaim the garage floor
The goal here is for everything to have a place and everything to be in its place. The garage floor doesn't count. Kids acquire a lot of stuff. Stuff that they often don't want anymore and forget that they have. Make 3 piles as you reclaim your garage floor – donate, keep, and yard sale. Once the garage transformation is complete, hold a 'garage' sale and let the kids keep any money they earn selling things they can no longer use. This is a great way to show off your new garage, by the way!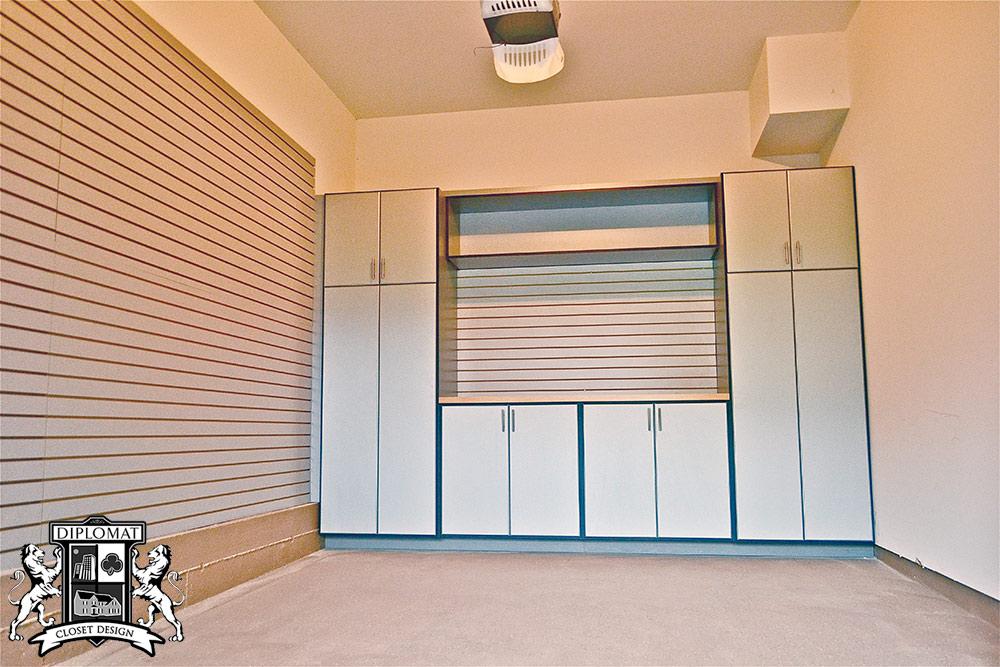 ---
4. What items do you use the most?
These will be the items that you want neatly stored within easy reach. We help you think through what tools and sporting equipment you want close at hand but neatly stored when not in use and can recommend the best ways to keep these items.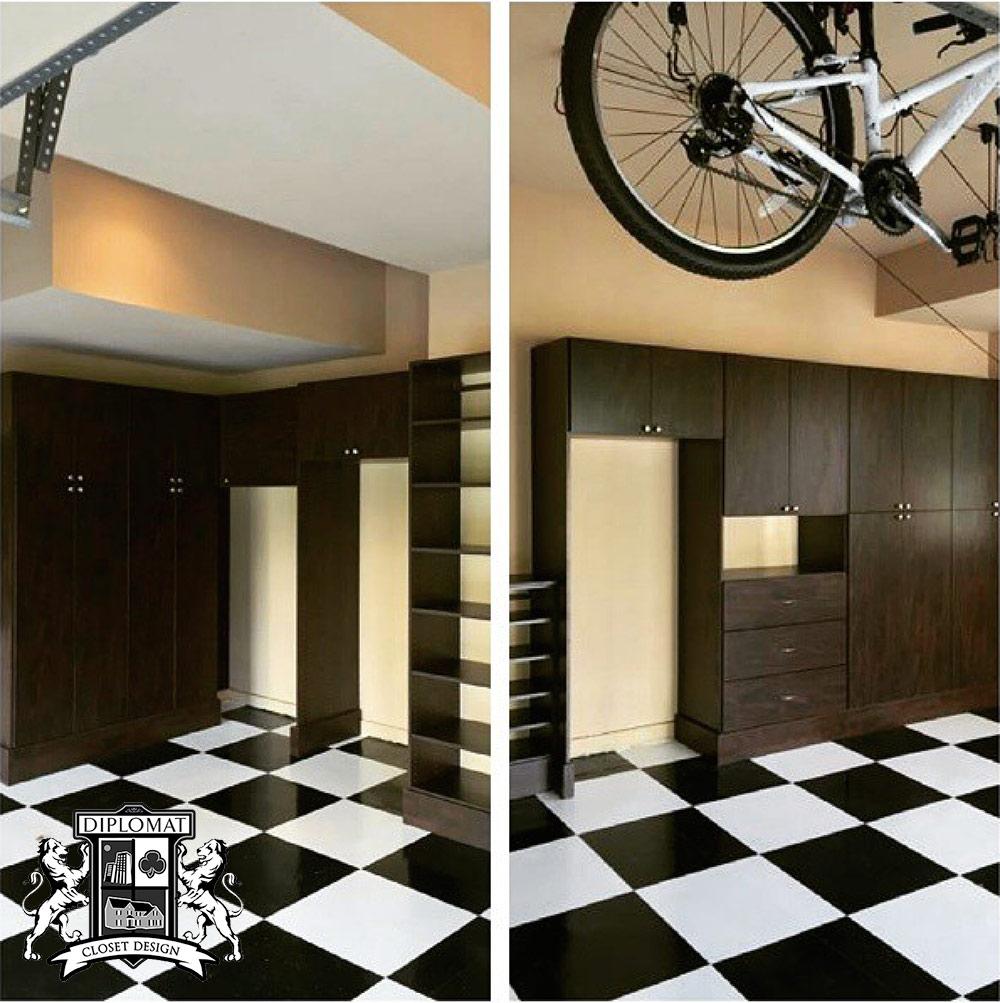 ---
5.Storage, storage, storage.
No matter what, most garages need to be used in part for general storage… think sporting equipment, pool toys, pool chemicals, lawn mowers, extra patio chairs and cushions, snow blowers, bicycles, balls, etc.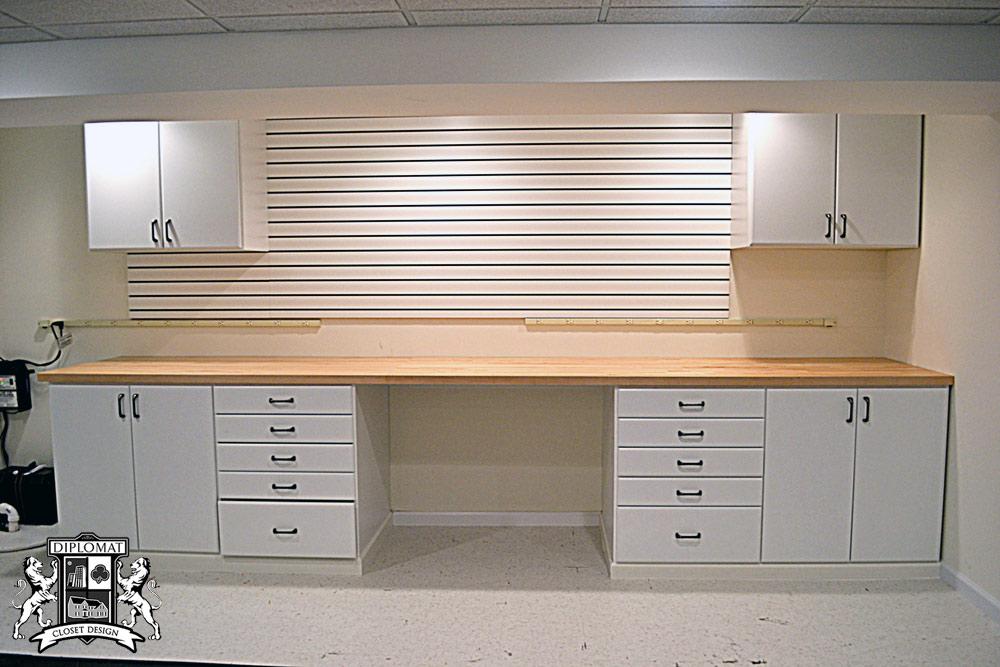 ---
Look up and look side to side.
Since the goal here is for everything to have a place (not the garage floor), the walls are a natural solution for hanging items out of the way. Tools and other bulky items needs shelving or cabinet space that can support their weight. Not all cabinets are built the same and we will explain to you the construction of your cabinets and shelving and any weight limitations. Since we custom make every piece we install ourselves, we know what pieces work best in what situations. A slat wall is the most cost effective and versatile solution for garages. It looks good (comes in different colors), sits close to the wall so it doesn't reduce the size of your available space, and you can put it practically anywhere. It is perfect for hanging things like chairs, ladders, bikes not in use, containers of nuts and bolts, sidewalk chalk, etc. Most garages have more height than many typical rooms, so use that to your advantage! We can design shelving systems that hang from your garage ceiling for items rarely used such as holiday decorations.
Finally, once we've worked together to help your garage reach its potential, Pinterest can take your imagination even further to finish it off with touches that give you a mudroom, place to hang backpacks, and a lovely second entrance to your home.
Our mission at Diplomat Closet design is simple; provide our customers with not only an innovative product, designed with intention and purpose, but also a great collaborative experience. Contact us today to set up your design consultation!