Who knew a tiny baby would need so much stuff? There are diapers, blankets, burp cloths, cleaning supplies, onesies, swimwear, coats, hats, hair accessories, medications, lotions, and so much more – and it all needs to be stored somewhere.
Functional Nursery Closet
That's why you need a nursery closet that helps you stay organized and focus all your attention on your little one. With a thoughtful custom design, any closet can become a functional and beautiful baby closet. Here's a look at some of our best nursery closet design ideas.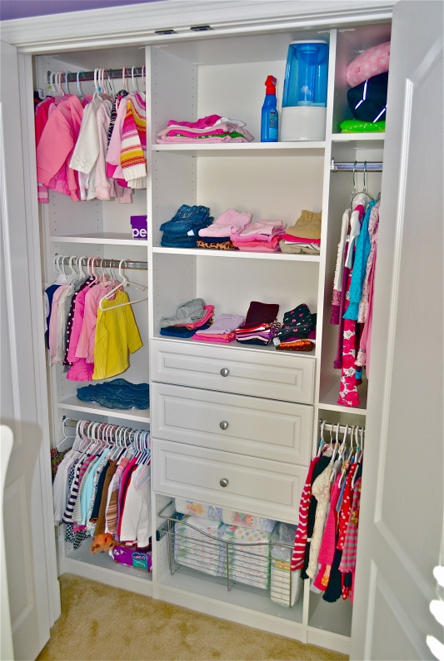 Transform a Standard Closet
A standard-size bedroom closet holds so much untapped potential to be the perfect baby closet. It's simply a matter of removing the adult-height clothes rod and installing a custom baby closet storage solution.
In the photo to the left, you can see that the custom-designed closet layout is putting every inch to great use. There's plenty of room for both hanging and folded clothes, plus diapers, a humidifier, and a cleaner that's kept well out of reach for babies and kids.
In a child's closet, it's a good idea to install at least a few drawers/cabinets that keep clutter under control. Babies and kids always have lots of little odds and ends you need to stash away and keep out of sight.
Create a Dual-Duty Nursery Closet
Sometimes a closet must work for two people. What if you have more than one child? Or what if your baby shares a room with you? Here's an option that addresses both of these situations: the dual-duty closet.

In this design, a wide closet is divided into two sides. One is used for the baby's stuff, and one is for another child or their parent. You could even use it for the whole household's out-of-season clothes or dress clothes.

In a shared closet, each side should be custom designed around the person who will use it. The baby's side of the closet needs lots of narrow-height shelves for all the tiny folded clothes a baby uses. The other side can be designed completely differently for the other person.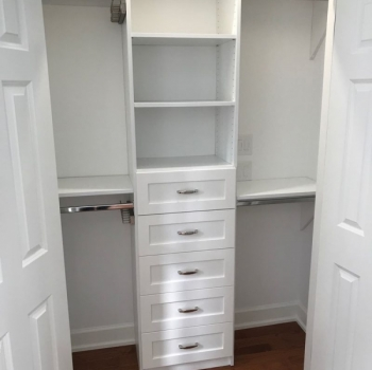 Put the Focus Down Low
Here's a great way to ensure your baby closet will remain child-friendly: Put the focus down low, where little hands can reach. In the photo above, the drawers and clothing rods are near the floor at child height but there's still plenty of room up high for adults to reach too.

As a parent, you'll find peace of mind with a closet like this. Not only does it help keep your household organized, but everything is built right into the closet and unable to tip or topple over. That kind of safety is an important consideration for a child's room.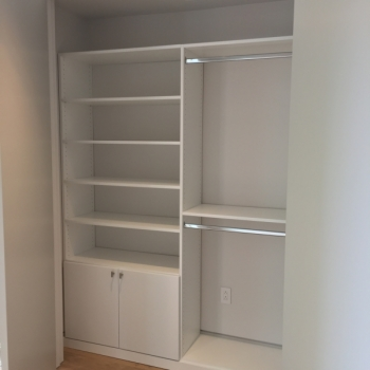 Help Your Child Grow
A custom closet can be designed to grow with your child from their baby years through toddlerhood, and on into the school-age years. With shelves and hanging rods at various heights, you'll have options for years to come.

Important tip: As you can see in this photo, in a baby's room it can be helpful to have some storage space up high near the ceiling. It's the perfect spot to stow away things that don't need immediate access: out of season clothing and toys, rarely-used collectibles, heavy blankets, and anything fragile.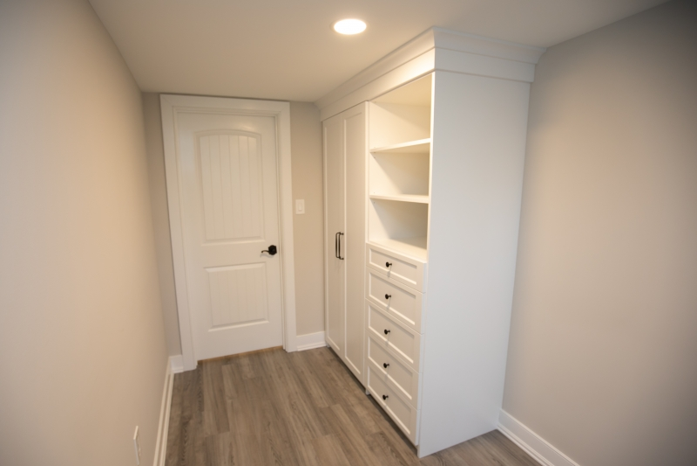 No Space for a Closet? Think Again.
If your baby's room doesn't have closet space, or if your existing closets are already full, consider a different type of storage solution: the built-in wardrobe. It looks stylish and adds plenty of nursery storage.

In fact, this type of custom-designed armoire can even be fitted with features that make your life easier, like a changing table, a fold-out ironing board, clothing hooks, or a locking cabinet for creams and medications. The only limit is your imagination.

Discuss your nursery needs with a custom closet designer at Diplomat Closet Design, and we'll help you create a closet that's perfect for you and your baby. See our gallery of closet design ideas for more inspiration or contact us today.