There's valuable storage space hiding in your garage, and we'd like to help you put it to good use. Add custom storage to your garage and you'll clear your house of clutter, stay more organized, and get the most out of your money.

Diplomat Closet Design has endless options for custom garage storage solutions that are designed and installed right here in Delaware County, Pennsylvania. Here are some garage storage ideas that can work for every budget.

Garage Shelving and Storage Ideas
If your budget is tight, put your dollars to work with a custom wall shelving unit that uses every bit of space. Mix it up with a variety of storage options that can accommodate many different shapes and sizes of your belongings.

In the photo below, you can see 6 different types of storage, all sitting within a very tight space: open shelves, wall hooks/hangers, cabinets, drawers, small compartments for tiny items, and a canvas bag for tools.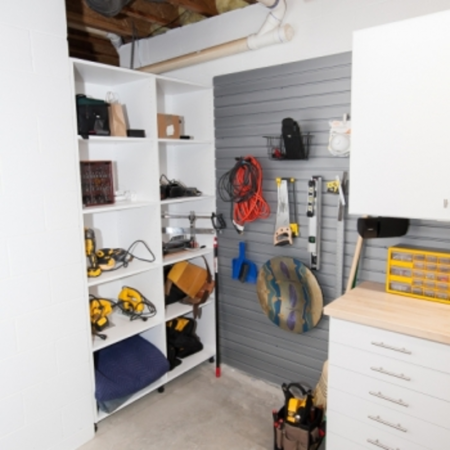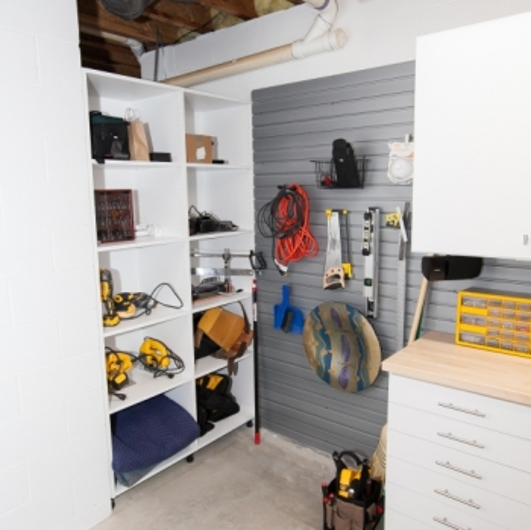 Focus on One Wall
If you don't have the funds to completely remodel your garage, focus on a single wall that has the most opportunity for storage. A custom garage designer can offer makeover ideas that will work for your specific space.

As you can see in the garage wall design below from Diplomat Closet Design, the simple addition of some cabinets, a shelf, and a countertop with drawers can go a long way toward putting an empty garage wall to use for ample storage.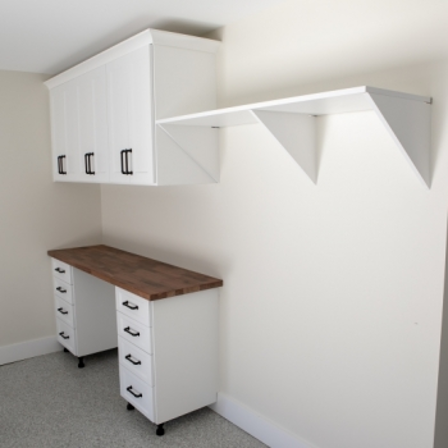 Clear Clutter From Hobbies and Holidays
Other than lawn care equipment, some of the most common items that clog up garages are sports gear, supplies for a variety of hobbies, and out-of-season storage for the holidays. So if you need to get the most bang for your buck, start by organizing these items out of sight.
Keep the clutter hidden behind closed doors by adding a small-but-functional cabinet, closet, or drawers, even if you don't have much space or money to invest in the project. The photo below shows 2 options for getting a huge amount of storage out of a very small footprint of garage space: a tall cabinet and/or a narrow closet.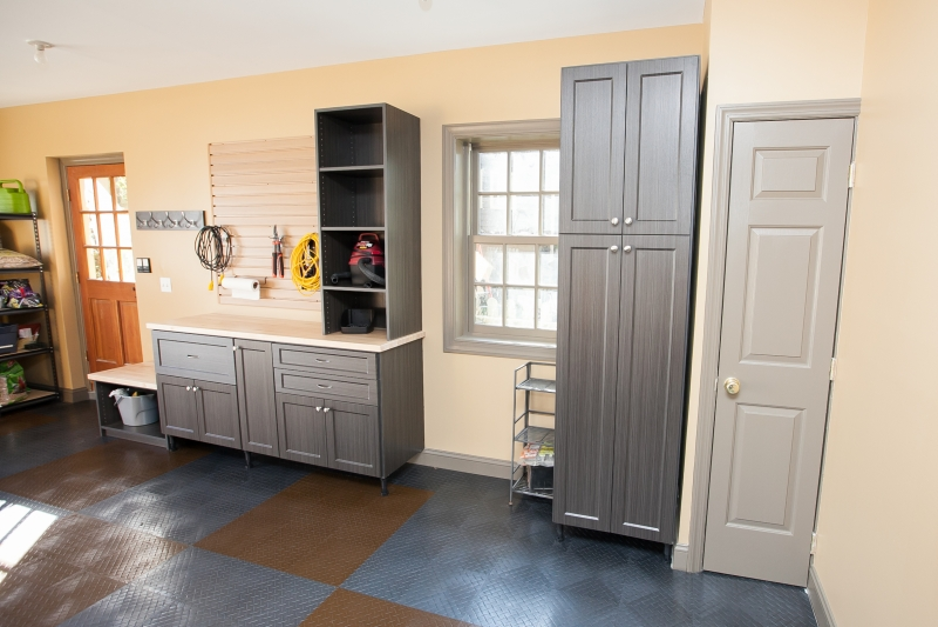 In fact, the photo on the left was taken from a much larger garage redesign project that involved creating a motorcycle maintenance zone and storage space. Below is a larger photo of the same garage, showing how you can use smart storage ideas to fit any budget, large or small.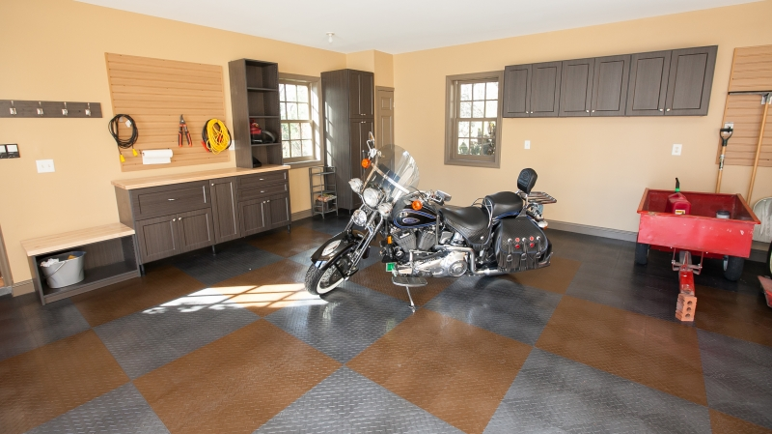 A Custom Designer Saves You Money While Delivering Garage Storage Ideas
No matter the size of your budget, don't make the mistake of thinking a custom storage designer is out of your reach. Custom designers can work with any budget, in any space, and in any home, helping you get the most out of your money.
Simply share your budget with the experts at Diplomat Closet Design and let us wow you with a custom storage solution that will whip your garage right into shape. Contact us now for a consultation about your garage storage needs.