If you're like most people, you spend up to two hours a week in your garage but really can't stand being in there. We're in and out of our garages frequently, but just 11% of us are actually happy with them!
It's time to cut the clutter in the garage and start using the space more effectively. Let's look at a before-and-after gallery from West Chester, PA that shows the power of custom garage design.
As you can see in the before photo, this homeowner wasn't getting the most out of their garage. It wasn't as organized as it could be and the usable floor space was reduced due to items sitting out.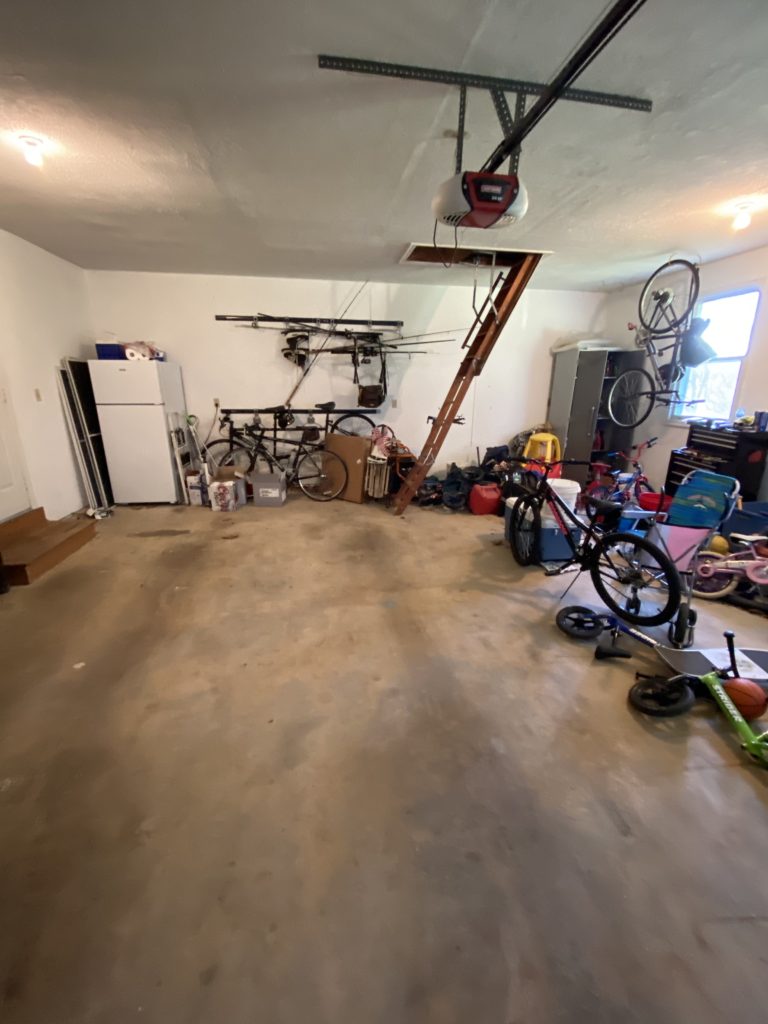 This probably looks a lot like your garage. Most of us keep a wide variety of belongings in the garage, including sports gear, out-of-season decor, auto repair supplies, tools, chemicals, and much more.
In fact, one-fourth of all U.S. homeowners have so much stuff in their garage, they can't even park in it. Wouldn't it be nice to store everything you need and still have plenty of room for your car and hobbies?
Storage Keeps Your Stuff Out of Sight
In this West Chester custom garage makeover, a sleek storage system clears the clutter. The remodeled garage has cabinets, closets, and a custom wall storage rack for items of many sizes.
The homeowner now keeps almost everything behind closed doors and out of sight. In-season gear, like a few beach chairs, can be kept within easy reach on the wall storage unit that includes a variety of movable hooks.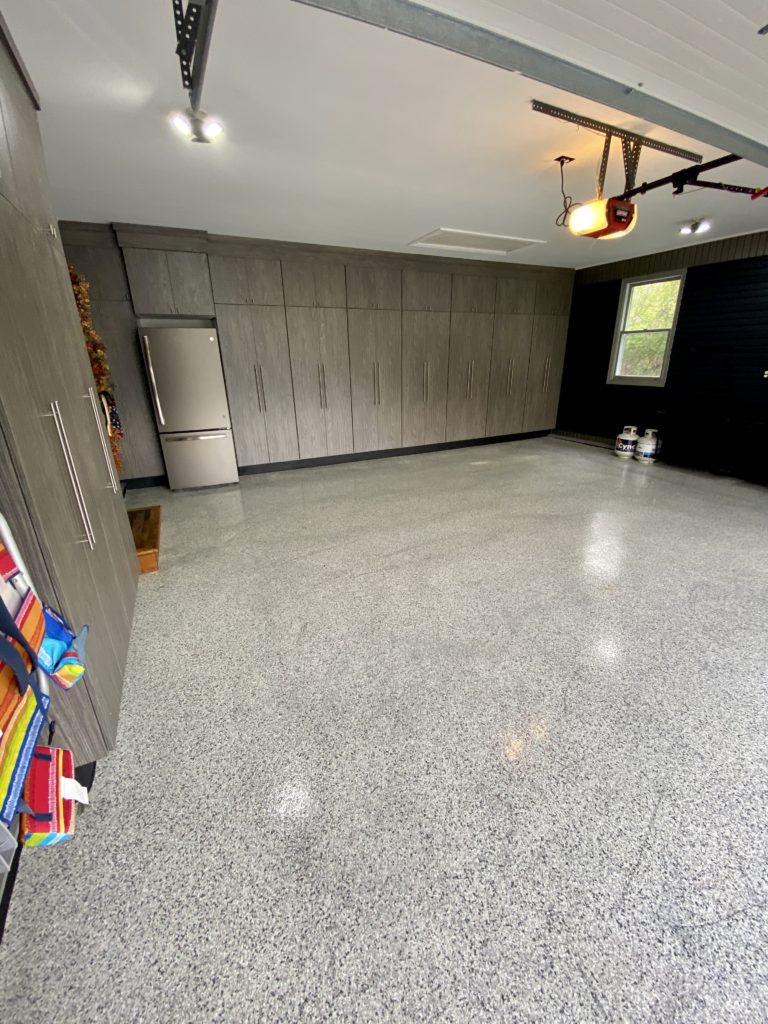 Design Tip: Match the Materials to the Surroundings
As you can see, the custom garage storage system from Diplomat Closet Design is made of beautiful textured melamine. It's a tough, durable material that would look just as stylish inside the home as it does in the garage.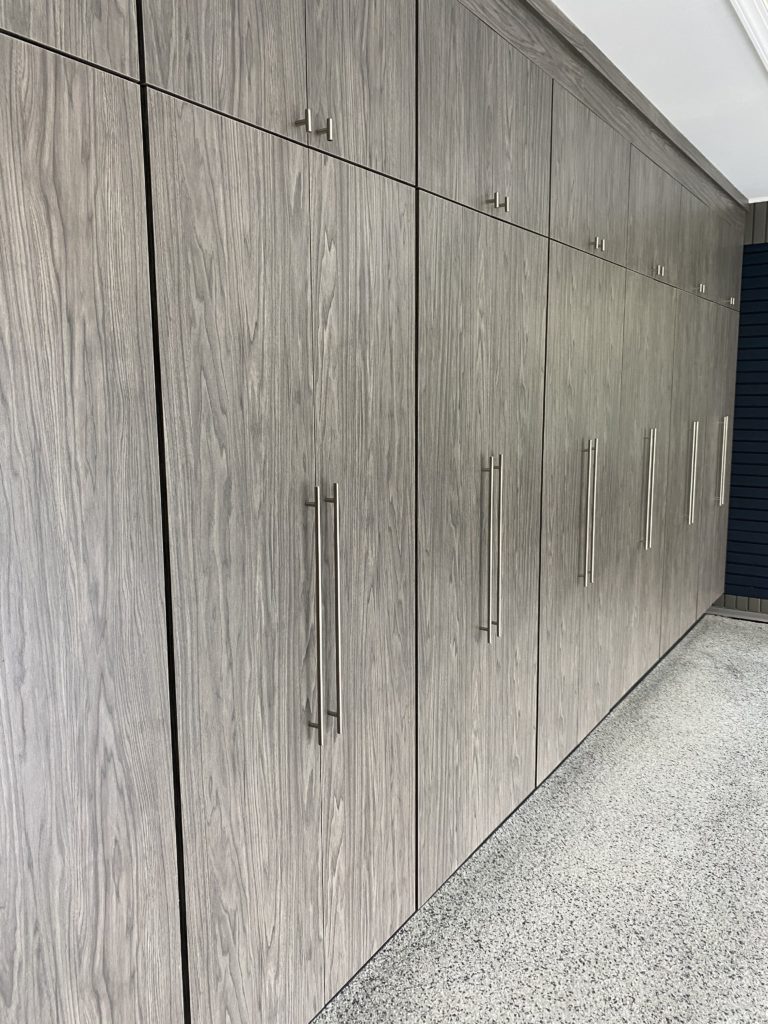 When you choose a handsome wood finish like this, your garage becomes a true room in your home that you're proud to show off. Use materials that match your interior decor and/or the exterior environment, like warm wood earth tones for a woodsy rural cabin or sleek dark grey for a modern monochromatic suburban home.
Don't Forget the Details
There's more to a garage makeover than just installing some shelves. The details matter in custom garage design. Create a layout that's functional for your family and add special touches that suit your lifestyle.
For example, if you have a canoe, kayak, or bicycle, build in custom ceiling storage that keeps it up and out of the way. If you love to work on motorcycles, build a corner workstation for all your gear and tools.
Keep snacks and drinks in a garage refrigerator, which frees up your kitchen storage and gives everyone an extra place to grab a cold drink on a hot day. This homeowner added a full-size stainless steel fridge and freezer.
The hardware in your garage is also important. The silver tube-shaped cabinet hardware in this garage complements the stainless fridge as well as the homeowner's overall home decor.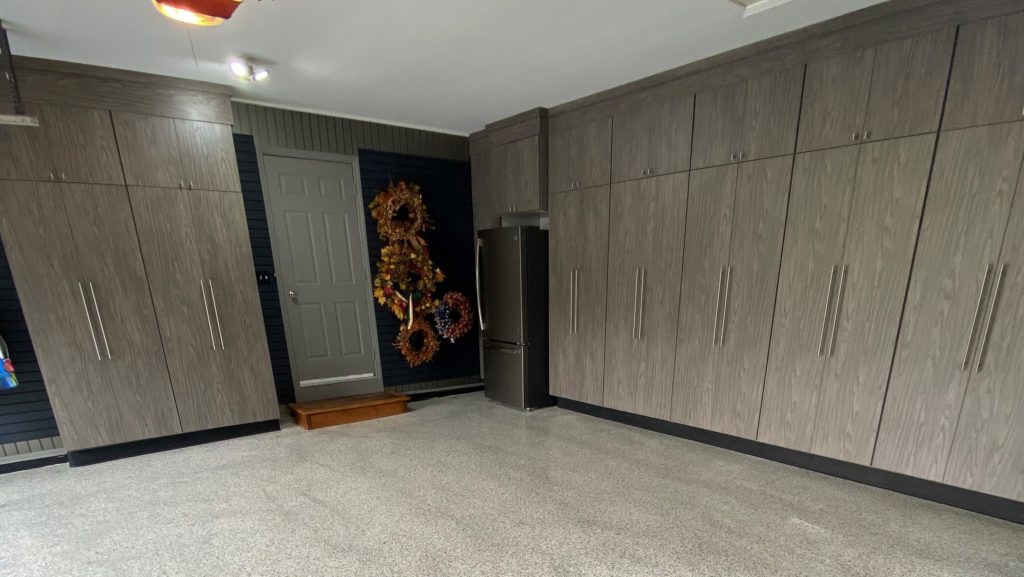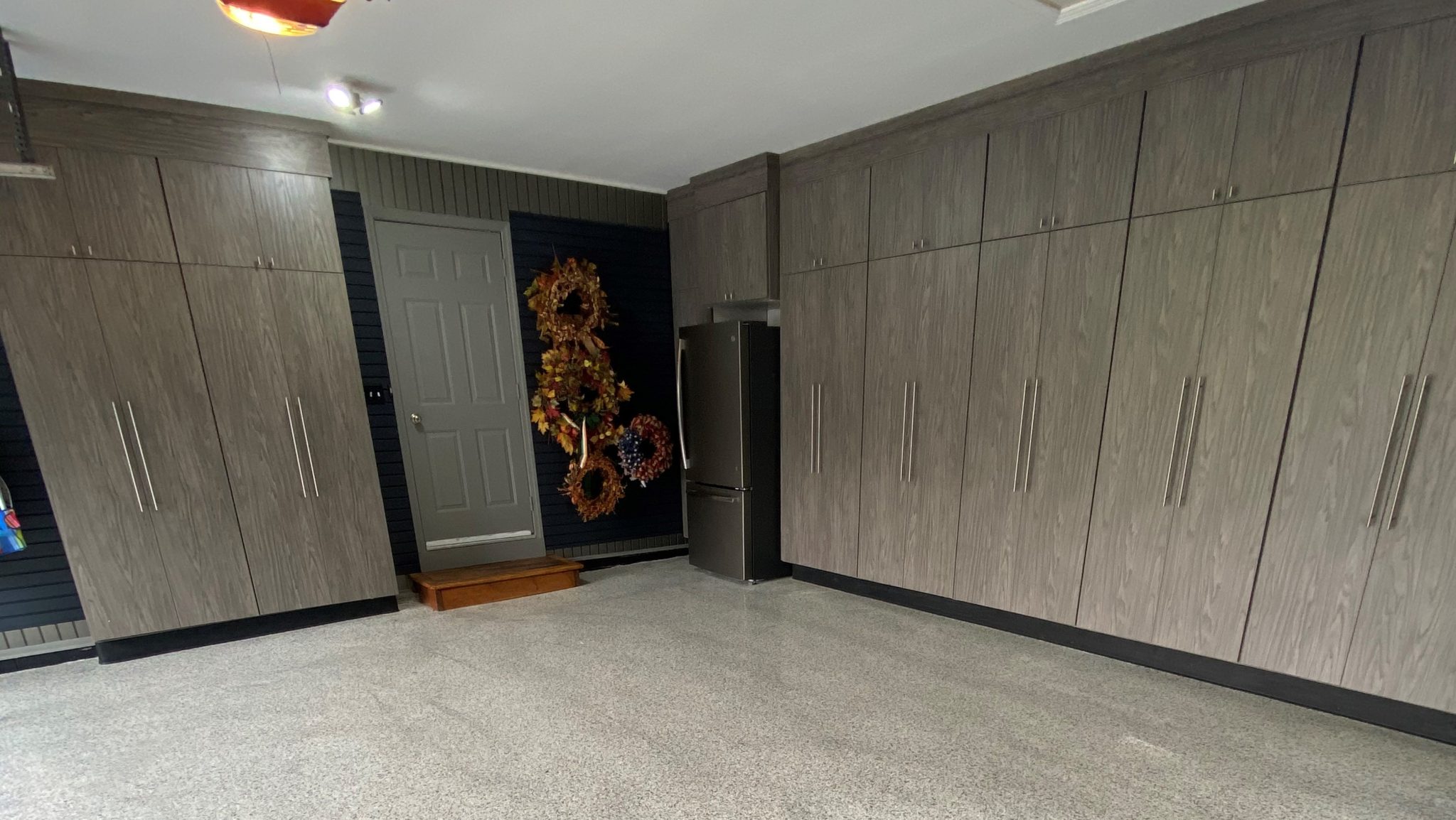 Ready to create a custom garage as beautiful as this one? We can help. Diplomat Closet Design is remodeling garages in West Chester and throughout Pennsylvania, and we're ready to tackle your project.
Get Your Own Custom Garage Makeover
Great garage makeovers are all about the details. The better you plan in advance for your garage upgrade, the more you'll love the end result. A professional designer can help you create a makeover plan that meets your needs and helps you get the most out of your garage.
To see more photos of garage makeovers, visit Diplomat Closet Design's Garage Makeover Page or contact us to discuss giving your garage a fresh look.
We frequently travel to garages in Chadds Ford, Kennett Square, Malvern, Exton, Downingtown, Wayne, Devon, King of Prussia, the entire Main Line and more.
Contact us today to request an appointment and talk about the possibilities for your custom garage makeover.