Colorful laundry rooms are trending this year. Why? The answer is simple: A colorful laundry room is fun!
Doing laundry feels less like a chore when your cheerful room always brings a smile to your face. Now's a great time to upgrade your laundry space with fresh colors.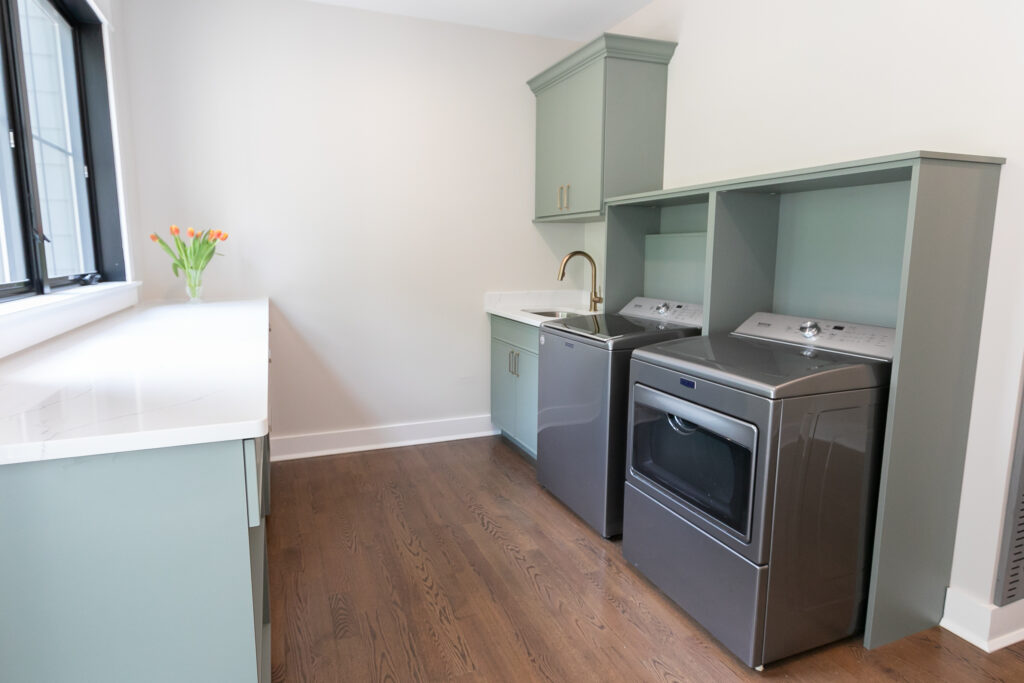 The Best Laundry Room Colors of the Year
For color inspiration, interior designers turn to the colors of the year from widely respected sources like Architectural Digest, Pantone, Sherwin-Williams, Benjamin Moore, Behr, and even runway colors from designer clothing brands. Let's look at today's top hues.
Last year, Architectural Digest featured pale green tones as its top colors of the year. For 2023, they've chosen calming pink hues including neutral pinks like Behr's Blank Canvas. 
Similarly, Sherwin-Williams' color of the year for 2023 is a soft, pinkish mauve called Redend Point. In a small space like a laundry room, it lends a warm tone that feels welcoming and relaxing.
Raspberry Blush by Benjamin Moore is an even brighter take on today's popular blushy tones. It would add a fantastic pop of rosy color to your laundry room walls.
Do you have a bold desire for vivid color in your laundry area? Pantone's 2023 Color of the Year is Viva Magenta, a brilliantly vibrant pink that morphs into wine red after sunset. Pantone calls it a more grown-up version of the muted pinks currently dominating the decorating landscape.
Architectural Digest also suggests an array of other trending colors for people who aren't into the pink trend. For example, Farrow and Ball's Babouche is a neutral version of sunflower yellow that feels cheerful in a laundry room. Benjamin Moore's Cedar Green has a touch of gray that looks great with stainless steel fixtures and appliances.
When in doubt, opt for classic blue. Sky blue continues to be one of the world's favorite colors. In a laundry area, it evokes feelings of cleanliness and calm, which adds to the overall zen vibe of your home.
Colorful wallpaper is also having a big moment in interior design. Even if you don't love wallpaper in other rooms of your home, an accent wall in the laundry room could be the perfect spot to experiment with color.
Top trends in wallpaper colors include:
70s-inspired shapes and swirls
Vertical waves of complementary colors
Colorful large-scale, wall-size wallpaper murals
"Dopamine decorating" that dazzles with mind-bending colors and patterns
Color Outside the Lines
You don't have to limit yourself to wall color. Today's colorful laundry rooms also use hues in unexpected ways through colored appliances, countertops, cabinets, and more.
Colorful washers and dryers are all over Pinterest. They add a decorator's touch and look like shining jewels in the room. A note of caution, though: They usually require a special order directly from the manufacturer.
Cabinets and closets come in a rainbow of colors, especially when you choose a wood alternative like melamine. Picture installing a brand new laundry room full of custom cabinets in your favorite color, set off by a backdrop of neutral walls.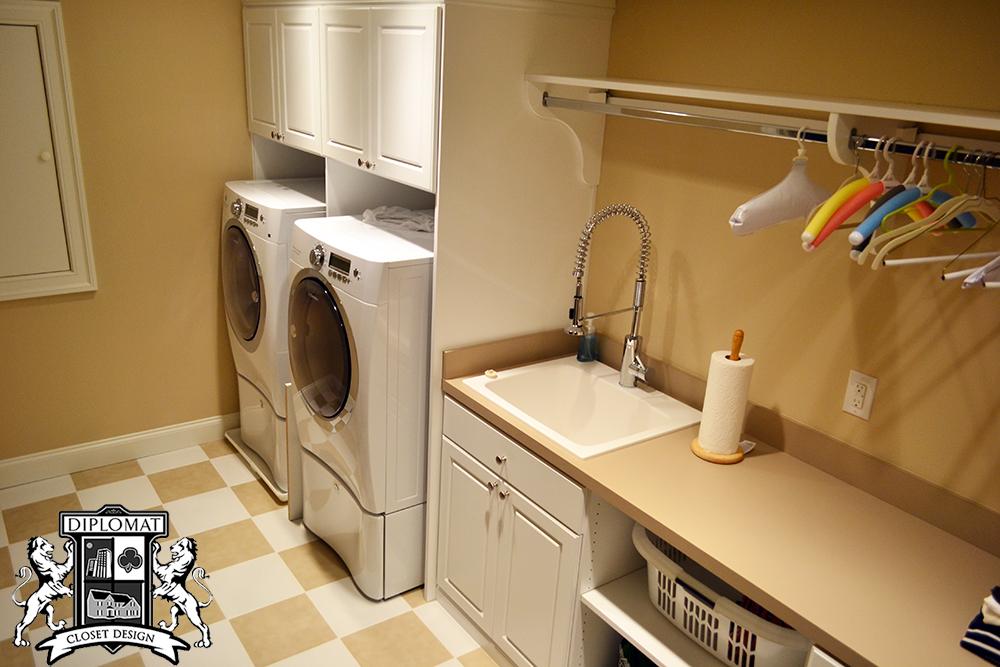 This laundry room by Diplomat Closet Design has creamy tan-yellow walls with a matching cream and white checkerboard floor. Its tan countertop also provides a tasteful note of color contrast against the white cabinets and shelves.
Have you considered installing colorful flooring in your home? Mosaic ceramic tiles are one of today's most fashionable trends for laundry rooms because they're functional and beautiful. Two-tone herringbone patterns are also stylish in your choice of vinyl, laminate, stone, or tile.
From floor to ceiling, the right color lights up your laundry room and brightens your mood. The design possibilities are endless when you welcome more color into your life!
Liven Up Your Laundry Room With Color
Ready to add color to your laundry room and make doing laundry more fun? Diplomat Closet Design is here to help. We offer a wide variety of laundry room design options for maximum storage and style.
To learn more, request an appointment with Diplomat Closet Design to discuss upgrading your laundry room with your favorite colors.
If you live in Bucks County in towns such as Newtown, New Hope or Phoenixville, contact us today.