A wet bar adds a swanky entertainment element to your home and although it feels indulgent, it can be done rather affordably. Plus, a wet bar can go almost anywhere – in your basement, entertainment room, den, or even out in your back yard.
What makes it "wet" is its plumbing for a sink and running water. Of course, when you're already adding a sink, you might as well add other fun and functional features like a sprayer, an in-sink garbage disposal, a mini-fridge, custom tile work, and whatever your heart desires.
Here are some of the best wet bar ideas we've seen here at Diplomat Closet Design. If one of these sparks your desire to install a wet bar, let us know and we can start designing something for you as soon as possible.
A Wet Bar Mini-Kitchen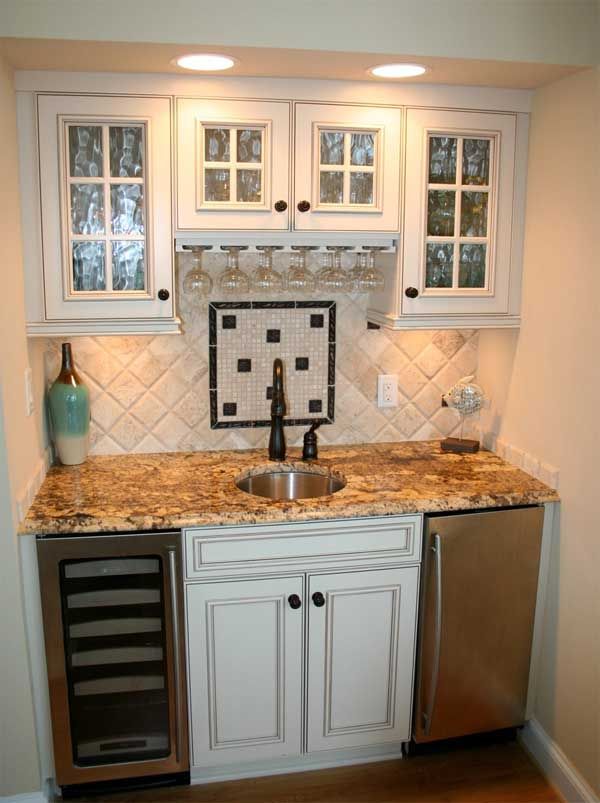 When you have a wet bar, it's almost like having a second mini-kitchen. That's why kitchen-style wet bars, complete with beautiful stone countertops, are perennially popular.
Prep snacks, mix drinks, and give everyone a little spot to gather. The handy sink helps you wash up quickly so it all stays spotless. Your wet bar performs even more like a kitchen if you add a few basic appliances: a mini-fridge, an icemaker, a microwave, and a blender.
The Beer Brewer's Wet Bar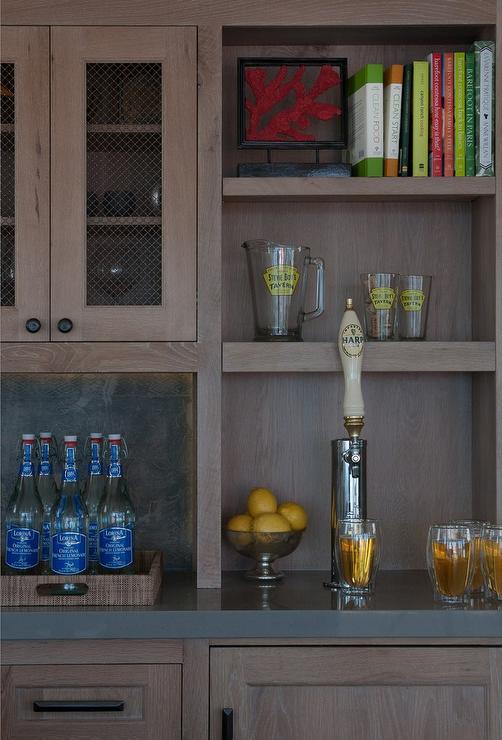 Do you brew your own beer? Or just love brews of all kinds? Create a wet bar that puts beer taps right at your fingertips.
There's nothing like a row of taps to bring beer drinkers right up to the bar for a taste. Imagine having your pals over for game night and dispensing each person's perfect brew, right from your brand new wet bar.
The Wine Lover's Wet Bar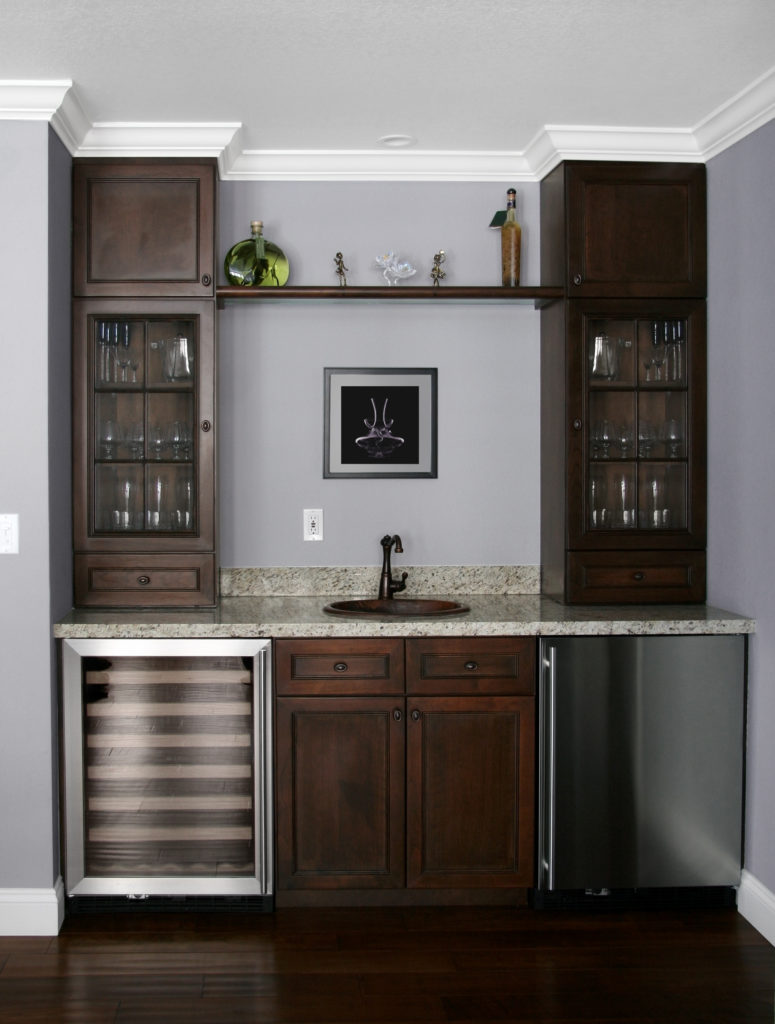 Add a wine fridge and wine racks, and suddenly you have an ideal spot for sipping and sampling wine. Offer your friends a wine tasting experience with pretty plates of hors d'oeuvres and sweets set out on the counter, just like at your favorite winery.
Keep in mind that bottles of wine are light and moisture sensitive, so talk to your builder about creating a special spot for long-term wine storage. Hint: Hide a built-in mini-wine cellar near your wet bar – perhaps behind a door or bookcase – for some serious "wow" factor!
The Old Hollywood Wet Bar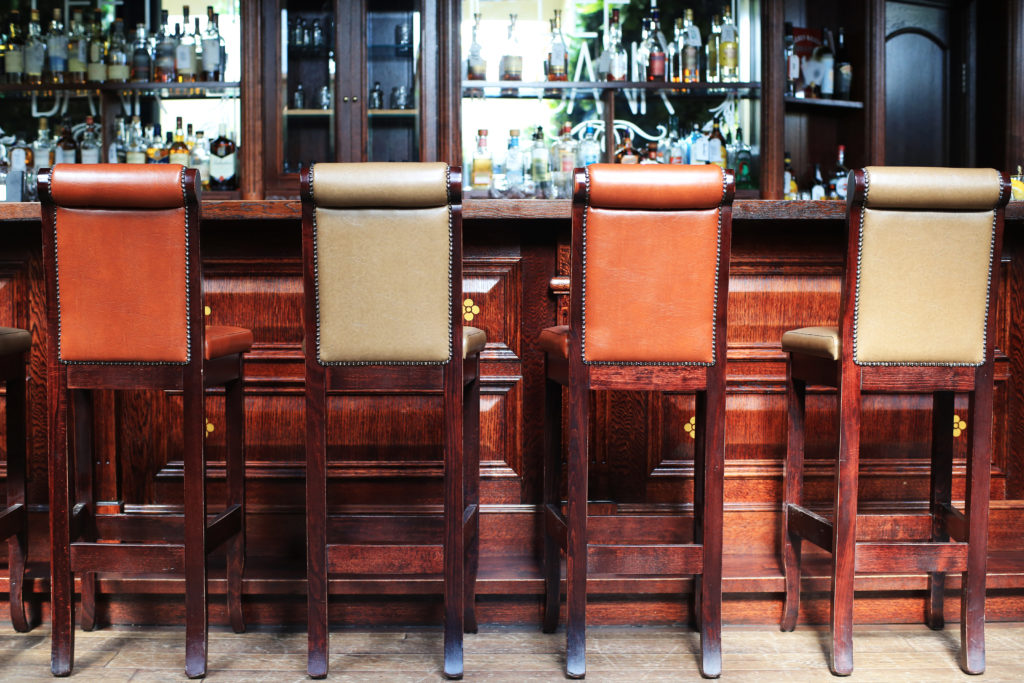 Treat your guests like celebrities with a wet bar that absolutely oozes retro style. Give it an Old Hollywood or Rat Pack vibe with mirrors, glitzy lighting, and a sparkling wall of cocktail glasses.
A retro wet bar relies heavily upon selecting just the right decor and finishing touches, like vintage-style hardware and light fixtures. Make sure you include glamorous colors that evoke the era, like warm oranges and pinks.
Your Secret Speakeasy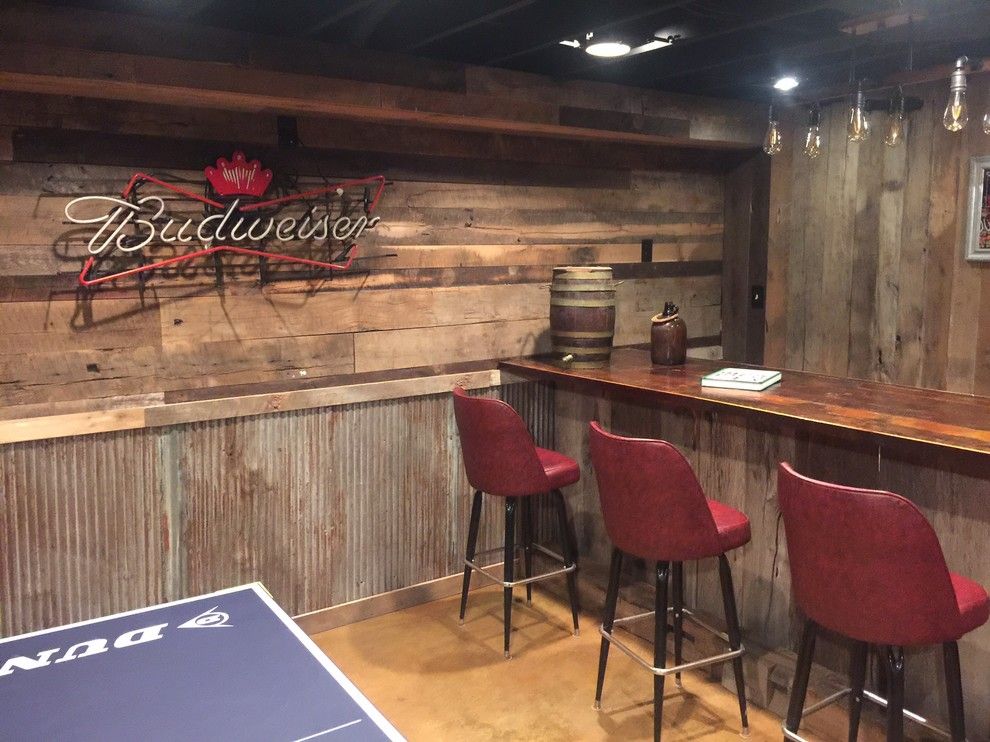 A wet bar is the super-secret speakeasy you've always wanted to share with your friends. And it's hidden right inside your own home!
Today's speakeasy style has four main elements: wood, warm lighting, comfortable seating, and a "hideaway" feeling. At a minimum, your speakeasy wet bar needs handsome wood framing, a sink, a bartop, a mini-fridge, and plenty of room to display all your favorite bottles of liquor.
A Wet Bar for the Whole Family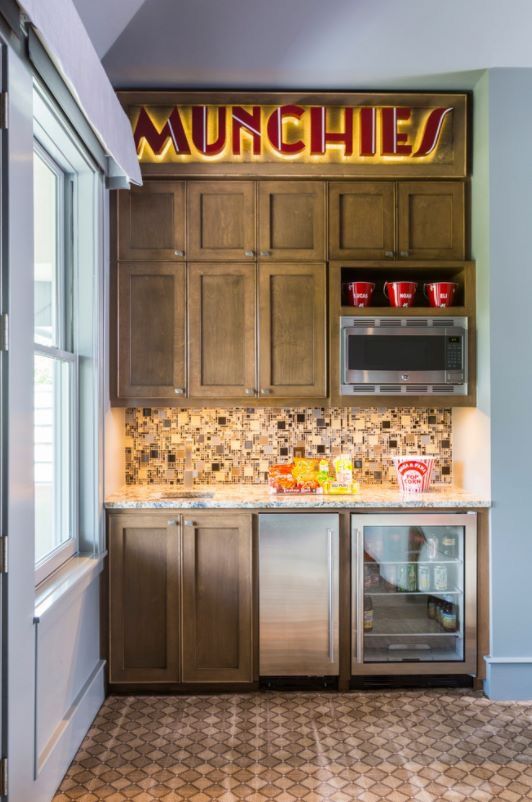 Not every wet bar is an adults-only experience! Plenty of wet bars are alcohol-free. We've seen stunning wet bars that are fun for the whole family. Host a get-together or holiday gathering and invite everyone to stop by the wet bar for a snack and a drink.
In fact, why not turn your wet bar into an old-fashioned soda fountain? Or a sundae station? Or a movie theater-style concession stand with candy and popcorn? Let your imagination run wild when you design your family's wet bar.
How to Start Designing Your Wet Bar
At Diplomat Closet Design, we have a talented team of design and building experts who love helping homeowners improve their living spaces. We're here to help you create a wet bar that's unique, useful, and tons of fun.
Contact us now to schedule an appointment or try our new DIY Design Tool that brings your wet bar to life right before your eyes. Cheers!
If you live in the Gradyville, Bryn Athyn or Paoli areas, contact us today for a consultation about wet bars.