It's springtime! Now's the perfect time to freshen up your child's play area. Toy rooms and playrooms are known for attracting plenty of grime and clutter.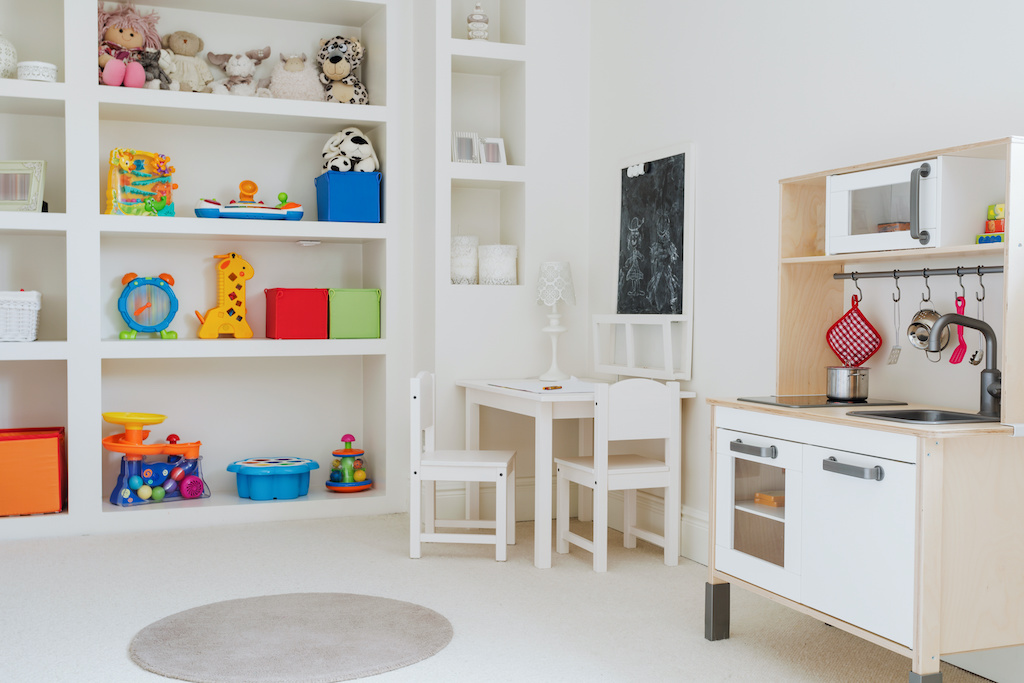 This year, why not take your spring cleaning to the next level? When you reorganize a playroom with creative storage solutions, it's easier to keep it clean and clutter-free all year round. Here are some helpful tips.
Set Up Off-the-Floor Storage Spots
Take a look at pictures of children's play areas on Instagram, and you'll notice they all have something in common: No clutter! Everything is up off the floor, lending a feeling of space and cleanliness.
The key to this photo-perfect look is having just the right storage spot for everything your child owns. If your kid doesn't know where to put it, they'll just leave it on the floor.
We recommend installing child-height cubbyholes and shelves to hold books, stuffed animals, toys, and everything else. Easy-to-clean cubbyholes are also great for shoes and athletic gear, keeping all the dirt up off the floor.
Small room? No problem. If it seems there's not enough space for off-the-floor storage, take a second look at the windows and doorway. With some custom around-the-doorframe shelves or a built-in window seat, you suddenly have lots of new storage options.
Rethink the Closet Layout
Your playroom closet is probably like most – just a plain old box of space. Unfortunately, builder-grade closets aren't designed for kids!
Plus, the freestanding closet organization systems that are widely available at places like Target and Wal-Mart are rarely made for kids either. They're way too tall and often too wobbly and unsafe for young children to use.
Consider adding a custom kids' closet storage system that's built right into the walls for safety and kid-friendliness. A built-in closet system holds hundreds of toys and you can simply close the doors to keep all the stuff out of sight.
Maybe your child has lots of small stuff to organize, like a little car collection, building blocks, or electronics and chargers. At Diplomat Closet Design, we often install custom drawer boxes and dividers that corral groups of items into specific spots. This goes a long way toward organizing your playroom.
Put the Furniture to Work
If you have playroom furniture like a table, chairs, footstool, or an entertainment center, there's a good chance it could be offering better storage. Nearly any piece of furniture can be designed with hidden built-in storage spots.
Turn a bench or footstool into a flip-top seat with a storage hideaway underneath. There could even be an entire row of bench storage seats along the playroom wall. As long as your installer uses child-safe hinges and pulls, it's fun and easy for your child to clean up the room by tossing everything into the storage benches.
Do you have a young artist? Instead of a simple easel, your creative kiddo could have an all-in-one art station with built-in storage for markers, pencils, paints, and more.
Talk to a custom woodworker or builder about reimagining the furniture in your playroom. You might be surprised at the imaginative ideas they suggest for adding tons of extra storage.
Add Hardware, Hooks, and Hangers
Don't underestimate the power of hardware. Kids enjoy having fun little places to hang things when you offer them hooks, hangers, handles, knobs, and other closet and cabinet hardware.
For very young kids, small buckets can hang on child-safe knobs to make it easy for them to gather up their toys and hang the buckets right on the wall.
A row of sturdy hooks can hold large basket handles, hiding all the toy room clutter in a neat line of chic baskets.
Specialty hangers and grabbers can hold odd-sized items like stuffed toys, sports equipment, musical instruments, and more.
As you can see, the possibilities are almost endless when it comes to organizing a toy room or playroom. With the help of a design expert and/or a custom builder, you can create a fun space that's absolutely bursting with storage options.
Contact Us to Design the Perfect Playroom
If your child's playroom or toy room needs a boost of storage creativity, contact Diplomat Closet Design today. Our design process gives you a fast, budget-friendly way to add exactly the storage you need in exactly the right spots.
If you live in the Ardmore, Radnor or Bryn Mawr areas, contact us today for a consultation.