Here's a surprising fact about closets: 20% of people would take a pay cut at their job in order to magically have more closet space at home. People enjoy imagining a dream world where everything they own is perfectly organized and tucked away. But it's hard to accomplish in real life.
That's a big reason why the market for home closets and home storage organization is growing so fast. It grew by 3% last year and is projected to grow another 3.5% this year. Closets are now a $10.5 billion U.S. industry.
What does this mean for new home builders in Pennsylvania? Here are some insights.
Model Homes MUST Have Stunning Closets
The first takeaway is that any new model home should have a variety of beautiful, high-quality closets built right into the floor plan. Buyers want to see storage options firsthand and picture themselves using these spaces in their day-to-day lives.
This means builders should work with a custom closet design company that can create great closets for each model home. In fact, each type of room throughout the model home should show off its own special custom closet: bedroom, kitchen, garage, mudroom, and more.
New Home Buyers Want An Option For Built-Ins
The average U.S. custom closet takes 4 months to plan and 2.5 months to build, according to a survey by Houzz. Of course, a skilled Pennsylvania closet crafter can usually do it much faster, but people in the market for a custom-built home prefer to wrap it into the initial build.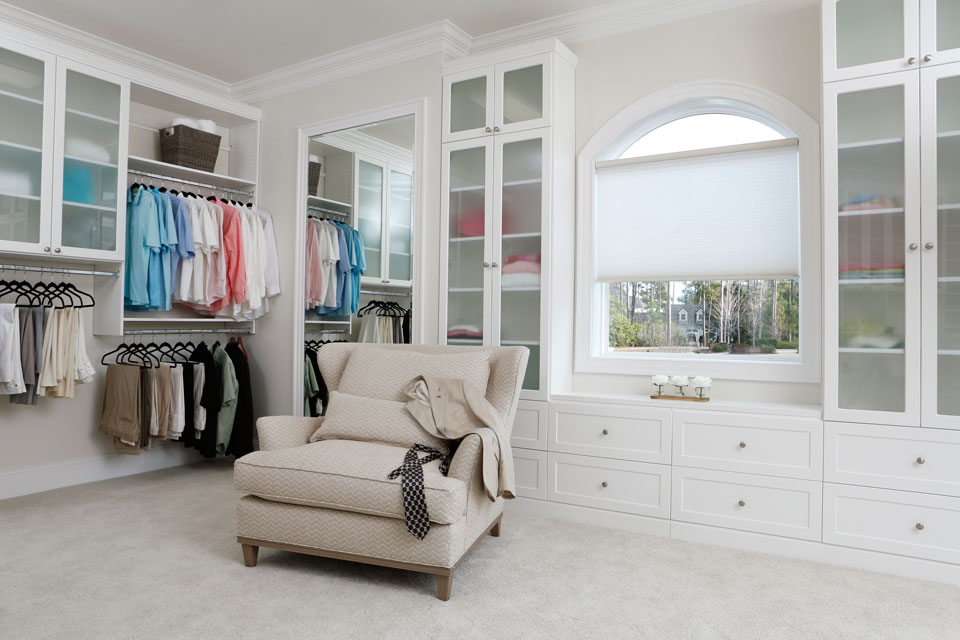 That's why your company can be a top market competitor by adding custom closets to clients' design options. Remind potential buyers that they can save time and money by adding high-quality closets right from the start.
It's Time to Go Beyond the Basics
The most basic built-in organizational features of any home typically include:
Bedroom closet shelves and rods
A linen closet
Kitchen shelves
Some type of coat closet
But today's home buyers want more than basic starter homes. They've been watching HGTV since the mid-1990s, and their favorite shows feature gorgeous custom closets that keep everything sleek and clean.
They want space. They want function. They want organization. They want style. They want it all, especially from a newly-built home.
A Kiplinger study found that among new home buyers, 85% want garage storage space and 83% want a walk-in kitchen pantry.  The perception of "not enough storage space" is enough to kill their desire for a home or floor plan entirely.
Plus, when it comes to newly-built homes, people picture the resale value further down the line. Homes without ample closets are much more difficult to sell, and your savvy clients know that. Walk-in closets, for example, rank among the top 5 features desired by first-time and second-time home buyers.
So how do you woo home building clients and keep them happy? Go beyond the basics.
Offer custom storage features like:
Upgraded walk-in closet systems
Additional reach-in closets along hallways
Fully walk-in kitchen pantries plus matching kitchen shelving
Large linen closets with laundry features
Stylish mudrooms with custom cabinets and shelves
Garages that offer hidden storage
Custom-built office shelving and cabinets
Specialty craft and hobby storage
Connect With Diplomat Closet Design
To design stylish closets that meet the needs of today's market, connect with Diplomat Closet Design. We use a builder-approved process that involves a three-way partnership between the builder, the customer, and our design experts. Let's make every closet a custom closet and thrill your home-building clients.
Although our facility is based in West Chester, PA, we are pleased to travel to builder homes and model homes for a complimentary design consultation. We frequently travel to Chadds Ford, Kennett Square, Malvern, Exton, Downingtown, Wayne, Devon, King of Prussia, the entire Main Line and more.  Contact us today for your custom closet organization solution!