Your mudroom can be just as beautiful as the rest of your home. And although it handles lots of muddy stuff, it doesn't have to be brown!
Modern mudrooms come in all colors, not to mention all shapes, sizes, styles, designs, and budgets. Here are some of the best ideas we've seen for adding color to a mudroom.
Boldly-Colored Built-ins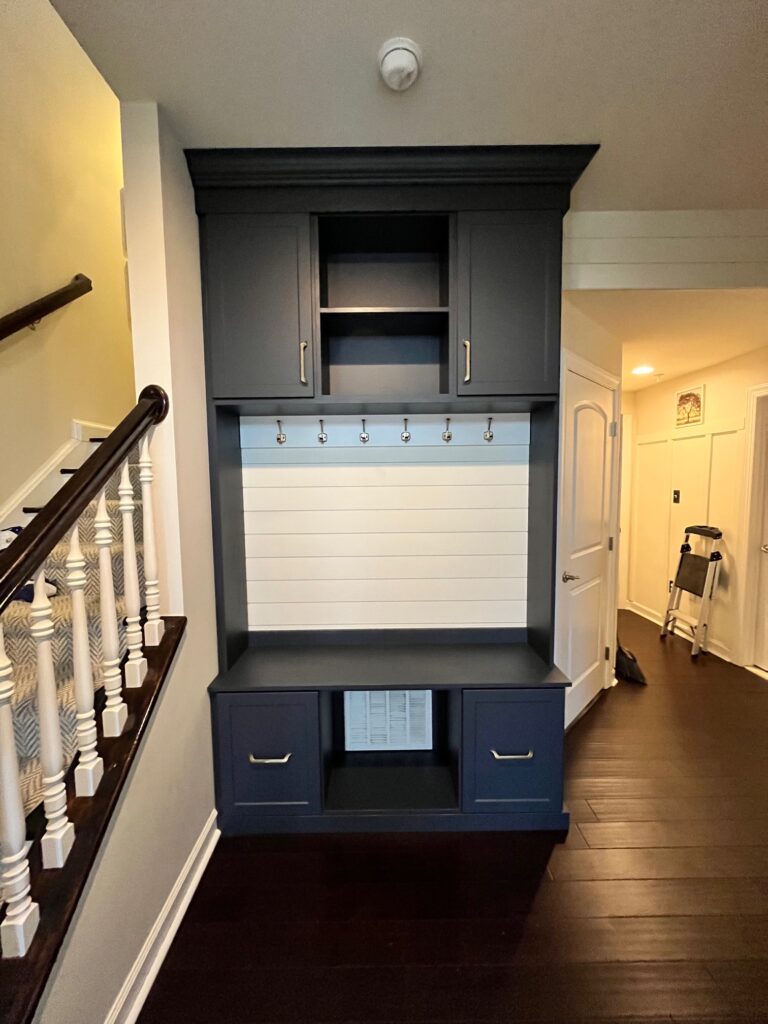 Add instant color to your mudroom by installing bold built-in furniture that helps you stay organized even as it adds good cheer. Cabinets, closets, drawers, and built-in seats are all perfect places for big splashes of your favorite hues.
Paint company Benjamin Moore recommends a cheeky red and white theme for small mudrooms. Red is a crisp color against white walls, radiating a fresh and almost pepperminty feeling that balances out the utilitarian nature of a mudroom.
If your mudroom is part of your entryway area, consider covering your built-ins and/or doors with two complementary tones of the same colors. Sherwin-Williams suggests selecting between warm or cool tones first, then choosing two similar versions of either warm blush pinks or cool blue-greens.
Statement Walls and Wallpaper
A mudroom is a great place to go bold with a statement wall, which is a boldly-colored or patterned wall that commands attention. Choose the wall directly opposite the door so it makes an impact every time someone enters the room, or opt for the wall behind your open shelves, laundry folding countertop, or washer/dryer.
Houzz reports that green and blue statement walls are top-rated for mudrooms this year. These tones radiate feelings of peace and serenity, which is ideal for one of your busiest and messiest home spaces.
Paint isn't the only way to amp up the color on a statement wall. Why not wallpaper it? Wallpaper is trending this year, especially Earth-inspired botanical prints and tropical murals.
Luxurious Mudroom Hues
Your mudroom can be just as luxurious as your bedroom or bathroom when you choose the right colors and styling details. Designers usually follow the rule that within a luxury mudroom, less is more. Restraint is key.
Colors in a luxury space should usually be muted and carefully integrated with the rest of your home's decor. For example, a soft, very light champagne color is easy to coordinate with an existing home color scheme and glows with gentle glamor.
If you'd like to incorporate bold, bright colors while still maintaining an air of luxury, look to high-end clothing and cosmetics brands with signature colors. La Réserve Magazine considers the following hues to be history's most recognizable luxury colors:
Burberry beige
Chanel black
Dior gray
Fendi yellow
Tiffany blue
Cartier red
Hermès orange
A modern luxurious mudroom looks best when it's slathered in upscale features like high-end fixtures and hardware. Don't forget to add plenty of cabinets, drawers, and hidden storage to control clutter and keep the look sleek.
Colors to Avoid in Mudrooms
Wondering about which colors to stay away from in your mudroom? While there are no hard-and-fast rules, some designers suggest avoiding medium to dark browns because they just look like…well…mud. Of course, wood and wood-inspired floors are still perennial favorites.
Homes & Gardens magazine cautions homeowners to avoid yellows and yellow-toned whites in the mudroom because they tend to always appear grubby and in need of cleaning. You deserve a space that feels fresh and clean every day!
Ready to Upgrade Your Mudroom With Color?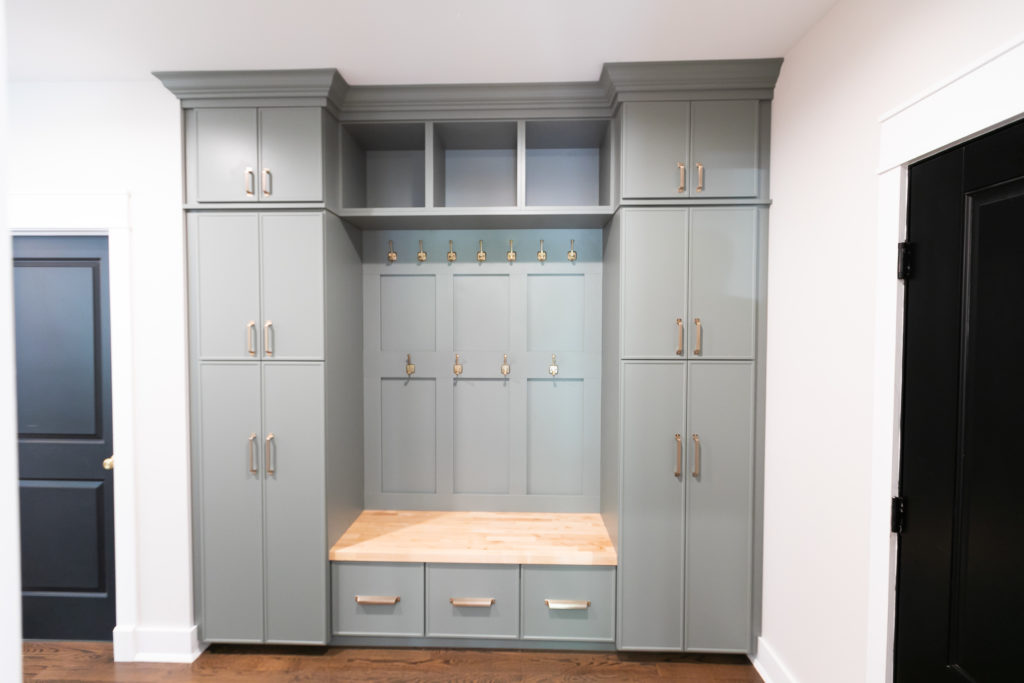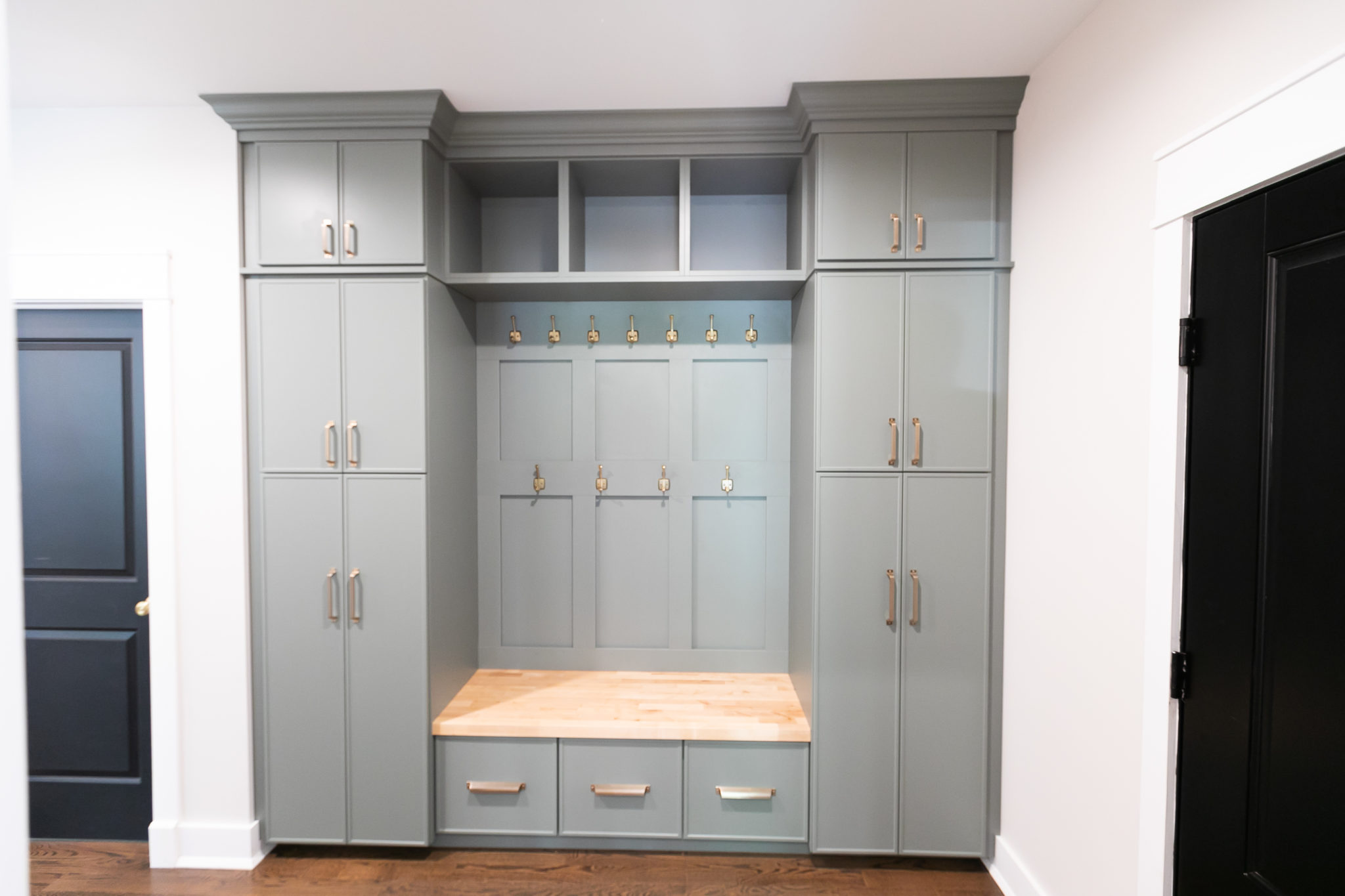 When you're eager to give your mudroom a big dose of beautiful color, Diplomat Closet Design is your design partner. We have a talented staff of designers and builders who have what it takes to make your dreams come true.
To learn more about improving the color, style, and storage in your mudroom, request an appointment with Diplomat Closet Design.
If you live in Delaware County in towns such as Villanova, Havertown or Glen Mills, contact us today.